5 things to know today: Risk level, Stopping outbreaks, Shelter backlash, Abortion rights, Voting access
1. Burgum moves Cass County up to 'yellow' COVID-19 risk level as Fargo area cases continue to mount
Gov. Doug Burgum announced on Wednesday, Sept. 23, that Cass County will be moving up to the "moderate" COVID-19 risk level as cases in the Fargo area continue to spike.
Burgum decided last week not to move Cass up to the "yellow" designation despite the county meeting two of the main criteria for the higher risk level. The governor said he decided to move Cass up to yellow Wednesday because he wanted to wait a few weeks after the state overhauled the risk level system to make county-level judgments.
New cases and infection rates have risen sharply in the county over the last month. Cass County now has the second most active COVID-19 cases in North Dakota behind Burleigh County, which encompasses Bismarck.
Read more from Forum News Service's Jeremy Turley
2. As coronavirus ravages nursing homes, North Dakota takes new steps
North Dakota officials are taking new measures to prevent the spread of COVID-19 in nursing homes amid an alarming surge of virus-related deaths in long-term care facilities across the state.
More than half of the state's 203 deaths have come in nursing homes, and some western North Dakota facilities are now seeing even worse outbreaks than Fargo nursing homes had at the beginning of the pandemic, said Chris Jones, director of the Department of Human Services.
The state Department of Health has reported the deaths of 38 nursing home residents just in September, and at least four nursing homes now have more than 10 active COVID-19 cases among residents and staff.
3. Bismarck approves COVID-19 homeless shelter after heated discussion on personal freedom
The Bismarck City Commission voted 4-0 Wednesday, Sept. 23, to designate a local motel as a shelter for the city's homeless and vulnerable population following heated discussion of the decision the night before.
Even though commissioners unanimously accepted funding for the shelter weeks earlier, Bismarck residents expressed deep concern over the language in contracts written for the establishment of the shelter at the Bismarck Motor Motel and the hiring of a security service to distribute necessities and provide security for the shelter.
Much of the criticism of the shelter plan followed a Facebook live video, recorded by Commissioner Mark Splonskowski, in which he described the proposal as "tyranny" and claimed the Bismarck-Mandan COVID-19 Task Force was trying to jail citizens against their will.
4. With an open US Supreme Court seat, how abortion rights could change in ND
Two women, presumably one a patient and the other a friend, walked toward the Red River Women's Clinic shielded by a group wearing rainbow-colored "escort" vests.
Circling them were others who had turned out to pray, hold signs and try to convince the patient not to have an abortion.
It was one of many similar interactions that played out Wednesday, Sept. 23, outside North Dakota's only abortion clinic — a setting, and the services provided there, facing an uncertain future.
A growing tug-of-war is underway in the nation's capitol over a U.S. Supreme Court seat left vacant by the death of Justice Ruth Bader Ginsburg on Sept. 18.
Read more from The Forum's Robin Huebner
5. North Dakota officials hold voter ID events on tribal nations after years of legal dispute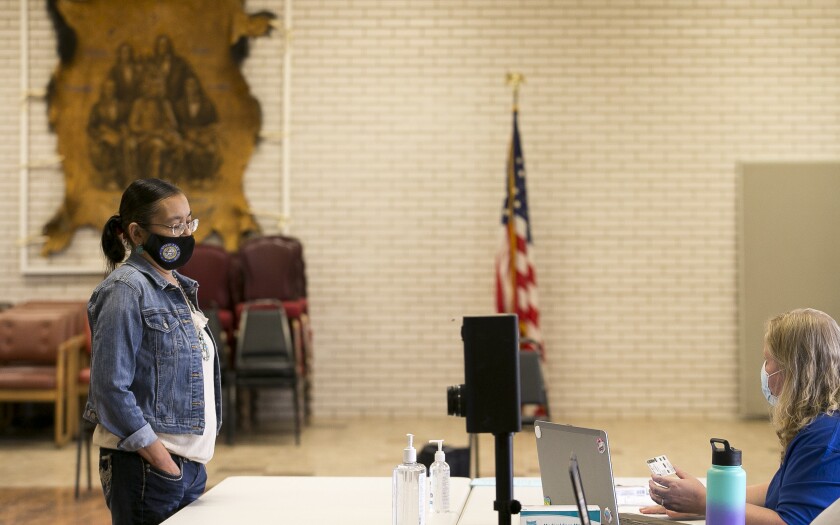 Jennifer Longie recently moved to a different home on the Spirit Lake Reservation.
She's adamant about voting on Nov. 3, so she went to a voter ID event in Fort Totten on Wednesday, Sept. 23, to ensure she would not run into hurdles.
"I wanted to make sure everything was in place so I could vote," Longie said.
As part of an agreement to ensure all Native Americans, like Longie, in North Dakota have easier access to voting in U.S. elections, the state held a licensing event on the Spirit Lake Reservation Wednesday to help more tribal citizens become eligible to vote in the Nov. 3 general election.