A year after Fargo riot, leaders and activists focus on healing, improving community
Questions remain about what triggered the violence in downtown Fargo, but city leaders and activists say now is not the time to point fingers. Instead, they are looking toward a brighter future.
FARGO — May 30, 2020, has been called a dark day for Fargo.
It began with a peaceful protest calling for justice and racial equality less than a week after a white Minneapolis police officer killed George Floyd , who was Black. As night approached, a riot erupted that left dozens injured and buildings in downtown Fargo damaged.
But huge strides and milestones have been achieved in seeking change , said Faith Dixon, a Black Lives Matter organizer in Fargo-Moorhead.
"What happened in the past, we're going to leave it there," she explained. "You can see the future is just so much brighter."
Local leaders and activists said there has been a lot of growth and collaboration toward improving life for people of color in the Fargo-Moorhead area since the riot.
On the one-year anniversary of the riot, some still wonder how the protests turned violent. Wess Philome, the main organizer for local movement OneFargo formed in the wake of Floyd's death , said he doesn't feel answering that question is an important conversation to have at this moment.
"It doesn't do anything to push the movement, the narrative to progress forward," he said. "What that does is evolve back into finger-pointing and different aspects, which isn't going to be conducive to progress or change."
Dixon, Philome and Fargo Mayor Tim Mahoney, who spoke together with The Forum for this story, want to focus on healing and being a leader for the rest of the country in seeking equality.
"If we can create change here, we can change the world," Philome said.
RELATED:
Peaceful protests, later a riot
Hundreds gathered to honor Floyd around 10 a.m. May 30 at Island Park in Fargo. That number eventually grew to thousands as demonstrators left Island Park and began to march around the city of Fargo.
Videographer Claude Vyamungu, who attended the protest and later faced charges in connection to the riot, said his original intention was to document what happened that day. He noted it was peaceful for most of the day.
When demonstrators marched into West Fargo in the afternoon, a driver hit a protester with a vehicle and carried him for several blocks on the hood. Some local activists claim that is what set in motion the protest's eventual violent turn.
As one group of marchers returned to downtown Fargo in the late afternoon, another crowd surrounded two police vehicles before two people jumped on the vehicles' hoods . Others threw water bottles and rocks.
The officers inside were able to escape, though one said she felt like a sitting duck, according to court documents. She thought at that moment, "we're dead," she told prosecutors in an email.
Around 6 p.m., police warned protesters to disperse. Officers had declared the protest unlawful.
But some protesters didn't know why they were being told to leave and thought their right to assemble was being violated, Vyamungu said.
"People got triggered," he said. "We're not doing anything. Why are you putting a timer on us?"
People started to yell and throw objects at officers.
The Fargo Police Department then took to social media to warn the public of unrest downtown and explained the protest was unlawful as it had taken a destructive turn. In a message published at 7:20 p.m., former Police Chief David Todd said the protest had lost its meaning.
An uneasy tension had started to form between a line of riot-gear-clad officers and protesters who had gathered on First Avenue North near Roberts Alley.
Police continued to issue warnings to disperse. At 8:05 p.m., officers charged the crowd, using irritant gas and foam bullets that sent protesters and onlookers running east toward Broadway.
Several protesters started smashing windows and spray-painting graffiti on buildings. Some broke into JL Beers and Vinyl Taco along First Avenue and started to loot. A dumpster was pulled into the street, tipped over and set on fire.
Lance Thorson, a co-owner of the two restaurants, watched from afar on security cameras as rioters looted his businesses. The buildings were closed at the time, as the owners anticipated the possibility of unrest, he said.
"You felt kind of helpless watching it," he said.
Mahoney signed an emergency declaration that ordered a 10 p.m. curfew in Fargo. Gov. Doug Burgum activated the North Dakota National Guard around 10:45 p.m., but troops would not show up until the next day.
One person was shot in the foot that night in downtown, but it doesn't appear charges were ever filed.
Downtown was largely empty by midnight.
'Outside influencers'
As the dust started to settle the night of May 30, area leaders started to blame the riot on "outside influencers." One year later, police and Mayor Mahoney have not provided any concrete evidence of this claim.
The Fargo Police Department declined to provide documentation backing the outsider explanation for the riot, describing it as "intelligence information" that would be exempt from open records laws.
The fact that most of the 25 who were charged with riot-related crimes are from the Fargo-Moorhead area is "really a meaningless fact," Fargo Police Chief David Zibolski said.
"We know from intelligence information that there was a group that was traversing through this area," he said. "They also went down to Sioux Falls and over to the Twin Cities."
Outside agitators incite violence, step back and let others take over without getting caught, Zibolski said. They then move to other areas and repeat the cycle.
The President of the Greater Sioux Falls Chamber of Commerce claimed on social media May 31 that rioters were headed to his city on buses from Fargo. He later apologized for the post , calling it a "mistake" to share unverified information.
Dixon and Philome hesitated to call the unrest in downtown Fargo a riot. Out of the estimated 5,000 people who attended the protests, only a small percentage caused problems, Philome said.
No lives were lost, and buildings weren't burned to the ground, Dixon noted.
"I don't think it was fully anything of that sort," Philome said. "I definitely thought there were some kids that were pretty reckless in their actions."
Police and prosecutors labeled what happened a riot. Most people prosecuted have pleaded guilty to their charges, with some saying they got caught up in a moment.
One person was acquitted.
Both sides could have done things differently to prevent the violence, Philome acknowledged, adding that the riot doesn't represent Fargo.
What is reflective of the city is how people showed up to clean the mess, Zibolski said. Others tried to calm protesters.
Thorson, the business owner, said some protesters tried to stop the violence. One knocked out of another person's hand what appeared to be something lit on fire.
Lenard Wells of Fargo attended the protests but said he left around 5 p.m., before the riot broke out.
"When I saw things taking a left turn, I tried to calm a couple of situations down, but I knew it was best at that time to go ahead and leave," he said. "I tried to influence others to go home, too."
He said he watched the riot unfold on social media as he tried to call on participants to stop.
Wells said he believes the show of force from law enforcement may have triggered the violence. He said he didn't condone the violence or property damage caused by the riot.
"I don't think anyone woke up that morning thinking, 'Hey, let's go tear up some stuff,'" Wells said.
Can't replace a life
The riot was among the largest in North Dakota history. Demonstrations continued in the following weeks, but with no reports of damage or confrontations with officers.
Protesters on May 30 were yearning for attention and the chance to be heard, but it didn't feel like law enforcement was listening, said Wells, who said he has friends who are police officers. On that day, he felt like he was a stranger to them.
"I myself was talking to law enforcement face to face, and they were looking right through me," he said.
Philome said media and others focused on property damage, which can be replaced. Floyd can't be brought back, he said.
It is a sign of white privilege, he added.
"The big problem in America is that, a year later, we still lack the understanding that people have been persecuted in this country for a really long time," Philome said, adding people still are "talking about property damage more than we're going to talk about the impact that his (Floyd's) murder had."
Vyamungu said he feels people haven't gotten a clear answer on what triggered the riot. He feels he was prosecuted with counts of engaging in a riot and disobedience just for being there.
He received a deferred sentence, meaning the charges will be sealed after he completes one year of unsupervised probation.
He said he pleaded guilty because he wanted to move on with his life.
"It's a fight I knew I couldn't win," he said.
Following May 30, activists continued to call for change in Fargo. Deputy Chief Todd Osmundson resigned after media reports revealed he acted as an undercover i nvestigator without permission and walked among protesters. Osmundson was seen holding a beer can and saying "f--- the police" as he walked in the crowd , according to an investigation .
The calls for change were a wake-up call, Mahoney said. It opened up communication with various groups and residents from diverse backgrounds, he said.
They may have disagreements, with emotions and anger running high, but city leaders and activists want to focus on getting it right and move forward, Mahoney said.
"As a physician, I want to focus on healing," Mahoney said. "We've seen a lot of healing as a group."
'Bigger than us'
Leaders have made moves to hold officers more accountable, be more transparent and conduct more outreach, Dixon said. That includes the city of Fargo banning chokeholds , introducing body cameras for officers, and hiring a diversity director.
The city, Dixon and Philome also are working together to craft an anti-hate crime law, which the City Commission plans to discuss at its next meeting.
The Fargo Police Department now spends more time speaking with community members and educating residents about interactions where police use force, Zibolski said.
Even the attitude at City Commission meetings has changed for the better, according to Dixon, who said community members have told her that leaders are listening to the people.
Officers in Fargo handled the riot the best they could, said Zibolski, who became police chief in October 2020.
The death of Floyd has opened the eyes of those in different communities to the fact racism still exists, Dixon said. Differences have been put aside so advocates and the city can collaborate with each other, Philome said.
Their work to improve the lives of everyone in the Fargo-Moorhead area is "bigger than us," he said.
"We don't want hate out there," Mahoney said. "We want love."
Seeing the 5,000 people who came to the May 30 protest, or a simple act like a restaurant being more welcoming to people of color, makes Dixon feel like she is wanted in Fargo, she said.
There are a lot of people who are willing to understand each other to become allies for people of color, Philome said. Some in the community remain close-minded, but it is more important to focus on those who want to push for equality, he said, adding there is a lot of love in Fargo.
"When people are ready to change, they will change," he said.
1
/
17:
Protesters gather at Island Park in Fargo on Saturday, May 30, to protest the killing of George Floyd in Minneapolis. (April Knutson/Forum)
2
/
17:
Protestors walk through downtown Fargo with homemade signs during the march for George Floyd that began at Island Park on Saturday, May 30. Alyssa Goelzer / The Forum
3
/
17:
Former Deputy Police Chief Todd Osmundson with protesters at Fargo police headquarters during a May 30 protest. A riot broke out later that day in downtown. Forum file photo
4
/
17:
Protesters calling for justice after the death of George Floyd in Minneapolis block traffic Saturday, May 30, at 45th Street South and 13th Avenue South in Fargo, which is about 5 miles southwest of where the protest started in downtown. April Baumgarten/ The Forum
5
/
17:
Protesters calling for justice after the death of George Floyd in Minneapolis ride Saturday, May 30, on a pickup through the 45th Street South and 13th Avenue South intersection in Fargo, which is about 5 miles southwest of where the protest started in downtown. April Baumgarten/ The Forum
6
/
17:
This photo was posted to the Fargo Police Department's Facebook page Saturday night, May 30. The post said the men were detained and released. Special to The Forum
7
/
17:
A protester gestures to an advancing line of riot-gear clad officers as demonstrators flee police on First Avenue North in downtown Fargo. Dave Olson / The Forum
8
/
17:
A Fargo Police officer points a weapon during the downtown Fargo riot on May 30. C.S. Hagen / The Forum
9
/
17:
Rioters overturned dumpsters and threw rocks at police on First Avenue North on May 30 in downtown Fargo. Police confirmed Nicholai Westrum, who was charged in connection to the riot, was the man seen in this photo jumping up and down on a dumpster. C.S. Hagen / The Forum
10
/
17:
After multiple warnings to protesters that they were gathering illegally, Fargo police move through tear gas to disperse the crowd on First Avenue North on May 30, 2021. C.S. Hagen / The Forum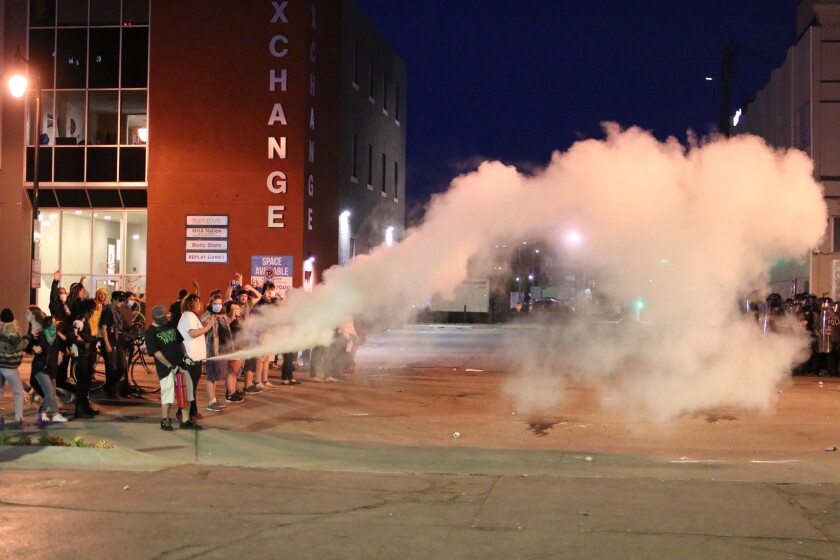 11
/
17:
Protesters used a fire extinguisher during a riot Saturday night, May 30, in downtown Fargo. C.S. Hagen / The Forum
12
/
17:
It was chaos in downtown Fargo Saturday night, May 30, 2021, as riots broke out following a demonstration to protest the killing of George Floyd by a Minneapolis police officer. Steve Wagner/ The Forum
13
/
17:
Vinyl Taco's sign lays in ruin among broken glass after reports of individuals breaking windows and looting beers from restaurants like Vinyl Taco and JL Beers in downtown Fargo. Photo courtesy of Ryan Keel
14
/
17:
Volunteers work cleaning up at Vinyl Taco and Royal Jewelers in downtown Fargo on Sunday, May 31. David Samson / The Forum
15
/
17:
OneFargo and Black Lives Matter organizers lead chants before hundreds of protesters at Fargo City Hall for Juneteenth. C.S. Hagen / The Forum
16
/
17:
OneFargo organizer Wess Philome kneels inside the gazebo at Island Park during the Juneteenth March for Justice on Friday, June 19, in Fargo. Alyssa Goelzer / The Forum
17
/
17:
Protesters organized by OneFargo and Black Lives Matter chant Friday, June 19, in front of Fargo City Hall. Michael Vosburg / Forum Photo Editor