Before downtown violence, Fargo-Moorhead mayors calmed tense Black Lives Matter demonstration
We are part of The Trust Project.
FARGO — The mayors of Fargo-Moorhead jumped into a crowd of thousands early Saturday afternoon, May 30, trying to defuse escalation between Black Lives Matter protesters and Fargo police during what may have been the metro area's largest peaceful demonstration in a generation.
"I never want to lose control of my city. I think that is just terrible," Fargo Mayor Tim Mahoney said at about 1:30 p.m., not knowing he was foreshadowing the violent riots that would strike downtown hours later.
For much of the day, protesters remained nonviolent, showing up at 10 a.m. in Island Park for an event called "Fargo Marches for George Floyd."
The march, similar to other demonstrations in cities around the country, was triggered by the death of George Floyd, a black man who died in Minneapolis police custody Monday, May 25, after a white officer, Derek Chauvin, knelt on his neck for several minutes, as fellow officers stood by. Chauvin has been charged with murder and manslaughter.
In Fargo, protesters marched through downtown to police headquarters at 25th Street North and First Avenue North, where the mayors spoke to the crowd.
"The two mayors being here defused the situation," Fargo Police Chief David Todd said Saturday afternoon outside police headquarters.
"What (Moorhead Mayor Johnathan Judd) and I did was put ourselves into the crowd, and that defused the crowd," Mahoney said.
Protesters of all races who joined the peaceful daytime march said they wanted all people to be treated with equality. They wanted more black police officers, and to be able to send their children to the store for Skittles without fear of violence.
While Deputy Chief Todd Osmundson jumped up with protest organizers and held up a sign, Judd pressed the flesh, telling protesters they all needed to become more involved in the community.
"We have that community here," Judd said. "A community that elected me as a mayor. We gotta get better and get out of the upper Midwest way of communicating. Help me understand your reality so I can become someone who walks with you."
Todd and Mahoney said they did not have an estimate of the peaceful crowd's size, but it appeared to number roughly 2,000 people. Before protesters began their march — which was supposed to be centered around downtown, but ended up 20 blocks away at Fargo police headquarters — organizers, pastors and a city leader gave impassioned speeches in Island Park.
"We are not looked upon as human beings. We are looked at as people who were once property," said organizer Ritchell Aboah, who's also a candidate for Fargo City Commission. "But not everyone in the U.S. is racist. We are tired of injustice. We are tired of crying. Now it is our time, and we ask that everyone stand with us."
Aboah pleaded with the white people in the crowd to use their white privilege to help people of color.
"I'm fed up. I can't breathe anymore. I can't walk in the streets and look at the police," said organizer Angelina Zokego of Fargo.
"When you see me, what do you see?" Zokego asked the crowd. "What is it about my color that you fear?"
"No justice, no peace," the crowd yelled.
Not far from the picnic table where organizers spoke, a man with an airsoft rifle helped protesters roll out a sheet of paper, where the words "I can't breathe" were spray painted.
Behind him, Pete Tefft, a self-proclaimed white supremacist, held up a sign that said "Police kill more whites." Tefft, who was the only known counter-protester at the peaceful rally, was later chased away.
Fargo City Commissioner John Strand said he had "never seen a protest so large before in North Dakota."
"I don't know of anything more important than standing up for what you believe in," Strand said. "Today, I join you with a full heart and I stand with you."
"Good morning, America. I am a racist and I need help. This madness has to end. Admitting we have a problem is a good first step," Strand added.
Pastor Gloria Shields of the Latter Rain Ministries stood up to say she has been quiet for too long because she didn't want to incite violence and disunity.
"But I have come to the realization that we, as the church of God, have to stand up," Shields said. "We all deserve to live. No other human has the right to take it away."
As the crowd grew, some in the crowd heckled speakers, asking where the police were, and why didn't officers put down their badges and join the protest.
The protesters began marching through downtown, taking up blocks at a time, before turning right onto First Avenue South.
Police officers were waiting outside headquarters when the protesters arrived. At least two carried pepperball guns. All wore face shields due to the ongoing coronavirus pandemic, Mahoney said.
Most protesters also wore protective face masks, but social distancing was impossible among such large numbers.
"They made their own route," Todd said of marchers at about 1:30 p.m. before the downtown riot began. "But I'm glad that they got the chance to express their feelings."
Jessica Schindeldecker, a Fargo police spokeswoman, reported no arrests by mid-afternoon.
Protesters made their way to West Fargo, eventually arriving at the West Fargo Police Department, where they peacefully demonstrated for about a half hour while about 100 police officers from various jurisdictions stood watch, most wearing helmets and face shields.
At one point, there was a mild confrontation between a nearby homeowner and some protesters. A half-dozen officers calmed the situation, and the protesters kept marching through the street.
After listening to complaints and posing for pictures with protesters, Todd said the Fargo Police Department has been trying to hire more people of color and will continue to do so.
"It's always good for a police department to reflect the community," the chief said.
1
/
19:
Instead of clashing with police, protesters with "Fargo Marches for George Floyd" were able to speak with Fargo and Moorhead mayors and Fargo's police chief on Saturday, May 30. C.S. Hagen / The Forum
2
/
19:
An organizer of the Fargo Marches for George Floyd protest speaks to demonstrators outside City Hall on Saturday, May 30. C.S. Hagen / The Forum
3
/
19:
Demonstrators with the Fargo Marches for George Floyd protest kneel outside the old Fargo police station in downtown on Saturday, May 30. C.S. Hagen / The Forum
4
/
19:
Before Fargo and Moorhead city leaders joined protesters with Fargo Marches for George Floyd on Saturday, May 30, many protesters took knees outside the new Fargo police headquarters C.S. Hagen / The Forum
5
/
19:
Fargo Mayor Tim Mahoney holds a "Justice for George" sign before speaking with protesters on Saturday, May 30. C.S. Hagen / The Forum
6
/
19:
Fargo Mayor Tim Mahoney joins hands with protest organizers in front of the Fargo police headquarters, 105 25th St. N., on Saturday, May 30. C.S. Hagen / The Forum
7
/
19:
Police and protesters with Fargo Marches for George Floyd meet at the new Fargo police headquarters on Saturday, May 30. C.S. Hagen / The Forum
8
/
19:
Demonstrators took to the streets during the Fargo Marches for George Floyd protest on Saturday, May 30. C.S. Hagen / The Forum
9
/
19:
Black Lives Matter organizers at the Fargo police headquarters at 25th Street North and First Avenue North on Saturday, May 30. C.S. Hagen / The Forum
10
/
19:
Protester holds up a painting of George Floyd on Saturday, May 30, who recently died in Minneapolis police custody and whose death has sparked protests and riots across the nation. C.S. Hagen / The Forum
11
/
19:
Adam Johnston, an emergency nurse, hands out water, hand sanitizer, and was prepared to provide medical assistance during the Fargo Marches for George Floyd protest on Saturday, May 30. C.S. Hagen / The Forum
12
/
19:
A musician plays as demonstrators with the Fargo Marches for George Floyd protest head toward police headquarters at 25th Street North and First Avenue North on Saturday, May 30. C.S. Hagen / The Forum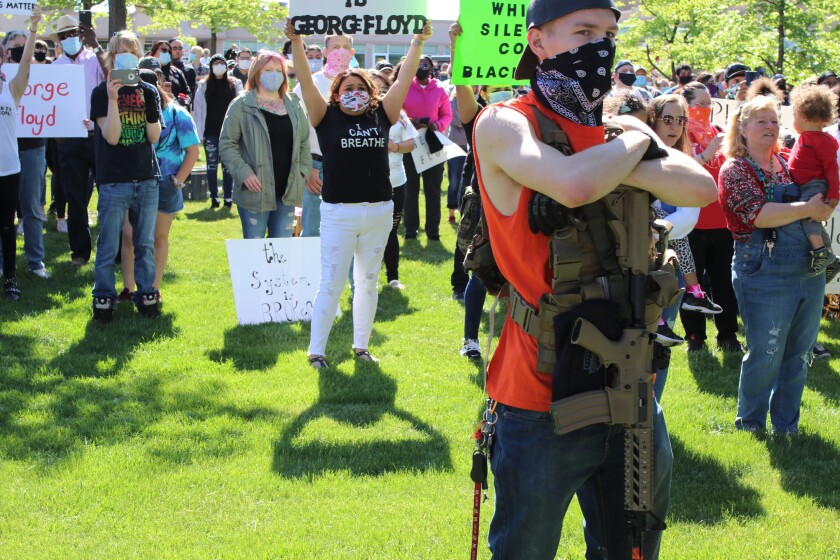 13
/
19:
A protester, who refused to give his name but supported the Fargo Marches for George Floyd protest, carried an airsoft rifle to the rally. C.S. Hagen / The Forum
14
/
19:
Protesters initially began chanting slogans like "Say his name: George Floyd" and "No justice, no peace, prosecute the police," when they arrived at the new Fargo police headquarters on Saturday, May 30. C.S. Hagen / The Forum
15
/
19:
A throng of demonstrators gathered for the Fargo Marches for George Floyd protest Saturday, May 30. C.S. Hagen / The Forum
16
/
19:
Protesters converge on Fargo police headquarters at 25th Street North and First Avenue North on Saturday, May 30. C.S. Hagen / The Forum
17
/
19:
Demonstrators walk past City Hall during the Fargo Marches for George Floyd protest on Saturday, May 30. C.S. Hagen / The Forum
18
/
19:
Demonstrators join hands during the Fargo Marches for George Floyd protest in downtown Fargo on Saturday, May 30. C.S. Hagen / The Forum
19
/
19:
Self-declared white supremacist Pete Tefft holds a sign that reads "Cops kill more whites" at Island Park during the Fargo Marches for George Floyd protest Saturday, May 30. Tefft, who appeared to be the only counter-protester, was later chased from the march. C.S. Hagen / The Forum