'Better together': 700 people brave frigid cold for Fargo-Moorhead Women's March
We are part of The Trust Project.
FARGO — Nearly 700 people came out to rally during the 2019 Fargo-Moorhead Women's March, which centered around a theme of unity and community involvement.
The crowd was colorful, with some cultural attire, many pink hats in the mix and varying decorated signs that read, 'If you don't fight for ALL women, you fight for NO women,' and, 'Build kindness, not walls.'
During the march, supporters shouted, "Say it loud, say it clear: refugees are welcome here," and, "No Trump. No KKK. No fascist USA."
The national event is now in its third year, bringing out thousands to empower women and allies . This is the third year Fargo has held its own event.
"We need to stand together to make things better," speaker JT Shining Oneside said during the rally prior to the march. "We are so much better together."
The event theme of "Together" served as inspiration for speakers who shared stories and encouraged grassroots activism to accomplish change in areas that not only affect women, but any discriminated group.
Kaye Hauschild spoke of her gender transition from male to female in 2014.
"I want to be accepted as the woman that I am, that I've been all my life — I just didn't show it," Hauschild said.
Rabbi Jamie Serber told of her experiences with anti-semitism and sexism in North Dakota. "When you hear language like that, you hear language like 'that's so gay', or about New Americans or Muslims or Native Americans — you turn around and say 'stop.' You turn around and say 'no,' " Serber said. "Difference is what makes us a better community. You don't get a rainbow with just white."
Farhia Ali talked about discrimination against refugees and migrants. "It's sad to see that so many new immigrants have to settle for less than what they deserve," Ali said.
After the rally, the group braved the frigid temperatures and marched through downtown Fargo on a route that had been shortened due to the cold. According to National Weather Service data, Fargo reached a high of 2 degrees just before 3 p.m. Saturday, Jan. 19, but wind speeds were around 12 mph.
Yet the cold didn't faze people.
"I came out today to support everyone and to support women's rights. It's super important," said attendee Isabel Rodriguez.
Heidi Heitkamp was scheduled to speak at the rally but cancelled late Friday due to a death in the family.
Local nonprofits and organizations like Planned Parenthood, Ladyboss FM and Red River Valley DSA had tables at the event, offering information and volunteer opportunities.
"We really want people not to just be able to survive, but thrive. Everybody deserves that right." Red River Valley DSA organizer Dana Bisignani said. "We believe that healthcare is absolutely a human right."
"Transform your passion into action. Lift as you climb and boost those around you who have the ability to further advance the goals that you're working for," said Athena Gracyk, chair and member of Clay County DFL.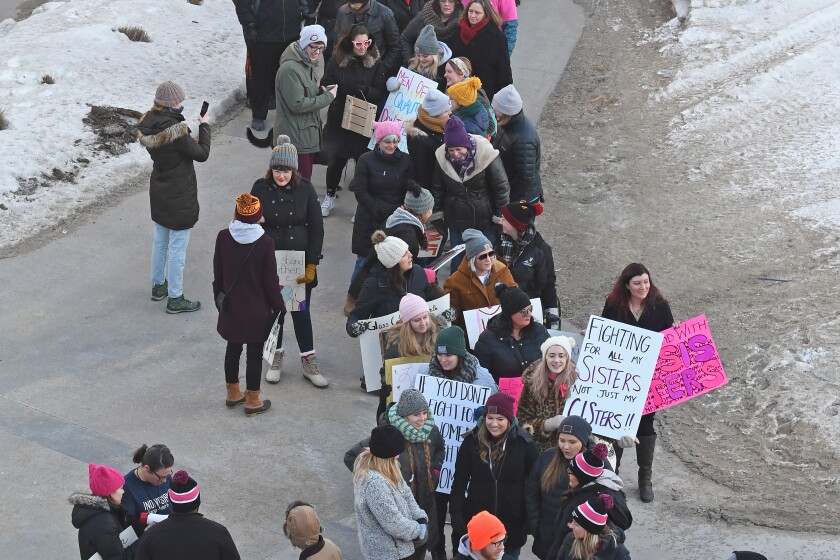 1
/
5:
Participants gather outside of the Fargo Civic Center for the 2019 FM Women's March on Saturday, Jan. 19, 2019. David Samson / The Forum
2
/
5:
Shelia Dathe from Britton, S.D., dressed as Rosie the Riveter, hugs Cheryl Hall-Kippen of Fargo during the 2019 FM Women's March presentation at the Fargo Civic Center on Saturday, Jan. 19, 2019. David Samson / The Forum
3
/
5:
Ponny White of Moorhead snaps photos during the 2019 FM Women's March presentation at the Fargo Civic Center on Saturday, Jan. 19, 2019. David Samson / The Forum
4
/
5:
Jamie Serber shares her story of becoming a rabbi during the 2019 FM Women's March event at the Fargo Civic Center on Saturday, Jan. 19, 2019. David Samson / The Forum
5
/
5:
Participants walk along the short route outside of the Fargo Civic Center for the 2019 FM Women's March on Saturday, Jan. 19, 2019. David Samson / The Forum