Book urges Midwesterners to pass the potatoes and eat Mediterranean
This is the story of how a small group of people from diverse corners of the world and all walks of life teamed up to produce a book that encourages Midwesterners to try what's touted as one of the healthiest diets in the world. "Midwest Mediterranean" encourages us to bypass butter for high-quality olive oil, imported from 5,000 miles away. But it also reminds us that many Mediterranean-friendly staples — potatoes, vegetables, whole-grains — are grown right here.
We are part of The Trust Project.
FARGO — It all started with the bean salad.
Peter Schultz is an archaeologist, researcher of ancient Greek art and literature, and olive-oil importer. Megan Myrdal is a former farm kid with a dietetics degree and a mission to promote local foods.
Schultz and Myrdal, who met when Schultz taught at Concordia College and she was a student there, were collaborating on projects to promote healthier eating and local foods.
Schultz asked Myrdal if she could create a recipe that incorporated the high-quality extra-virgin olive oil he imports from Greece with locally grown, Midwestern ingredients.
Challenge accepted. Myrdal whipped up a Midwest Mediterranean Bean Salad, a dish that combined flavors of the prairie like kale, cucumbers, tomatoes, onions, herbs and dry-edible beans with traditional Mediterranean foods like olive oil, balsamic vinegar, feta cheese and olives.
The simple salad earned raves from everyone who tried it. But it also inspired something much bigger.
Two years later, Schultz and Myrdal have expanded on the idea behind that humble dish. They maintain that staples of the standard Mediterranean eating plan, considered one of the healthiest diets in the world, could be easily and affordably incorporated into our Midwestern meals and pantries. They also recruited several respected health experts—including a Sanford cardiologist, a gastroenterologist with Mediterranean roots, a well-known organic farmer and a psychotherapist/mental-health researcher—to share their philosophy through a book, "The Midwest Mediterranean: Finding Health & Flavor with the Foods of the North."
That book, just released Saturday, aims to open the eyes and unclog the arteries of hotdish-eating, pie-loving Upper Midwesterners across the region.
This is all well and good, but you may wonder if it's possible to get Americans to embrace the standard diet from a culture more than 5,000 miles away. Are we ready to replace our butter with good olive oil, our bacon-and-mac-and-cheese-topped Juicy Lucy Burgers with salmon and our cookie salad with mint and tabouli?
If you ask Schultz, who is a man of seemingly bottomless enthusiasm, the answer is an unequivocal "yes!" (exclamation mark, his).
"I'm a huge believer," Schultz says. "None of this is new. One of the points we're trying to make is that the way we've always eaten is the best way ... Mediterranean is the first human diet, the first one we know, and that diet sustained us as a civilization for millennia. It's part of the reason we developed proper minds, it's part of the reason we became so resilient. All we're suggesting is that if we follow this well-known diet, which has scientifically documented benefits, we will feel amazing and our hearts and our souls will be better for it."
Co-editor Myrdal points out that our nation—especially the northern tier of the Midwest—desperately needs a nutrition overhaul.
"Despite years of trying to promote well-being and to reduce chronic diseases, the statistics on nearly every front continue to worsen," she writes. "We eat too much of what we should not—highly processed, calorically dense foods—and too little of what we should—nutrient-rich fruits and vegetables. We are sicker, heavier, and for many—living shorter lives."
She acknowledges that part of the problem is an industrial food system that has capitalized on our natural affinity for deep-fried doughnuts and salty popcorn. "Research shows that humans are hard-wired for sweet, salty and fatty, because those are three flavors that indicate we are going to get the calories that will keep us alive," she says. "Those flavors used to be relatively rare in nature ... Now we have a food system that is overwhelming with those different flavors."
The drive for these flavors is so powerful that brain scans show our gray matter lighting up like Las Vegas when exposed to advertisements and other food cues . "A lot of research shows what chemically is happening in our brains elicits the same response as some illegal drugs do," she says. "It's addictive ... and it makes it extremely difficult for us to kick."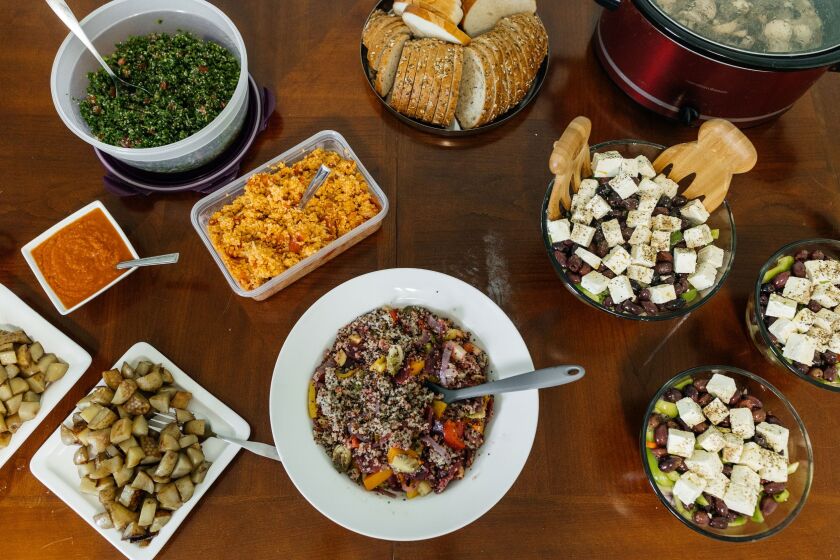 The good news, Myrdal and Schultz say, is that the Mediterranean diet is, well, yummy. It contains satisfying foods like cheese, nuts and olives and it actually contains a fair amount of healthy fat— anywhere from 35 to 45%.
" The most well-researched diet in terms of a diet that people can eat and follow long-term is Mediterranean, because it is delicious," Myrdal says. "It's not a diet, it's a lifestyle. I can eat this way for the rest of my life and feel happy and I don't feel deprived."
What is a Mediterranean diet?
At its simplest, this eating plan consists largely of whole foods, locally sourced, seasonally harvested and minimally processed. More specifically, that means:
Plenty of plant-based foods such as legumes, fruits, vegetables and nuts
Extra-virgin olive oil as the principle fat
Fish and poultry, consumed in low to moderate amounts a few times per week
Cheese and yogurt, consumed in low to moderate amounts daily
Whole grains (grains with bran and nutrient-rich endosperm still intact), such as barley, buckwheat, couscous, bulgur, durum, farro, freekeh , millet, oats, polenta, rice and wheat berries
Fermented foods, such as yogurt or kombucha, to help develop gut health
Very limited consumption of refined grains or sweets.
Small amounts of red wine: about one glass per day for women and two glasses per day for men. "As soon as it moves beyond that, you lose the benefit," Myrdal says.
Modern science first recognized the health benefits of the diets of Mediterranean countries back in 1970, when Dr. Ancel Keys published a 10-year, seven-country study that linked the diet to the extremely low incidence of heart disease in the regions bordering the Mediterranean when compared to other areas of the world.
Over the next few decades, numerous scientific studies reinforced Keys' findings, while also linking the Mediterranean diet to a much lower incidence of obesity, Type II diabetes, cancer, metabolic disorders and even cognitive decline.
So how does one adapt a diet shaped by a Mediterranean locale and climate to one that is landlocked, experiences extreme weather shifts and has a very short growing season? While items like fresh seafood or from-the-tree citrus fruits might not be on the menu, foods like potatoes, lentils, whole grains, lean meats, vegetables, yogurt, olives and nuts are either grown right here or are widely available here, Myrdal says.
Oil in the family
While that bean salad triggered a book, the overall drive to eat healthier started with Peter Schultz and his studies in Greece.
Back in 1997, the Duluth, Minn., native was pursuing his doctorate in ancient Greek art and literature at the University of Athens. While there, he met Professor Olga Palagia, who would become his dissertation adviser and introduce him to her husband, Eugene Ladopoulos, a Greek farmer and olive oil producer. Ladopoulos asked Schultz to come to his warehouse and help him stick labels on several hundred bottles of his Mistra Estates Extra Virgin Olive Oil, which were destined to become the first shipment of Ladopoulos's "liquid gold" to America.
As the two men worked, Ladopoulos regaled Schultz with stories of his land and legacy. Peter was amazed by the flavor and quality of the oil, as well as the farmer's careful stewardship of the land.
Greece is also where Schultz began eating Mediterranean-style, "by default," he says. Before long, he realized his new diet was transforming his body. "Your energy levels go up, you're metabolizing better, you're slimming yourself without knowing you are on a diet. It's absolutely magic."
In 2005, after Schultz had moved to Moorhead, he began importing the oil. Today, customers eagerly await Schultz's olive oil sales, which routinely close down early as devotees snatch up "the liquid gold" by the case.
Ag and wellness experts contribute
As Schultz and Myrdal formed the idea for a book, they agreed they needed to bring more contributors to the table. "This kind of project wasn't just about nutrition or ingredients, it was also about human biology, local ecologies, fair agriculture, deep sustainability, a passion for truly great living," Myrdal writes in the book's introduction. "We clearly needed to add more experts to the team."
The first expert onboard was Dr. David Clardy, a Sanford cardiologist who specializes in preventative cardiology, has made multiple trips to Greece and has followed a Mediterranean plan for decades.
The Mediterranean diet is so effective, Clardy writes in his chapter, that one Spanish study comparing heart health of high-risk people on a Mediterranean diet to that of high-risk people on a low-fat diet was stopped for ethical reasons. The subjects on the Mediterranean plan had such dramatic reduction in heart attacks and strokes that researchers decided keeping the other subjects on the low-fat diet would be immoral.
Another contributor is Schultz's brother, William Schultz, a St. Paul-based psychotherapist and mental-health researcher who devotes his chapter to a reputable study that revealed the positive effects of Mediterranean foods on reducing depression.
The third contributing health-care provider is Dr. Fadel Nammour , a Fargo gastroenterologist in private practice and a native of Lebanon, who covers how Mediterranean foods can improve overall wellness by increasing microorganisms in the gut.
Finally, Noreen Thomas, organic farmer and owner of Doubting Thomas Farms in Moorhead, shares a chapter on how foods grown for a Mediterranean diet not only add much-needed diversity to our region's crops, but can also enrich the soil.
The book closes with healthy recipes from a variety of sources, including well-known foodies like Tony and Sarah Nasello, restaurateurs and "Home with the Lost Italian" contributors ; Andrea Baumgardner, chef of BernBaums in Fargo, and wine expert Sam Wai.
Schultz hopes the book is just the beginning to a broader project that could include everything from a Netflix documentary to Midwestern hospitals distributing the book to every heart patient.
"I do believe we are at the beginning of something that is transformative for this area," Schultz says.
And Myrdal, typically the more restrained of the two, agrees: "This isn't just a book. It's a manifesto."
To purchase "Midwest Mediterranean,", visit https://www.amazon.com/dp/1944296174?ref_=pe_3052080_39751486 0