Bursack: Daughter grieving after mom's COVID-19 death tells others to 'leave their judgment at home'
In today's "Minding Our Elders" column, Carol hears from a reader who has been asked if they blame the nursing home facility, or suggest their mother "would have died soon."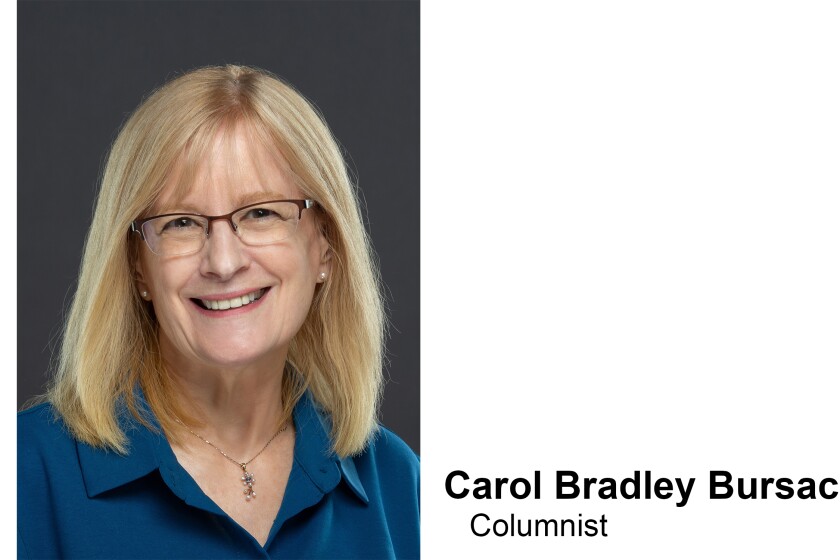 Dear Carol: My long-widowed mother, 83, died with COVID-19. I'm struggling with grief as most people would do in normal times. I have additional grief to deal with, though, because she died in a nursing home setting with only my dad allowed by her bedside.
People try to offer condolences but then ruin the attempt by asking if I blame the facility. I don't because they seemed to do all that they could, but even if I did blame them, isn't this an odd time to ask? Some people think that I'm overreacting because mom was old and "would have died soon," anyway. Oh, then someone else asked if I prayed hard enough!
It's kind of late to help me, but maybe you could suggest that people watch their words. Please tell them to leave their judgment at home. — KG.
Dear KG: I'm sorry about your mom. I can only imagine how horrible it was for you and your family not to be able to be with her yourselves and to support your dad as he sat with her.
Normally, I would say that I believe that most people mean well but they haven't developed the skill necessary to provide comfort. So, while I don't want to lay more on someone who is grieving, I will say that it might help to remember that often people think they are offering comfort even when they are being hurtful.
Judgment, however, has no place in offering comfort, and may I say that rarely is advice welcomed, either.
RELATED COLUMNS: Bursack: Dementia diagnosis begins with the elimination of reversible factors In today's "Minding Our Elders" column, Carol says this reader shouldn't jump to the conclusion that their mother-in-law has necessarily developed Alzheimer's disease.
| Bursack: Respecting older parents' autonomy is more productive than demanding change In today's "Minding Our Elders" column, Carol says there are several possible reasons why a dad is cooperating with in-home help, but not listening to his adult children.
| Bursack: Nursing home changed Mom's medications without telling me In today's "Minding Our Elders" column, Carol says the reader has a right to know.
| Bursack: Caregiver needs to protect herself from mother's misplaced anger In today's "Minding Our Elders" column, Carol says the reader's mom is unlikely to change her personality, but there are things they can do to protect themselves.
| Bursack: Caregiver waiting to hear 'thank you' may need to adjust thinking In today's "Minding Our Elders" column, Carol says the reader needs to consider a few things before deciding.

For readers who genuinely want to offer comfort but feel that they have something to learn, here are some tips that I've accumulated from my years as a family caregiver and a columnist:
No matter your own beliefs, this is not the time for comments on COVID-19.
Think about the grieving person's spiritual or religious beliefs and even then, be careful that what you say won't lay guilt on the person — no matter how unintentional. Asking if you prayed hard enough, by the way, was nothing short of spiteful.
Don't assume that because the person who died is elderly their death doesn't matter. Losing a parent at any age is difficult for most people and devastating for many.
Understand that the person who is grieving might be extra touchy so even well-intentioned statements could be misunderstood. Try to offer comfort but don't blame them or hold a grudge if they don't receive what you say with grace. They are vulnerable at this time and need your understanding.
If/when you have time to visit with them, ask the person in grief to tell you about their loved one. If you have a touching or even funny story that illustrates their loved one's personality, sharing this could bring comfort and even a moment of joy.
Keep it simple. Unless you are close to the person you are attempting to comfort, a heartfelt "I'm sorry" and (in normal times) a hug might be the best thing you can do.
ARCHIVE: Read more of Carol Bradley Bursack's Minding Our Elders columns
Carol Bradley Bursack is a veteran caregiver and an established columnist. She is also a blogger, and the author of "Minding Our Elders: Caregivers Share Their Personal Stories." Bradley Bursack hosts a website supporting caregivers and elders at www.mindingourelders.com. She can be reached through the contact form on her website.