Bursack: Survey reveals the toll of elder and caregiver isolation
In today's "Minding Our Elders" column, Carol says it's become apparent that some type of compromise must be found.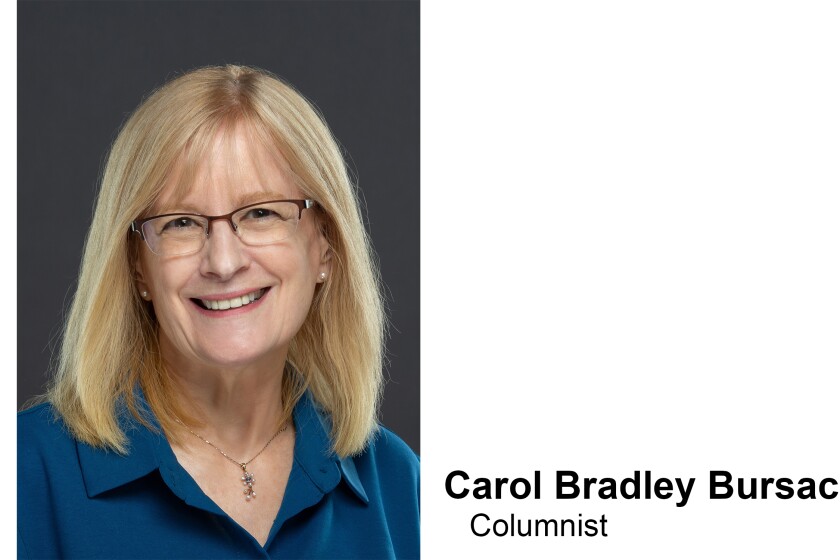 Dear readers: The most difficult aspects of the COVID-19 pandemic for many caregivers has been the isolation of older adults in homes and care facilities, as well as the closure of adult day facilities and other respite options.
How it happened: A wake-up call to the U.S. announcing that this virus had arrived was seeing it race through a West Coast nursing home, taking the lives of many residents. Soon after, COVID-19 was moving quickly through care facilities in New York City, as well.
Health officials used the only tool they had at hand to try to limit the exposure of vulnerable people in care facilities: a ban on outside visitors. Unfortunately, that ban also included essential family members.
Nursing homes and assisted living facilities have needed to take this precaution in the past during other epidemics, so the idea of barring visitors to facilities during pandemics isn't unprecedented. However, shutdowns in the past have generally been limited to two weeks, while this ban has gone on for months.
The best nursing homes have been wonderfully creative in trying to keep their residents safe but occupied. However, over the long haul, this is not enough.
Isolated older adults, many of whom have some type of dementia such as Alzheimer's disease, are deteriorating from this separation from their families. Over time, it's become apparent that some type of compromise must be found.
RELATED COLUMNS: Bursack: Daughter grieving after mom's COVID-19 death tells others to 'leave their judgment at home' In today's "Minding Our Elders" column, Carol hears from a reader who has been asked if they blame the nursing home facility, or suggest their mother "would have died soon."
| Bursack: Dementia diagnosis begins with the elimination of reversible factors In today's "Minding Our Elders" column, Carol says this reader shouldn't jump to the conclusion that their mother-in-law has necessarily developed Alzheimer's disease.
| Bursack: Respecting older parents' autonomy is more productive than demanding change In today's "Minding Our Elders" column, Carol says there are several possible reasons why a dad is cooperating with in-home help, but not listening to his adult children.
| Bursack: Nursing home changed Mom's medications without telling me In today's "Minding Our Elders" column, Carol says the reader has a right to know.
| Bursack: Caregiver needs to protect herself from mother's misplaced anger In today's "Minding Our Elders" column, Carol says the reader's mom is unlikely to change her personality, but there are things they can do to protect themselves.

A survey conducted by UsAgainstAlzheimer's, an organization that works to find treatments and eventually a cure for Alzheimer's and other types of dementia, is revealing:
Two-thirds of Alzheimer's caregivers who responded said they observed a decline in their loved ones' memory or behaviors since the coronavirus-related restrictions, closures and isolation have been in place. "Since my mother has not seen me since February, she has forgotten who I am," one caregiver wrote. "Isolating dementia patients has been the worst thing for them."
The virus-related closures and restrictions also have had a significant effect on older adults living alone or with family. Adult day services are often closed, and home health aide visits have been curtailed. Therefore, the availability of badly needed respite care services that can relieve family caregivers has been limited.
The survey also noted that the continuing high stress is having an effect on caregivers themselves. More than a quarter of the responding caregivers said physical or mental health changes related to the COVID-19 pandemic and isolation have affected their ability to care for their loved ones. "Higher stress leads to increased impatience and depression on my part," a caregiver wrote.
For more information on what the survey revealed, see https://www.usagainstalzheimers.org/press.
What can we do? Care facilities and in-home services must have plentiful testing offering fast turnaround. They also need to have ample personal protective equipment (PPE) for staff and families. Most are working diligently to get to that point.
With the right health protections in place, relatively safe protocols can be developed so that essential family members can resume their vital roles on their loved one's care team.
ARCHIVE: Read more of Carol Bradley Bursack's Minding Our Elders columns
Carol Bradley Bursack is a veteran caregiver and an established columnist. She is also a blogger, and the author of "Minding Our Elders: Caregivers Share Their Personal Stories." Bradley Bursack hosts a website supporting caregivers and elders at www.mindingourelders.com. She can be reached through the contact form on her website.