Dayton's plan: Tax the rich
ST. PAUL - Minnesotans' first look at a complete budget proposal in a $6.2 billion deficit era shows a picture of higher taxes on the rich and health care providers, more money for education and some health care programs and cuts for nursing homes.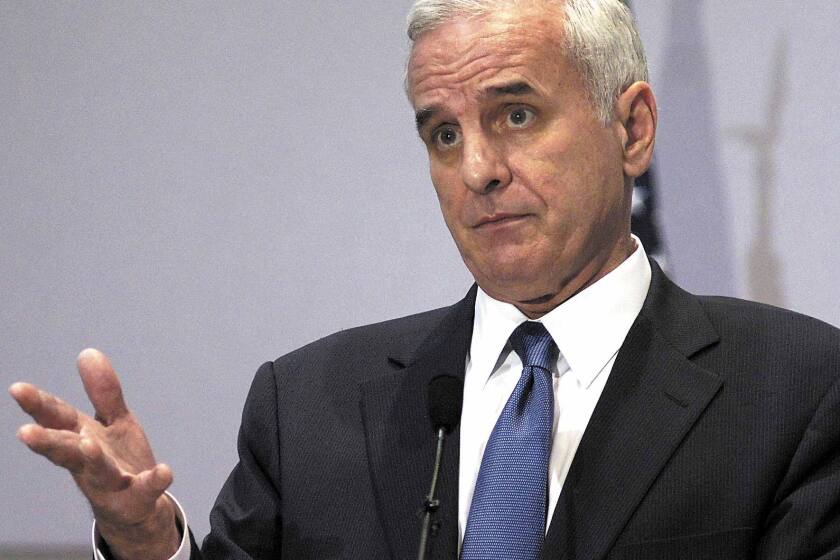 ST. PAUL - Minnesotans' first look at a complete budget proposal in a $6.2 billion deficit era shows a picture of higher taxes on the rich and health care providers, more money for education and some health care programs and cuts for nursing homes.
About 800 state jobs would be lost and local governments would continue to receive the same state aid as they do now under Gov. Mark Dayton's budget proposal unveiled Tuesday, the first major step in drawing up a new two-year state budget.
The Democratic governor said that even he does not like his proposal: "It's the best I can do under difficult circumstances."
Republicans who control the Legislature said he did not do well enough. They claimed to be shocked at his plan to raise revenues more than $4 billion, $2.9 billion by increasing taxes on the richest Minnesotans.
If the plan passes, Republicans said, it would be the largest Minnesota tax increase of all time.
"This is a feeble, pathetic attempt to go back in time to raise taxes and increase spending in order to balance the budget," said House Speaker Kurt Zellers, R-Maple Grove.
Zellers and other GOP leaders pledged to bury the tax increase.
Dayton appealed to rich Minnesotans, including his relatives, to accept higher taxes.
"I am asking for your help until we can turn this ship of state around," he said.
Dayton suggests adding a fourth tier to the state income tax, at 10.95 percent for a couple with $150,000 annual taxable income. That would bring in $1.9 billion.
The state would gain another $918 million by adding a surcharge on taxes for people who earn more than $500,000. And $84 million would pour into state accounts by raising property taxes on homes worth more than $1 million.
"It makes Minnesota's tax fairer by raising taxes only, I emphasize only, on the wealthiest 5.5 percent of Minnesota taxpayers," Dayton said.
Dayton also wants to close what he calls tax "loopholes," including one that allows people who spend more than six months in another state to escape paying Minnesota income taxes.
The state's business leaders did not like the Dayton tax.
"You could not take more destructive action than this, considering the reputation Minnesota already has for being a high-tax state," said Mike Hickey of the National Federation of Independent Business.
If enacted, the new tax rate would be the country's highest.
Republican leaders showed no willingness to compromise, especially on their no-new-taxes stance, and Dayton would not lay out a path for how he thought a budget could be written by the Legislature's constitutional adjournment date in three months.
Reaction was mixed, with even Democratic leaders giving the budget plan only generic support, saying they needed details before embracing it. Some health care providers derided Dayton for suggesting cuts to nursing homes.
Republicans would not say when their own budget plan will be ready.
The GOP plans to spend $32 billion in its budget, $7 billion less than the governor. The current budget is closer to $30 billion.
A new two-year budget begins July 1.
Dayton's plan would cut nearly $1 billion from what agencies had expected to receive. Among those affected would be state workers; he said 800 positions, out of more than 50,000, would be eliminated, some by retirements but some workers would be laid off.
The governor proposes $33 million more for an optional all-day kindergarten program in the next two years, $11.9 million to launch an "excellence in education award" to encourage better student achievement, $5.1 million to close an achievement gap among students by using better technology and $2 million to improve early-childhood education.
"His leadership in making students and schools a top priority will ensure a strong and vibrant future for all Minnesotans," said Tom Dooher, president of the state teachers union.
The Dayton plan would keep state payments to local governments stable for at least two years after more than seven years of frequent funding cuts.
City leaders were happy to hear about Dayton's plan, saying that preserving current state local aid will allow cities to avoid further property tax increases.
"Gov. Dayton's budget is changing the direction Minnesota was heading by saying 'enough is enough' of the property tax increases and cuts that are crippling communities," said Park Rapids Mayor Nancy Carroll, president of the Coalition of Greater Minnesota Cities. "Gov. Dayton's budget not only sends the message that Greater Minnesota will stay open for business, but that the entire state - whether you live in Warroad, Worthington or Woodbury - is a valued part of the future of Minnesota."
Cities have taken state aid cuts of more than $300 million in the past three years.
Budget numbers
Dayton's proposal for the next Minnesota two-year budget:
Total budget
$37 billion: Dayton's budget (Republicans want $32 billion)
New money
$1.9 billion: Income tax increases for couples with more than $150,000 taxable income
$84 million: Higher property taxes on homes worth at least $1 million
$918 million: Two-year income tax surtax on rich
$877 million: Surcharge on health care providers
$430 million: Closing tax "loopholes" and other changes
Delayed payment
$1.5 billion: Continuing to delay repaying a state loan from school districts
Spending
$950 million: Permanent spending cuts
$465 million: New spending, including $331 million
for health care, $45 million for public safety and $52 million for education
Don Davis reports for Forum Communications Co.
1
/
2:
In this file photo, Republican legislative leaders gather to express surprise at how big a tax increase Democrat Gov. Mark Dayton proposes. From left are House Majority Leader Matt Dean of Dellwoord, House Speaker Kurt Zellers of Maple Grove, Senate Majority Leader Amy Koch of Buffalo and Deputy Senate Majority Leader Geoff Michel of Edina. Don Davis / State Capitol Bureau
2
/
2:
Minnesota Gov. Mark Dayton tells reporters Tuesday about how he would balance the state budget while filling a $6.2 bilion deficit. Don Davis / State Capitol Bureau