Higher Power Automotive Ministries provides cars, mechanical help to those in need
MOORHEAD-Tari Joyce spent decades on her feet working as a hairstylist, sometimes standing for hours in stylish high heels. The toll on her feet and joints caught up to her in a big and debilitating way.By the time she was 60, Joyce was disabled ...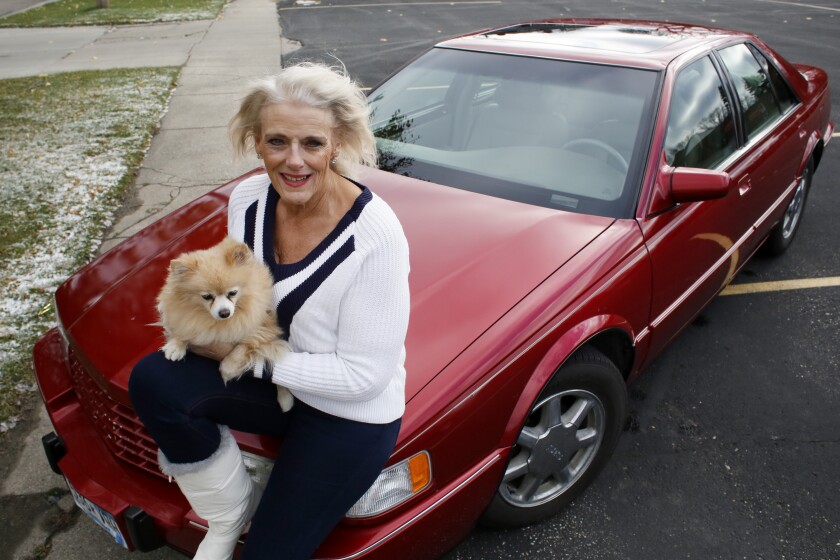 MOORHEAD-Tari Joyce spent decades on her feet working as a hairstylist, sometimes standing for hours in stylish high heels. The toll on her feet and joints caught up to her in a big and debilitating way.
By the time she was 60, Joyce was disabled and unable to work. To make matters worse, her car, a 20-year-old Buick, was unreliable although she'd spent $600 to try to keep it running.
"People just kept taking my money," she said, referring to mechanics who failed to tell her that her car was beyond repair. Once, while driving to the hospital to visit her son, she was pulled over by a police officer because the oily smoke cloud spewing from her tailpipe was blinding other drivers.
"It was a pretty gray time," she said. Even surgeries on her feet and knees failed to enable her to work. "I was out of commission for quite some time."
Then, through a friend at her church, Joyce learned of a new local nonprofit called Higher Power Automotive Ministries that fixes cars and even provides donated cars for those in need.
Because she was in the midst of applying for disability benefits, she was qualified for assistance through the volunteer program, which works in partnership with other nonprofits and social service providers to identify those in need.
Joyce was willing to wait for a car, since she is able to walk in the warmer months. But once winter settles in, and sidewalks turn icy, her mobility becomes extremely limited. After a few months, the phone rang-a 1996 Cadillac Seville was available, just in time for Christmas last year.
The car came "fully loaded," she said. "A lot of miles, but still in running order."
Joyce added: "It was kind of a divine intervention. It was right before the snow. It was like the heavens opened up. It was God speaking to me. It was a Godsend."
'Something more useful'
Matt Carlson and Jeremy Jensen have been friends for 20 years, starting when they attended Moorhead Senior High School together. Both followed the same career path and became computer programmers at Microsoft.
Both also happen to be car hobbyists who enjoy turning a wrench. Carlson inherited a passion from his father for collecting and fixing up vintage cars.
"I came from a car family," Carlson said. Gradually, an idea began to take shape as the pair tinkered on cars. "Maybe I should use this time for something more useful," he recalled.
That inspiration ultimately became Higher Power Automotive Ministries. Both men also have been devout churchgoers, so the idea of turning their hobby into a form of ministry seemed natural.
In the beginning, Carlson and Jensen repaired cars for people who were unable to hire a mechanic. Gradually, people came to them with old cars they no longer wanted. So they started fixing up the old cars and giving them to people who badly needed them.
They discovered that, for tax reasons, people were more eager to donate their cars to a nonprofit, so formed Higher Power Automotive Ministries. Microsoft, and their colleagues at the software company, have been major supporters.
"That's what helped lift us off," Carlson said.
Soon, because they were a strictly volunteer organization, Carlson and Jensen realized they would need help. They formed partnerships with local organizations that have case managers and could provide referrals of people who legitimately need help getting a car.
Jensen and Carlson quickly discovered that their new charity was filling an important void in the support structure. In working with homeless shelters and with programs that help abused women, they learned that lack of transportation is often a key obstacle.
"Transportation is a huge barrier in this part of the country," said Christopher Johnson, executive director of the Rape and Abuse Crisis Center, one of 27 organizations that works with Higher Power. "Having a car is an imperative if you're going to live an independent lifestyle."
Last winter, Higher Power Automotive Ministries received "Friends of the YWCA" award.
"A vehicle means women and children can keep essential school and health appointments," the award statement said. "A vehicle means a woman escaping domestic violence or homelessness has another key to freedom."
Adam Martin, founder of F5, which provides transitional housing for people coming out of jail, prison or treatment programs, agrees that the car repair and donation service is helping people get back on their feet. Housing, employment and transportation are often critical barriers to overcome, he said.
"They're doing an awesome, awesome service," Martin said. "They came onto the scene at the perfect time. There's a huge need for what they're doing."
Higher Power Automotive Ministries was even able to provide a donated truck to F5, which helps the program pick up donated furniture and helps clients move.
The core of Higher Power involves 40 volunteers who help fix the cars. Other volunteers help in other ways, including visiting with the car recipients, often at Hope Lutheran Church in north Fargo, where many of the cars are delivered.
Others donate money or cars or lend tools. Businesses provide discounts on auto parts.
"It's a community effort," Carlson said. "It takes hundreds of people to make this happen."
Jensen, the less talkative of the pair, agrees. "The volunteers and donors who have stood behind us have made it possible."
Given limited time and resources, automotive cosmetics and "luxuries," such as a broken radio, aren't fixed. "We just want to make them safe and reliable," Carlson said. "It's those brake jobs that keep people off the road."
On average, donated cars are 15 years old. Some are heirloom autos, lovingly cared for, donated after the death of an older family member.
The operation now runs with assembly-line efficiency. Higher Power only accepts cars that don't require major repairs, such as engine or transmission overhauls, which can take hours of labor and would result in helping fewer people.
Higher Power has achieved its goal of delivering an average of one car every week. It recently celebrated giving away its 52nd car, a major milestone, but still fixes many more cars than it gives away.
'Overwhelmingly grateful'
During the time Tari Joyce was waiting for the delivery of her car, she was accosted and beaten while walking to visit a friend in south Moorhead. She suffered a dislocated finger, which required surgery.
It was a reminder, she said, of how vulnerable she can be when walking unescorted. But now that she has a car again, she not only has greater mobility. She also has greater confidence and security.
"I'm just overwhelmingly grateful," she said. "I was just blown away that these guys would take their time and take it upon themselves to help me out."
For their part, Carlson and Jensen are trying to figure out a way to expand the reach of Higher Power Automotive Ministries.
"There's plenty of need," Jensen said. Carlson, who recently quit his job to devote all his time to the ministry, said their approach will focus on managed growth. "The more we grow, the more people we can help."
1
/
3:
Jeremy Jensen, left, and Matt Carlson share a laugh in the Higher Power Automotive Ministry workshop. Michael Vosburg / Forum Photo Editor
2
/
3:
License plates from cars donated to Higher Power Automotive Ministry adorn part of this wall in the charity's shop. Michael Vosburg / Forum Photo Editor
3
/
3:
This banner hangs in the Higher Power Automotive Ministry workshop. Michael Vosburg / Forum Photo Editor