Inventor's Knit Kit gets noticed
Mary Humme admits she was skeptical when Barry first brought The Knit Kit to Fuzz, a fiber arts shop in Boise. Now she owns five of them - she keeps one in all her project bags and one in her car.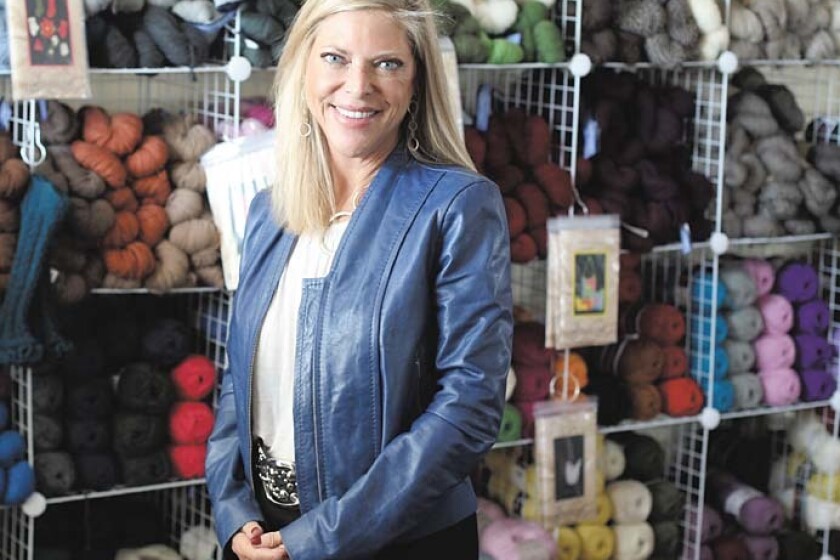 Mary Humme admits she was skeptical when Barry first brought The Knit Kit to Fuzz, a fiber arts shop in Boise. Now she owns five of them - she keeps one in all her project bags and one in her car.
"I was hooked within the first 15 minutes," said Humme, co-owner of Fuzz with Diane Rinaldo. "It's compact and easy to use." Rinaldo said the kit is $5 to $6 cheaper than buying each of the individual accessories separately. She recommends it to novice knitters, but seasoned knitters who've heard about it are beginning to seek it out.
"When it first came out, people were kind of excited about it," said Morgaine Wilder, owner of the shop Carolina Homespun in Meridian, Idaho. "It's a nifty little idea ... It really does nicely what it's intended to do - keep a group of tools all in one place. It's easy to hold, easy to manage."
Getting started
Barry, who is originally from Los Angeles, worked as a bilingual (English/Spanish) elementary school teacher before opening and running three pre-schools. She's also owned a restaurant in Ketchum, Idaho - where she still has a ranch - and sold real estate.
The process of creating a new product isn't as hard as some might think, she said. She sketched it out on a napkin, then worked with a prototype maker in Santa Monica, Calif., to get it just right.
"That was kind of fun - and tedious," Barry said, explaining that the prototype maker had no idea what the accessory tools are used for.
In January 2009, The Knit Kit was introduced at the National Needle Arts Association's winter show.
Now she's closing in on about $800,000 in sales - more than earning back her initial investment of $150,000 to get the business going. The profit is invested back into the product, she said.
Barry has a patent pending, and she's already planning to create new kits for the crafts market, including quilters.
OK on some planes
So what's in the kits? The newest version, which is slightly larger than a women's mirror compact, has seven items: stitch counter (for rows), double-sided crochet hook, thread cutter, 5-foot tape measure, point protectors, collapsible scissors and a darning needle.
The scissors are Transportation Safety Administration approved.
"One of the hugest uses is for travel. Just throw it in a bag and go," Barry said, noting, however, that it's not guaranteed to fly through screening for international travel.
Barry's Boise-based business has a half dozen employees at a basement office in BoDo - including a newly hired marketing director - and the "kits" are manufactured in China. They retail for $19.95 at what Barry calls "little yarn shops." "They have more loyalty," Barry said, adding that the process for getting into the large chains is onerous.
"I just wanted to grow my baby, and I love the industry and the people in my industry."
Martha's seal of approval
A couple of weeks ago, Barry got an e-mail from staff at "The Martha Stewart Show." Her Knit Kit was going to be mentioned in a show on knitting.
"I was so in shock. It was just wild," said Barry, who flew out to New York City last week to be in the audience for the taping of the show.
Barry hopes the exposure on the do-it-yourself maven's show will boost her business to the next level.
"You can't pay for publicity like this ... To have it in her hands is the greatest thing (to) happen in the craft industry," Barry said.
BOISE, Idaho - It all started with a new hobby - knitting - which Barbara Barry took up about four years ago.
"Every time I learned something new, I'd have to buy something new," Barry said of knitting accessories, such as a stitch counter, crochet hook and tape measure. "And they all kept getting lost at the bottom of my knitting bag." Barry scoured the Internet for what she thought she needed - some kind of kit that packaged all, or most, of the things she needed for knitting in one tidy little package. But she didn't find it.
"It was that 'a-ha' moment," said Barry, a former teacher, restaurant owner and longtime entrepreneur.
She decided to invent one for herself - and for the millions of people worldwide who knit and crochet. She began selling The Knit Kit last year and has since sold 40,000 in the United States and 10 other countries.
For more information, visit www.theknitkit.com