Minnesota sees surplus rise to $1.9 billion
ST. PAUL - One of the largest budget surpluses in Minnesota history quickly turned into a big-time, and familiar, dispute about what to do with it: spend it or turn a large part of it into tax cuts.
We are part of The Trust Project.
ST. PAUL – One of the largest budget surpluses in Minnesota history quickly turned into a big-time, and familiar, dispute about what to do with it: spend it or turn a large part of it into tax cuts.
Gov. Mark Dayton and fellow Democratic legislators want to use the $1.9 billion projected surplus announced Friday to bolster education and transportation programs. The governor said he also would like to add money to nursing homes.
Republican House Speaker Kurt Daudt, meanwhile, emphasized enacting tax breaks, which could top $900 million. He also pushed more funding for education and nursing homes. He ruled out supporting a Dayton-proposed gasoline tax increase.
The surplus, which jumped $832 million since December, is bigger than the best-known one, a $1.6 billion excess that Finance Commissioner Pam Wheelock announced Dec. 2, 1999: "We have a boatload of money available, and I'm not talking about a rowboat, but an ore boat."
No one Friday claimed that the state has a "shipload of money," but leaders of both political parties were happy.
Commissioner Myron Frans of Minnesota Management and Budget, who today holds the equivalent of Wheelock's job, announced the $1.9 billion surplus in a reserved manner. He was so reserved, he admitted to reporters, that "I have 'Pause for smile' in my notes."
Others did not need to be prompted to smile.
"This surplus comes from more Minnesotans working than ever before in our state's history, and from more of them earning higher incomes than before," Dayton proclaimed
He launched a preemptive strike against Republicans, knowing they would call for tax cuts.
"We have no assurance that this national economic recovery will last indefinitely," the governor said. "History assures us that it won't."
Given that the economy eventually will get worse, he added, Minnesota should "invest our collective good fortune in our collective better future."
In a reworked budget he plans to release the week of March 9, Dayton said he will propose spending an additional $238 million for universal pre-kindergarten, giving the University of Minnesota $65 million to freeze tuitions for the next two years, providing the Minnesota State Colleges and Universities system $95 million to freeze tuitions one year and providing half of the funding to freeze them the next year and $25 million to increase state college grants.
The governor also said he will suggest spending $50 million for child protection programs.
Dayton did not specify where he would spend the rest of the new surplus, but when reminded that he earlier said one of his priorities if the state surplus expanded would be to give extra money to nursing homes, Dayton said he still believes that is important.
His two-year budget would cost about $42 billion.
The surplus did not influence Dayton to reverse his desire for a $6 billion, 10-year transportation plan, funded in large part by a new gasoline sales tax.
Republicans said that tax hike is not needed.
"I am going to challenge Democrats in the Legislature and the governor to take this off the table," Daudt said.
Instead of raising taxes, Daudt promised a plan to lower them. While he offered no specific proposal, he said it would be at least $900 million in tax breaks.
When asked if he wanted to give businesses better tax deals, he said he wanted the middle class, and all Minnesotans, to see lower taxes.
Chairman Jim Knoblach of the House Ways and Means Committee was critical of Dayton and Democratic legislative leaders who agreed with Dayton.
"You just have to wonder how big a surplus would have to be for them to actually propose that hard-working Minnesota families get something back," the St. Cloud Republican said.
Friday's report indicated that among changes affecting the revenue forecast are that tax collections are expected to be $616 million higher than expected in December and spending $115 million lower.
Legislators have until May 18 to write a two-year budget and send to Dayton for his signature.
Highlights of budget forecast:
New revenue and spending predictions added $832 million to a December estimate, indicating the surplus in the next two years will be $1.9 billion.
Lower oil prices were a major contributor to the surplus.
While most of the news was good, the current economic condition means that prices for Minnesota exports will be lower, which could affect businesses and farmers.
More households are being formed because Minnesotans have money to move out on their own.
Minnesota's individual income taxes are predicted to rise $393 million and sales taxes could be up $124 million from December predictions, both attributed to growing wages.
Education spending is expected to be down because fewer students are in schools and there are fewer poor students who need financial aid.
The governor plans in late March to release a plan to borrow $850 million for public works projects
Related story: Partisan lines drawn on how to use Minnesota budget surplus
1
/
3:
Gov. Mark Dayton said Friday, Feb. 27, 2015, he is happy to see a projected $1.9 billion Minnesota budget surplus. Don Davis / Forum News Service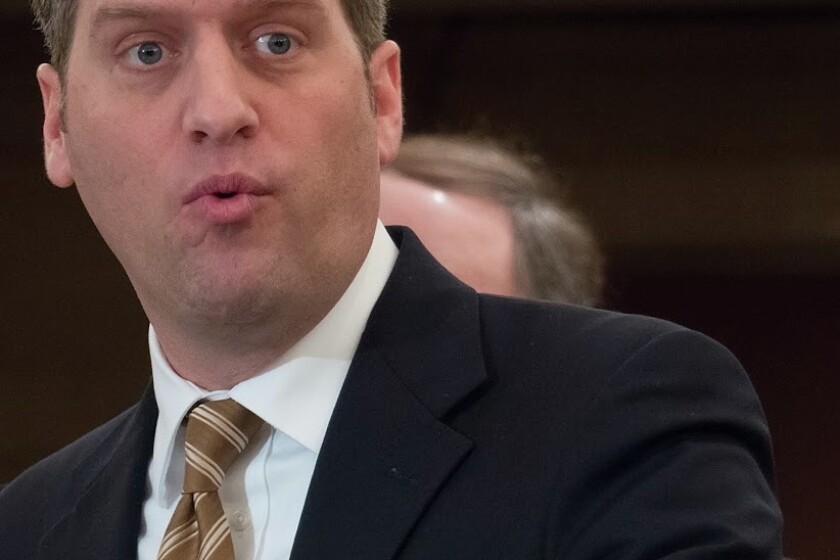 2
/
3:
Minnesota House Speaker Kurt Daudt says on Friday, Feb. 27, 2015, that at least $900 million of a $1.9 billioin state budget surplus should go back to Minnesotans in the form of tax relief. Don Davis / Forum News Service
3
/
3:
State Budget Director Margaret Kelly sorts charts before Minnesota Management and Budget officials announced Friday, Feb. 27, 2015, that the state has a projected $1.9 billion surplus. Don Davis / Forum News Service