Noah's play time: Fargo fourth-grader takes music, acting talent
Noah Coon was so young he could barely talk or sing when he was asked to offer a rendition of "The Wheels on the Bus Go Round and Round" at a family get-together.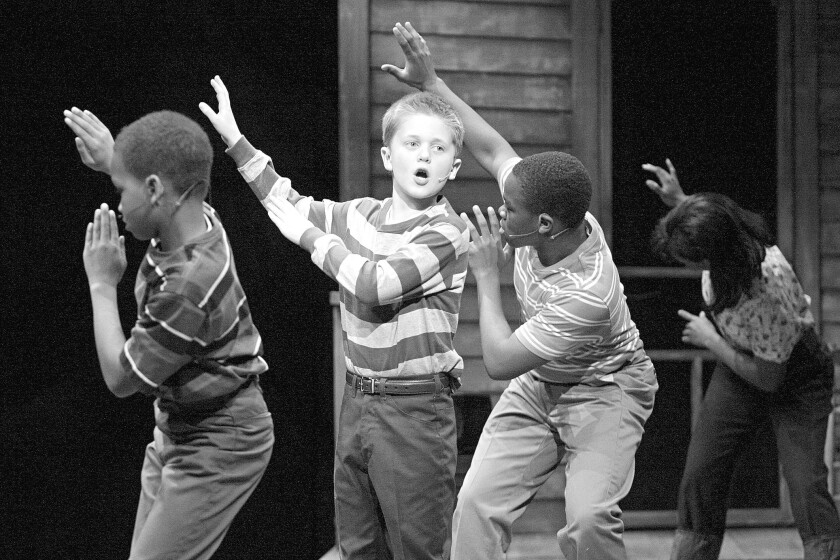 Noah Coon was so young he could barely talk or sing when he was asked to offer a rendition of "The Wheels on the Bus Go Round and Round" at a family get-together.
"And he stood up, walked to the middle of the room where everyone was standing, sang the entire song nice and loud ... and just sort of went about his business," says Chad Coon, Noah's father.
His mother, Kim Coon, says the fourth-grader "doesn't understand the concept of shyness."
And that works out well for Noah. He's one of the principal actors in the production of the musical "Caroline, or Change" at the Guthrie Theater in Minneapolis through June 21. Set against the segregation of Louisiana in 1963, the story revolves around the relationship between the Gellman family's African-American maid Caroline and 8-year old Noah Gellman, played by Coon.
And he's having a great time at it.
"Yeah, I love it," he says. "I don't want to change anything. I'd do the show awhile if I could."
The stage certainly isn't new turf for Noah, who performs on alternating nights of the production. He's performed in tours of "A Christmas Carol" with Troupe America, a Minneapolis theater company. He's also performed in several Fargo-Moorhead Community Theatre productions including "Oklahoma," "Oliver" and "101 Dalmatians" and with FM Ballet.
"I'd really like to do this when I grow up as my job," says Noah, who speaks with a crispness and maturity beyond his 10 years. "That's kind of my dream is to go to Broadway one day and perform on one of the stages."
That's a pretty big dream for such a little guy, but Marcela Lorca, director and choreographer of "Caroline," calls Noah "a natural actor."
"He's not trying to act. He's not trying to put on a performance. He just naturally steps into it," Lorca says.
She "was always taken by his comments and his versions of what was going on." She says Noah "was very integral in crafting his own character, which I think, for a kid his age, is truly exceptional."
Scott Brusven, FMCT director of marketing and education, says Noah is "definitely smart when it comes to understanding the script and understanding the characters that he's played."
And Brusven, who has worked with Noah on several productions, says that "from a very young age I saw a spark in his eye."
"There's something in his eyes that says, 'I love doing this and I really want to do this,' " Brusven says.
Noah's creativity extends outside the theater, too, as his father knows well.
Some years ago, Noah asked his dad, "If things from America are American and things from Italy are Italian, what do you call things from Maine?" Chad Coon recalls. "I said, 'I thought I was going to be able to answer your questions for a little while, Noah.' "
Noah is outside-the-box in other ways too. He may well be the only 10-year-old on the planet who likes both tofu and oysters.
"The weirder it is, the more he wants to eat it," Kim Coon says.
Maturity notwithstanding, he's still a 10-year-old. And Matt Gasper, who teaches Noah at Gasper's School of Dance in Fargo, says Noah "hasn't lost his kidness."
Noah "just loves stuff that 10-year-old boys love; loves to ride his bike with his friends and things like that," Chad Coon says. "And when he does it, he's not thinking about or talking about acting or anything else like that."
Even with that normal side to life, being the parent of a child actor can be peculiar.
"It's strange to stand with him outside the stage door as I did last Saturday and have people come up and ask for autographs from him," Chad Coon says. It's "sort of weird to see him treated kind of like a celebrity."
And it can get pretty moving, too. It took Noah's mom about two weeks before she could see the show without crying.
"He likes that. He says he knows he did a good job if I cried," she says.
"I love it," Kim says. "You see him out there and he's singing and he's so happy. I'm a proud mom."
If you go
What: "Caroline, or Change"
When: Through June 21
Where: Guthrie Theater, 818 S. 2nd St., Minneapolis
Info: Tickets are $34 to $65. Call (612) 377-2224 or visit www.guthrietheater.org for more information.
Readers can reach Forum reporter Shane Mercer at (701) 451-5734