Pelican Rapids alumni help offset cuts in district
Hundreds of checks for the Pelican Rapids (Minn.) School District arrived this spring from far-flung states - and from Switzerland, Austria and Norway.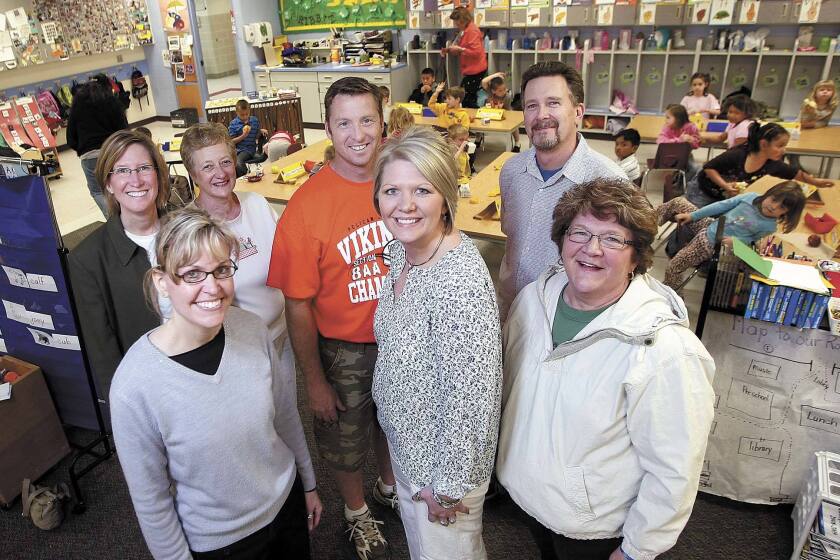 Hundreds of checks for the Pelican Rapids (Minn.) School District arrived this spring from far-flung states - and from Switzerland, Austria and Norway.
A group of Pelican Rapids High School alumni reached out to fellow graduates and asked for cash to help offset $600,000 worth of budget cuts in the coming school year. The reductions came after the narrow defeat of a levy referendum in November.
In partnership with a group raising funds in the community, alumni have already raised enough money to save the district's all-day kindergarten. They're stepping up their efforts as the district gears for a second crack at passing the levy this fall.
"It's really sad to see these cuts chipping away at school activities," said Fargo attorney Joe Johnson, who sent a $300 check. "To me, it's a no-brainer to keep things going."
Minnesota communities have raised private funds for cash-strapped districts before, though the bid to actively target alumni is uncommon for this region. The move speaks to a wider - and somewhat controversial - trend of public schools adopting fundraising tactics out of the playbook of private schools.
The Pelican Rapids School Board approved cuts this spring that included the full-time equivalent of about seven positions.
As Minnesota schools face the possibility of state funding cuts, Superintendent Deb Wanek is asking principals to look for ways to trim paraprofessional staff further.
The idea for the alumni fundraiser came to board member Kathy Ouren last November after this lakes country city of about 2,500 voted down a $1,100-per-pupil levy.
"I let myself be bummed out for just a couple of days," said Ouren, an alumna, "and then I said, 'I can't just sit and be bummed out. I have to do something.' "
Before long, a group of about 30 alumni in town - going back to the class of 1951 - met to form a strategy. After weeks of scouring class reunion lists, checking with local relatives and posting queries on the social networking site Facebook, the group had 4,300 addresses.
In the meantime, a community fundraising group, led by the Rev. Bob Satterlie, prepared to approach residents for help. In March, an estimated 200 people gathered at Faith Lutheran Church in town for an envelope-stuffing potluck. The district posted an appeal to alumni on its Web site.
Satterlie said the groups quickly realized their goal of raising $500,000 to offset most of the cuts by summer was unrealistic. But between the two, they've come up with $80,000, enough to keep the all-day kindergarten program open. They also hope to bring back part-time English and math positions at the high school.
Almost 400 alumni have contributed more than $50,000. They include the 1953 high school class president and a woman who was able to tag along on a 1959 senior class trip to Chicago only thanks to a community donation.
Clark and Violet Hohman sent a check from Florida, where they've lived since the 1980s. They met at Pelican Rapids High School in the early 1970s. She was a cheerleader, and he was on the track team.
With alarm, they've kept track of budget cuts in recent years, including the end of the cheerleading program. So when they received the alumni group's letter, they decided to write a check even though they pay about $150 in school taxes on their Pelican lake home.
"I thought it was very creative and very ingenious to reach out to the alumni," Violet Hohman said.
Both groups also received a few critical letters back. Some suggested the fundraiser is really a campaign for the levy - a suggestion Ouren dismisses.
That said, organizers are vocal about their support for a second levy referendum. They hope a successful passage will ensure their plea to alumni is a one-time venture.
Readers can reach Forum reporter Mila Koumpilova at (701) 241-5529