West Fargo son: Vietnam hero coming home
WEST FARGO - U.S. Air Force Maj. Wendell Keller and his co-pilot, Lt.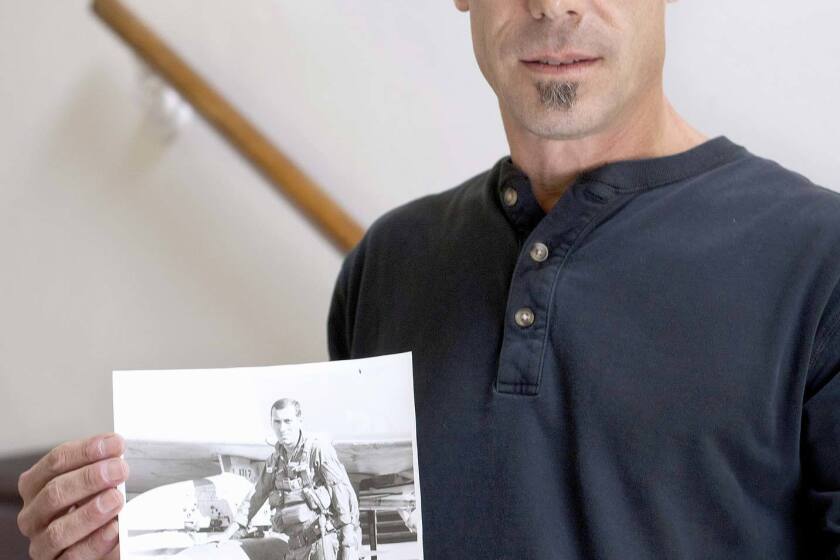 WEST FARGO - U.S. Air Force Maj. Wendell Keller and his co-pilot, Lt. Virgil "Mike" Meroney, prowl the night sky above Laos in their F-4D Phantom jet, on the lookout for North Vietnamese forces stealthily making their way along the Ho Chi Minh Trail far below.
Muzzle flashes suddenly reveal the location of anti-aircraft guns.
Nearly out of rockets and bombs after striking at suspected enemy positions for the past half hour, Keller takes only a moment to decide that his wingman, who is flying an F-4D Phantom nearby, needs protection.
Radioing his intentions to a spotter plane that has been helping direct his attacks, Keller points his plane into a dive and sends a volley of rockets sizzling and snarling into the darkness.
In the spotter plane, members of Keller's squad watch as tracer bullets stream skyward from the ground.
Fear grows when they see the sulfurous arcs suddenly terminate, indicating the fiery slugs have encountered ... something.
Simultaneously, small blooms of fire erupt on the ground as Keller's rockets hit their mark.
Moments later, the flashes are dwarfed by a much larger explosion nearby.
Keller's wingman immediately calls "Mayday, mayday, mayday!" on an emergency channel before attempting to raise Keller on the radio.
But the calls go unanswered as the wingman circles above the Laotian landscape, which has again fallen dark.
The jet fighter eventually runs low on fuel, and its pilot reluctantly turns toward home, a U.S. airbase in Thailand.
For the next week, radio frequencies are closely monitored, but Keller and Meroney are not heard from again.
Unexpected news
Michael Keller knows the story well, having collected declassified data on the mission and accounts of the incident published in military magazines.
And for most of his life he has understood that his father died that night in 1969, flying over the jungles of Laos.
"I pretty much knew he had been killed in action, and I just thought that, after all these years, they'd never find anything," said Keller, who lives in West Fargo.
But in 2010, more than 40 years after his father's plane went down, a search team traveled to Laos to take a closer look at a spot that had been identified many years before as a crash site.
Keller said at first he and his family weren't very hopeful because the region saw heavy action during the Vietnam War and many planes were lost in the area.
But then the news came: Searchers had found a tattered ID card belonging to Maj. Wendell Keller, along with samples of human remains, which were sent to the United States.
Since then, it has been confirmed that the remains were those of his father, Maj. Keller, and of his father's co-pilot, Lt. Meroney, both of whom received promotions in rank after their deaths.
Both will be honored on Friday at a funeral service at Arlington National Cemetery in Arlington, Va., where co-mingled remains of the airmen will be laid to rest.
There will be another service later at the U.S. Air Force Academy in Colorado Springs, Colo., for individual remains identified as belonging to Wendell Keller.
Phantom memorial
Michael Keller, who was 4 years old in 1969, said he always felt his father was a hero, but those feelings intensified when he learned the site of his father's plane crash had likely been found.
In honor of his father and as an outlet for his feelings, Keller began building a scale model of his father's F-4D Phantom, a task that took him the better part of a winter to complete.
Starting with a stock kit, he customized the model to recreate precisely the look of the plane his father flew for the last time on March 1, 1969.
He also put together a display that has been shown at the Fargo Air Museum, and he collected stacks of documents from his father's career, including flight logs from the years his father, a graduate of North Dakota State University, was stationed in the Red River Valley and flew out of the Grand Forks Air Force Base.
Keller said his dad was always busy flying and he did not see him much before he left for Vietnam.
He remembers his father as a man of few words who was always gentle and caring toward his family.
Keller keeps a letter he wrote about his father in 1972 when he was 7 or 8 years old.
With boyish misspellings preserved, it reads in part:
"My Dad is Maj. Wendell Keller. He is a POW MIA. In the war.
"He has been gone sence March 1, 1969. I am hoping he will come back. Our holl family is very sad about our dad.
"If he comes back I am going to tell him not to go back to the war. I have been sorry about him. I have only seen him about five times.
"I wish and wish for him to come back. He has been in the war sence I was a little boy. I was about two then.
"Every one feels sorry about him," the letter concludes. "They wish he would come back too."
Lingering pain
Michael Keller plans to be in Washington on Friday to welcome his father home.
But it looks like his mother, Jacqueline Keller, won't be there.
The reason is a painful one and harks back to 1975, according to Keller, who said that was the year the widow of his father's co-pilot asked the Air Force to change her husband's status from missing in action to killed in action so that she could remarry.
The Air Force granted the request, but at the same time it also changed Wendell Keller's status to killed in action, even though it did not have a written request from his family to do so.
"Which was a mistake on their part," Keller said.
"What it did, basically, it denied my mother benefits that should have been available to her," he said.
"This has created a huge hardship for my mother," Keller said, adding that his mother, who never remarried, raised him and his older brother, Gregory, on her own.
Keller said his family learned of the Air Force's error 20 years after it was made and he said the military eventually admitted its mistake, offering what Keller describes as a small settlement.
Since then, his mother has fought for additional compensation.
From her home in Colorado, Jacqueline Carol Tessier Keller, a graduate of Fargo Shanley High School, said she would like to attend the honors ceremony at Arlington, but she is too upset to participate, given her ongoing frustration with the Air Force.
"They spoiled for me what should have been a joyous occasion," she said.
While the government agreed to scrub its 1975 decision and push back the date of her husband's killed-in-action status by several years, which resulted in her receiving full benefits, Keller said the move came 22 years after the fact and the back pay she received did not take into account inflation and lost interest.
She's also looking for compensation for the error.
"Thirty-seven years ago, the Air Force made a serious mistake and legal error, improperly changing the status of my husband, Col. Wendell Keller, who was shot down over Laos in 1969," Jacqueline Keller said.
"That admitted mistake has cost me dearly, and the cost continues to mount," she said. "The acknowledged error robbed me and my family of a great deal, and this error has yet to be fairly and properly corrected, despite my best efforts over the decades."
The story of her disagreement with the Air Force can be found on her website: http://hm.dinofly.com/JCK/ .
While he understands his mother's feelings, Michael Keller said he doesn't want that aspect of his family's story to detract from what he believes should be the focus right now: the services planned at Arlington.
"I want my father to be honored for the hero he is," Keller said.
Have a comment to share about a story? Letters to the editor should include author's name, address and phone number. Generally, letters should be no longer than 250 words. All letters are subject to editing. Send a letter to the editor.
Readers can reach Forum reporter Dave Olson at (701) 241-5555