McFeely: Speak Easy's closing 'devastating' to longtime employees
Moorhead restaurant had several servers, bartenders, cooks who worked there for 30 or more years. The place was special in that regard. Most will have to find new jobs.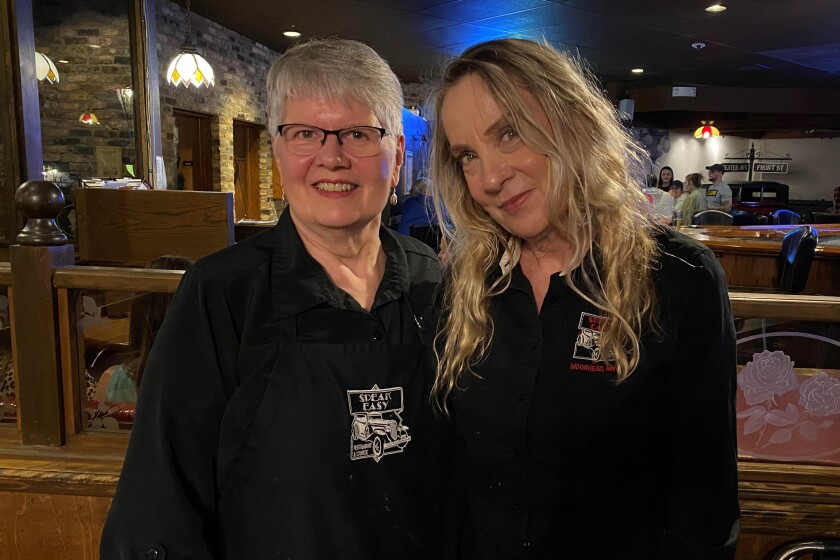 We are part of The Trust Project.
MOORHEAD — Rennitta Okerlund, Jayne Schlicht and Cindy MacLeod were finishing a busy night serving at the Speak Easy late Thursday just as they'd finished thousands of busy workdays before. They sat at a couple of tables not far from the bar in the dim, windowless dining room and wrapped silverware.
A fork, a knife and a spoon rolled into a napkin, stacked in a plastic bin, ready for the next day. Again and again. They chatted and joked above the din of the restaurant's remaining customers . MacLeod sipped on a drink.
On this night, different from all those before, their work was interrupted every now and again by a customer or co-worker stopping by the tables to offer a hug and condolences. There were words of encouragement and thank yous. There were questions of what was next.
The Speak Easy, a Moorhead institution that opened in 1974, is closing for good this weekend. Owner Bob Kietzer told the staff in a surprise announcement. It's not a staffing issue, the restaurant and lounge simply isn't making enough money. The news was made public Wednesday.
Customers flocked to the restaurant Thursday — there was a line out the door for lunch for the first time in forever — to get one last plate of spaghetti or piece of lasagna at the 1930s gangster-themed Italian restaurant. In a different time the "Speak" was the place to be and on Thursday many old-school Moorhead residents wanted to feed themselves a bit of nostalgia.
The media did their stories and by next week, it's likely the world will have moved on. Restaurant closings are not uncommon, particularly in a post-COVID world.
But for Okerlund, Schlicht, MacLeod and several others at the Speak Easy the news was, in the words of manager Jill Driscoll, "devastating." These were not jobs they picked up for a couple of months to make a few extra bucks. These are not teenagers going to college and trying to make beer money.
Okerlund has worked at the Speak Easy for 47 years.
Kent Larson, currently a cook who's held several positions at the restaurant, has been there 40 years.
Schlicht has worked there 36 years.
"And two months," she says. "But who keeps track?"
MacLeod is in her 30th year.
Other employees have been at the Speak Easy for 10 years, 15 years, 20 years. This place was special in that regard.
"This makes me very sad," Okerlund said. "We are like a family. Our longtime customers are like our family, too. We are friends and family. Our customers would bring in pictures of their children, graduation pictures, wedding pictures, baptism, confirmation. Just like a family."
Okerlund and Schlicht began working at the Speak Easy while they were going to what was then called Moorhead State University and just never stopped. MacLeod took a part-time job for something to do when her kids started school. Same thing. Never stopped.
Schlicht worked 34 years full time for a local company and still didn't quit her part-time hours at the restaurant. The extra money helped, of course. But she liked it, too.
"This was my social life," MacLeod said. "This is the way we saw people."
The business changed plenty through the decades. Okerlund began working at the Speak Easy in 1975 and back then it was one of the few restaurants in Moorhead. Going out for dinner wasn't the casual, common affair it is now.
"It was much more fine-dining. People would get dressed up and go out for drinks and dinner with their wives," Okerlund said. "We used to have a piano and we'd have live music. We actually had to stop because we weren't turning over the tables fast enough. The place would be full and people would sit when they were done with dinner and listen to the music. It was costing us money."
In its heyday, the Speak Easy was the place to be for Moorhead businessmen and politicians. It was home to graduation parties, groom's dinners, Christmas parties and company outings.
"Back in the day, it seemed like we were setting up for a Christmas party every day between Thanksgiving and Christmas," Schlicht said. "Now there's none of that."
There were brushes with celebrities, too. Dancer Gregory Hines signed Schlicht's ballet slippers. Actor Barry Pepper stopped in while in Fargo for the Roger Maris Celebrity Golf Tournament. O.J. Simpson dined at the Speak.
"One time Red Skelton came in right at closing after he played over at the comedy club and wondered if he could get something to eat. I had to tell him the kitchen was closed," Okerlund said. "He came in and looked around, though. He seemed to like the place."
The restaurant looks largely like it did in 1974. It is dimly lit. There are red curtains and red velvet adorning the walls of the lower dining room. There is art of 1930s actors and musicians, photos of old-time Moorhead. A chandelier from the old Comstock Hotel hangs from a tin ceiling. There is a walk-in cloak room. The booths are the same red faux-leather. The bar is huge.
It is, in some ways, like stepping back in time. It is more supper club than sports bar.
And, of course, the car. A red 1931 Auburn 898, the kind of car Jimmy Cagney would drive in a gangster movie, sits in the front area near the bar. It is the trademark item in the Speak Easy.
"I just kind of thought we would be able to do this until we were done," MacLeod said. "I guess we'll have to figure something out."
Asked for her best story from all those years of being a server, bartender, hostess and whatnot at the restaurant, Okerlund looked up from rolling silverware and smirked.
" You mean besides the airline pilots? " she said.
No history of the Speak Easy would be complete without talking about that. Three Northwest Airlines pilots got drunk at the restaurant one night in 1990 and flew a 727 from Fargo to Minneapolis early the next morning. They were arrested. It was national news.
Okerlund wasn't working that night.
"God saved me that day," she chuckles. "It was a Wednesday night and I had church."
Okerlund, Schlicht and MacLeod didn't have any wild stories of craziness or debauchery. Just good memories of good people, so many of whom were repeat customers and familiar faces.
"Our clientele was so respectful. We didn't have customers getting drunk or getting into fights. It wasn't that kind of place," Okerlund said. "But they also knew we weren't going to talk out of school. What happened at the Speak Easy stayed at the Speak Easy."
The employees don't know what's next for the building and all the treasures inside it. Some customers Thursday were wondering if the owner was going to sell the paintings, photos or the car. He hasn't communicated his plan to his staff.
For the workers who've given a good chunk of their lives to the Speak Easy's four owners over the years — Okerlund is the only employee to work for all of them — most will have to find new jobs.
"I'm 70 years old. I'm done. My husband said he'd like me to be at home," Okerlund said. "But for these others? The bills don't pay themselves. They're going to have to get jobs somewhere else."
The family is being forced to go its separate ways.
"Why can't Elon Musk buy the Speak Easy?" asked Schlicht. "Forget Twitter. Who wants that? This would be more fun."
All three agreed on the best part of working for the Speak Easy for 47, 36 and 30 years. There was no hesitation when asked.
"My co-workers and the customers," Okerlund said. "We've had amazing clientele here. The people who work here are amazing. You don't see people working at the same restaurant for so many years anymore. But this place was family. I hope people appreciate that."