McFeely: Wrigley's denial of 'shenanigans' looks dubious
Further reporting suggests "Wrigley echoed what the Trump legal team would ultimately pursue in having fake electors sent to Congress on January 6 to have the then vice-president, Mike Pence, refuse
We are part of The Trust Project.
FARGO — We won't even get into the inappropriateness of a U.S. attorney hatching suggestions to reverse election results. What current North Dakota Attorney General Drew Wrigley did by sending texts about the 2020 presidential election to U.S. Sen. Kevin Cramer was a possible violation of Department of Justice rules and perhaps the Hatch Act.
Wrigley, as U.S. attorney, was sworn to uphold the Constitution. It would appear he was offering ideas to circumvent it by texting Cramer, a fellow Republican from North Dakota.
Quick recap: A book released Tuesday includes text of messages Wrigley sent to Cramer in the wake of Donald Trump's loss to Democrat Joe Biden in the 2020 presidential election. The texts were reported by online news source Axios on Monday.
Axios' reporting became a local story when myself and Forum News Service's Rob Port published opinion columns about it Monday night. Both my column and Port's included denials from Wrigley that he'd done anything inappropriate and that his texts to Cramer were simply suggestions to protect "election integrity."
Further reporting Tuesday indicates Wrigley's texts weren't so squeaky clean.
On Monday, Wrigley was triggered by the Axios report that said he suggested a "last-ditch effort" to reverse the election results in Trump's favor, and by a column I posted at InForum that parroted Axios' reporting. Axios had obtained a copy of the book, "The Breach," written by former Jan. 6 committee adviser Denver Riggleman, a former Republican member of the U.S. House.
Let's focus on those late-night denials Monday from Wrigley to myself and Port, in which Wrigley passionately took issue with the suggestion that texts he sent to Cramer, who forwarded them to Trump's chief of staff Mark Meadows, were anything but innocent messages simply calling for innocent recounting of absentee and mail-in ballots in crucial states Trump lost.
"I was advocating to make sure we get every vote counted. I haven't advocated, and would not advocate, any sort of end-around," he told Port on Monday night, adding that he was confident the full text of his messages would prove this to be the case.
"I would never and did not advocate for any sort of end-run shenanigans. I wanted to push to make sure that shenanigans weren't being pushed in either direction," Wrigley continued to Port. "At the end of the day there's a constitutional course to be followed, and it was followed. In the end the constitution prevailed."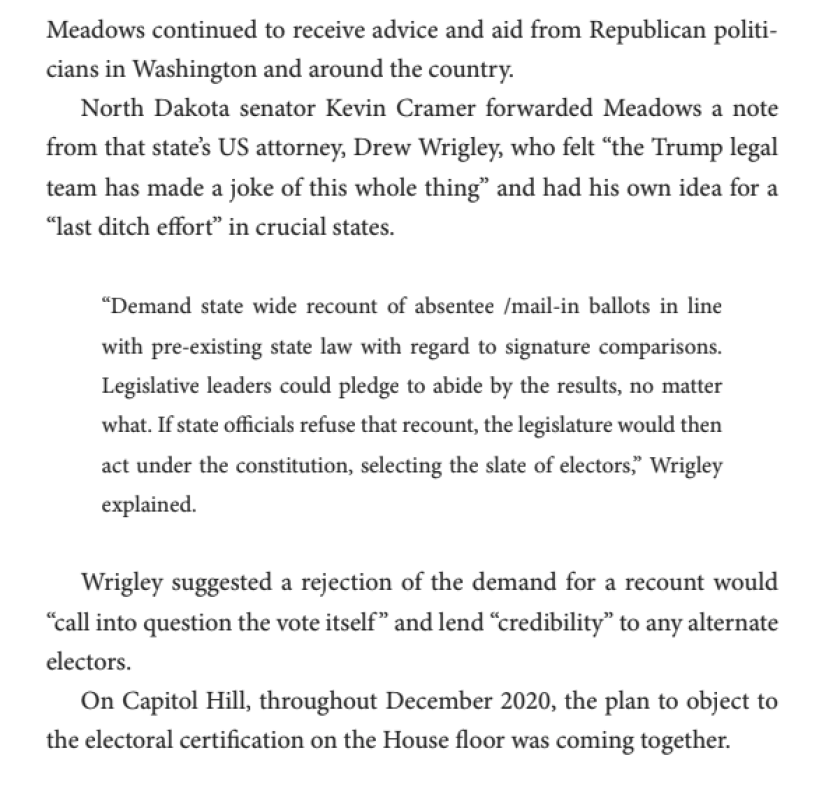 Turns out there was more to Wrigley's alleged innocent texts.
It surely looks like he was advocating an end run filled with shenanigans.
Further reporting by media outlets that had access to Riggleman's book show Wrigley's texts could be construed as a roadmap to using so-called "fake electors" and having Vice President Mike Pence refuse to certify Democrat Joe Biden's election.
The fake electors scheme was hatched by Trump lawyers and supporters, most notably Rudy Giuliani. They believed they could use claims of voter fraud in seven closely contested states to declare Trump the victor, after which sympathetic Republican legislatures would send an alternate slate of electors to Congress, who would pledge those states' electoral votes to Trump.
According to The Guardian news website:
The former president's final White House chief of staff also fielded a text from the Republican senator Kevin Cramer, who forwarded a note from North Dakota's then US attorney, Drew Wrigley, who offered his own advice for overturning the results because '"Trump's legal team has made a joke of this whole thing."
"Demand state wide recount of absentee/mail-in ballots in line with pre-existing state law with regard to signature comparisons," Wrigley wrote. "If state officials refuse that recount, the legislature would then act under the constitution, selecting the slate of electors."
The suggestion from Wrigley echoed what the Trump legal team would ultimately pursue in having fake electors sent to Congress on January 6 to have the then vice-president, Mike Pence, refuse to certify Biden's win — a scheme now part of a criminal investigation by the US attorney in Washington DC.
The text from Wrigley is significant since the justice department is supposed to remain above the political fray. Wrigley's note appears to mark an instance of a federal prosecutor endorsing a legally dubious scheme when there was no fraud sufficient to alter the outcome of the 2020 election.
According to an excerpt of Riggleman's book posted on Twitter by online commentator Parker Molloy, Wrigley's texts "suggested a rejection of the demand for a recount would 'call into question the vote itself' and 'lend credibility' to any alternate electors."
To repeat: Wrigley's plan was to "call into question the vote itself," according to the book, which would allow the fake electors scheme to move forward more easily.
1. Request unnecessary recounts
2. Add in bizarre demands for those recounts
3. Wait for states to say, "Hey, that's not how things work."
4. GOP legislators then use that to give themselves the political cover needed to overturn the results. pic.twitter.com/WXDa4YSfi0

— Parker Molloy (@ParkerMolloy) September 27, 2022
Molloy offered her breakdown of Wrigley's texts:
"1. Request unnecessary recounts
"2. Add in bizarre demands for those recounts
"3. Wait for states to say, 'Hey, that's not how things work.'
"4. GOP legislators then use that to give themselves the political cover needed to overturn the results."
Wrigley vehemently denied Monday night that his texts suggested anything other than normal requesting of a recount. He said the release of his full texts would prove his innocence. He repeated those denials Tuesday. Less than 24 hours after his full-throated denial of wrongdoing, further reporting suggests there was more to his messages to Cramer.