Port: Cara Mund is in danger of being pigeonholed as the favorite candidate of North Dakota's liberals
Mund is not going to be elected to the House of Representatives by taking the votes of disappointed progressives away from the pro-life Democratic-NPL candidate. Even if she took them all - and she won't - there wouldn't be enough to win.
We are part of The Trust Project.
MINOT, N.D. — Let's stipulate, for the purposes of this column, to the idea that former Miss America Cara Mund believes what she says when she tells us she's an independent with no great affinity for either political party.
Let's set aside any concerns that this might be a gambit deployed by a largely left-leaning candidate who wants to eschew, at least nominally, the Democratic brand in a very Republican state where no Democrat has won on the statewide ballot since 2012.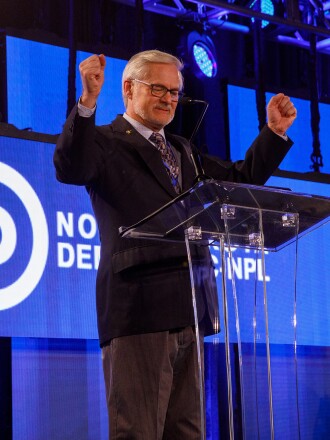 Whatever is truly behind Mund's motivations, she's quickly being defined, both by her actions and those most enthusiastic about her campaign, as an alternative candidate for North Dakota liberals chagrined that the Democratic-NPL candidate, Mark Haugen, is pro-life.
Allow me to make my case.
This week Mund held a fundraiser at the home Thomas Dickson , a long-time liberal activist, a former chairman of the Democratic-NPL, and the former chairman of Democratic Sen. Heidi Heitkamp's campaign. Based on the pictures and social media posts from the event, if there was someone who might credibly be called right-of-center in attendance, I don't know who they are.
Today she gave the first long-form interview of her campaign to left-wing talk radio host Joel Heitkamp , brother to Heidi Heitkamp, who pitched the candidate softballs while looking on adoringly.
If we don't like pink, I'm open to another color. Like baby blue. Or a nice aquamarine color. We can workshop it. Whatever we come up with, it should serve as a reminder that law enforcement should be about safety, both for the cops and for the public, and not some action-movie fantasy.
Did Rep. Jason Dockter, a Bismarck-area Republican, really think that this sort of dealing, assuming it's all technically in compliance with state law, would pass the smell test with the public? If he didn't, he's a fool, and if he did, you have to wonder why he went ahead with it anyway.
On this episode of Plain Talk, Republican secretary of state candidate Michael Howe debated Democratic-NPL candidate Jeffrey Powell on a wide-ranging set of issues related ot that office.
At one point Heitkamp asked Mund if she voted for Donald Trump in 2016 or 2020, and she refused to name who she voted for, and instead of pushing this largely undefined political newcomer to give voters a straight answer, Heitkamp made some excuse for her having to do with the privacy of the voting booth.
Great journalism, that. Anyone think he would have accepted a nonanswer like that from a Republican?
Let's keep going.
The state's left-of-center columnists have been doing a lot of heavy breathing about her campaign, too.
Mike McFeely is enthusiastic .
Jim Shaw is gung-ho .
Mike Jacobs is smiling .
Lloyd Omdahl is on the bus .
Tony Bender is thrilled .
On social media, it's probably not your conservative friends who are enthusiastic about Mund's entry to the House race.
North Dakota's voters are watching all this. They know where these commentators come down politically. They may be wondering to themselves how someone who is supposedly independent, someone who claims to have problems with both parties, can garner so much adoring attention from just one side of the political divide.
Our state's right-of-center voters are out there waiting for Mund to do something that appeals to them.
If the political independence Mund lays claim to is genuine, and it's not a campaign costume she's donned for the sake of expediency, then she should be mindful of how she's being perceived. The left-of-center columnists and activists and radio hosts she's ingratiated herself to represent the minority in North Dakota's electorate.
Mund is not going to be elected to the House of Representatives by taking the votes of disappointed progressives away from the pro-life Democratic-NPL candidate. Even if she took them all — and she won't — there wouldn't be enough to win.
In North Dakota, nobody wins on the statewide ballot without appealing to a lot of people who think of themselves as Republicans.
Mund will go nowhere if she doesn't peel some Republican and conservative-leaning independent voters away from Armstrong.
And she's not going to do that while basking in the adulation of a left-wing audience.
By the way, if you'd like to hear Mund debate Armstrong and Haugen, subscribe to my Plain Talk podcast . That debate will be the Wednesday, Sept. 7, episode.