Port: Inside the pressure campaign to get the Democratic-NPL candidate out of Cara Mund's way
Some Democratic-NPL insiders are unhappy with their party's decision to push U.S. House candidate Mark Haugen out of the race in favor of independent candidate Cara Mund. They say prominent Democrats like former Congressman Earl Pomeroy did the pushing, though Pomeroy says he only gave Haugen advice.
We are part of The Trust Project.
Minot, N.D. — Yesterday, in an announcement sent to members of the news media , U.S. House candidate Mark Haugen, who had stepped up to accept his party's endorsement at their state convention this spring, said he was stepping down from the race to clear the way for independent candidate, and former Miss America, Cara Mund.
"Over the past several days, I have received pressure from many Democratic-NPL Party leaders and other activists on the far left to step away, since Cara Mund has entered the race," he said.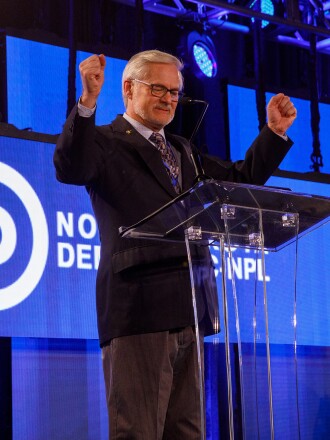 "Much of the far left's concern is my pro-life position for which I have refused to compromise. Knowing this, without the support from the Democratic -NPL party, I don't see a viable path forward to winning this race," he continued.
Haugen will elaborate on this announcement at a press conference to be held in Bismarck this afternoon.
Candidates have until Tuesday, Sept. 6, at 4 p.m. central time to withdraw their names from the ballot, meaning the Democratic-NPL will be able to remove Haugen as a choice when voters begin to cast their ballots.
Haugen declined to comment when I reached him on Sunday. He said he'd speak with me about the decision at a later date. "Today, things are still a little raw," he said.
Mund didn't not respond to a phone call.
The incumbent, Rep. Kelly Armstrong, was careful to stay out of the Democratic-NPL squabble.
"The decision to run for Congress is a big one, and I thank Mark Haugen for throwing his hat in the ring. He stepped up for his party when no one else would," Armstrong said in a statement. "As a former party chairman I have a lot of respect for that. A lot is going to be said about why Mark was forced out of the race and I'll let the pundits give their takes. I'd just like to thank Mark and his family for stepping up and doing the work. Regardless of our political differences, I respect the hell out of that."
It's hard to put words to how startling this news is.
A political party turning its back on its own endorsed candidate? Apparently in favor of an independent who has been telling voters that she doesn't represent a political party?
Mund has been insistent that her candidacy is independent political parties. "I'm not a party — I'm a person," she told political reporter Jeremy Turley earlier this month . She's also been coy about her personal politics, refusing to answer questions about which candidates she's voted for in past election cycles.
Yet since her campaign launched it's been powerful and high-profile Democrats who have been giving her the most support.
I've spoken to two people in positions of leadership in the Democratic-NPL who were unhappy with this turn of events and told me that Haugen received pressure to leave the race from party chairman Patrick Hart, and even high-profile North Dakota Democrats like former Congressman Earl Pomeroy.
"They did Mark dirty," one source told me, noting that Haugen received the endorsement of Democratic-NPL delegates to a convention big-name North Dakota Democrats like Pomeroy, Conrad and Heidi Heitkamp didn't bother to attend.
I spoke with Hart, and he acknowledged that "many people" have been "giving Mark advice" about whether to stay in the race, though he denied that he personally told him to get out. "I don't tell people what to do," he told me when reached for comment on Sunday.
When I asked Hart if his party planned to give an endorsement to Mund, he couldn't give a concrete answer. "I don't think so," he said.
I told Hart that some observers, looking at this series of events from the outside, might see Mund's candidacy as something other than the independent endeavor she claims it is. She's been fundraising with the chairman of Heitkamp's U.S. Senate campaign . She got a softball interview with Heidi Heitkamp's brother Joel, a left-wing talk radio host based in Fargo. Now the Democratic-NPL itself is clearing their endorsed candidate out of her way.
"I can understand why it would look that way," Hart told me, but added that he hasn't spoken with Mund.
"I didn't lean on him," Pomeroy said when I reached him for comment, though he acknowledged having a conversation with Haugen about "changing circumstances" in the race now that Mund is in. Pomeroy said he told Haugen that Democrats want to "maximize the contrast with the incumbent" Kelly Armstrong.
Both Armstrong and Haugen are pro-life. Mund is pro-choice, and has said that the U.S. Supreme Court's opinion overturning Roe v. Wade was what inspired her to run for Congress.
How does leave the calculus for North Dakota House race?
At first blush, this is a boon for Mund. She was going to split votes with Haugen. Now she won't. That's to her benefit.
But this also has a heavy impact on how Mund is perceived by the state's voters. The strategy behind her decision to be independent was to have her avoid the Democratic-NPL label which, let's face it, is toxic to a lot of North Dakota voters.
But now that the Democratic-NPL has gone to extraordinary lengths to give Mund a leg up, doesn't that just make her their de facto candidate? All the more so now that they've thrown their endorsed candidate under the bus?
Mund is now tied about as closely to the Democratic-NPL brand as she could be without actually being their endorsed candidate.