Friday Mailbag: How we count COVID-19 deaths, why the Legislature isn't responding to the pandemic, and more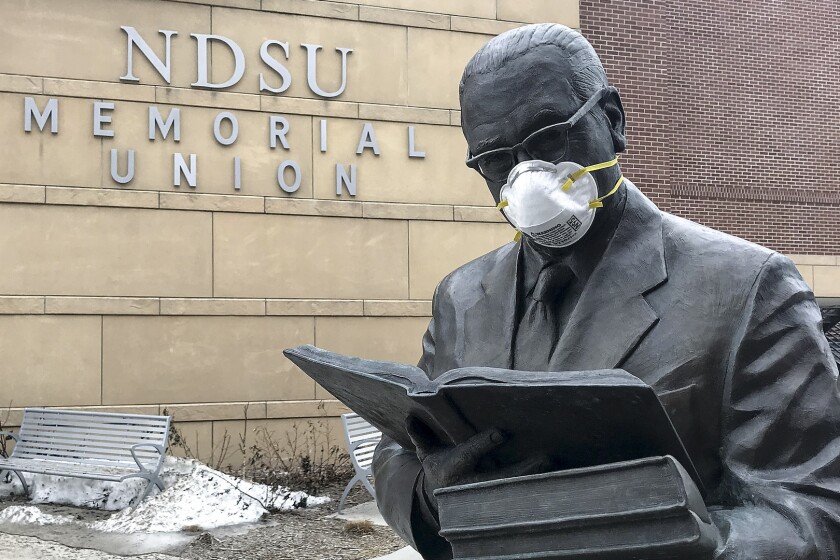 We are part of The Trust Project.
MINOT, N.D. — It's finally Friday, and also the day when North Dakota businesses can begin a "smart restart" (to use the parlance of Gov. Doug Burgum's administration).
Who else is ready for a haircut? I know I am.
I got some great feedback from you readers this week. If you'd like to send a comment or a question, email it to rport@forumcomm.com.
Some of you have been sending your stuff to me on other platforms like Facebook and Twitter. I do my best to engage everywhere, but I get a lot of feedback, and if you want to be sure I see something, email is the best way.
Feedback published in the column may get edited for brevity and clarity.
Now, to this week's feedback!
Charles writes: I do enjoy your columns; thank you for your frank discussion of the current issues. One question from a recent column, you said that this virus was the "second leading cause of death." Could you clarify that for me? Heart disease, lung diseases, cancer, etc. seem to be much more likely to earn that category.
"Let's remember that the COVID-19 virus has swiftly become the second leading cause of death among Americans, and it's closing in on heart disease for the top position."
That's the passage, from my last Sunday print column, that Charles is referring to. He's right, of course, that things like heart disease and cancer are usually the top killers of Americans. During this pandemic, however, COVID-19 has been near the top of the list. I wrote that it was the number two killer, and at one point it was , but where it ranks depends on how and when you begin measuring.
The point is, the virus is serious. As serious as heart disease and cancer.
I've also been getting a lot of questions from readers about how we're measuring COVID-19 deaths. For instance, if someone has a bad heart or an existing respiratory problem and they contract the virus and die, does that death get attributed to those preexisting medical conditions or the virus?
It's a good question, and there's no hard and firm answer for it. How COVID-19 deaths are calculated differs depending on which state you're in .
Alabama distinguishes people who die with COVID-19 from people who die because of it.
Colorado attributes deaths to the virus if it seems probable it was a factor.
In North Dakota , people "who died from any cause while infected with COVID-19" are counted as deaths from the virus.
Is that the right way or the wrong way? I don't know. Any given individual's health is a complex nexus of variables. If an already infirm person getting the virus means they die on Tuesday instead of Wednesday, how do we count that?
I'm not sure there's ever going to be a perfect answer. We just have to choose a method and be transparent about the methodology, as well as open to other forms of measurement.
Ken writes: Has governor or state legislators had any discussions on the many slush funds or raining day funds? Some have huge sums of money like the Legacy Fund. I'm not being critical, but shouldn't this crisis be given priority over savings accounts? I have complete faith in state lawmakers to manage this event.
Senate Majority Leader Rich Wardner (R-Dickinson) and House Majority Leader Chet Pollert (R-Carrington) published a letter to the editor this week publishing discussing some of the things Ken is asking about. I think Ken is right that the Legislature has a role to play in responding to the COVID-19 pandemic, and there are reasonable debates to have over how we can use resources such as the Legacy Fund to be a part of the recovery.
Unfortunately, the lawmakers have been resistant to engaging. They don't seem to want to do their jobs right now.
"The truth is, calling a special session right now would be premature and a misuse of taxpayer dollars," Pollert and Wardner write in their letter.
It's an ironic argument for them to make. I've been writing about the Legislature since 2003, and the gripes I've heard consistently, and mostly from Republicans like Wardner and Pollert, is that the federal government and the executive branch of our state government often overreach.
But now, during the COVID-19 crisis, our lawmakers are content to sit back and let the federal government and the executive branch take the lead? Where's the bluster about the separation of powers people like Wardner had when the Legislature was suing Burgum ?
Our state government is set up with three separate and co-equal branches. The executive branch is engaged right now. The judiciary is engaged. The Legislature has done nothing. There is work lawmakers could be doing in Bismarck right now. They just don't seem to want to. Perhaps something to keep in mind the next time you hear a lawmaker gripe about other branches or levels of government encroaching on their turf.
Linda writes: I'm just wondering why no one mentioned to the public that right now they don't see the cost with the subsidies but when they end the electric bills will go out of this world if we get rid of coal?
I've been writing a lot about coal power and wind power lately, and there's a good reason for it. The largest coal-fired power plant in our state may well be closing. Many in the public seem to have bought into the idea that coal's demise is inevitable — a product of cheap natural gas and the rise of renewables.
What the public doesn't understand is the enormous cost to be paid if we see the further diminishment of coal power in our region. A massive government subsidy has driven the rise of wind. The cost of wind looks very different, absent that subsidy.
But you're probably familiar with that. What you may not be familiar with is the cost of the new transmission capacity, which will be necessary to serve the wind generation needed to replace coal (if we stipulate to the idea that intermittent wind energy can reduce steady, reliable coal, which we shouldn't). Billions will be needed to build new transmission lines. You and I will pay for that.
Also, those transmission lines will very often need to be built in greenfield areas where there hasn't been any development yet. How do you suppose our environmentalist friends are going to feel about that?
There is not a lot of long-term thinking going on in the electricity business right now. Instead, there's a gold rush to cash in on government subsidies before they expire, and one day we're going to pay the price for it.
Jay writes: I haven't been able to catch most of Burgum's press conferences, but I was wondering if he's ever been asked about his stance on urban density. He's always been a big proponent of building higher, and concentrating homes and businesses in smaller urban areas to reduce the need to extend infrastructure (water/power/etc.) into sparsely-populated areas. I'm wondering if this pandemic and its rapid spread through areas like NYC (if not necessarily places like Fargo and Bismarck) has made him reconsider that position at all.
Population density certain has an impact on the spread of the virus, even here in the wide open spaces of North Dakota. The geographic areas with the largest outbreaks in the state are Cass County, Grand Forks County, and Burleigh County .
Those are, in order, our three most populous counties.
I sent this question to Burgum's staff, but unfortunately, I didn't receive a response.
It's an interesting question, and I'd like to hear the governor answer it.
For my part, I'm very skeptical of the people who are saying that COVID-19 is going to change our lives forever. I don't think that's particularly true. Our lives are always evolving due to all manner of factors, from war to changing social mores to technological advancements. From that perspective, of course, COVID-19 is going to change some things in our society, but I'm not sure it will be the sort of radical shift some of these breathless nothing-will-ever-be-the-same-again articles are claiming.
Humans have always faced plague and disease, including sickness brought on by dense urban living.
Some people like to live in densely populated areas. Others do not. I'm glad that we Americans live in a place and a time where we have a choice about that sort of thing.
I don't think the virus should inspire us to change how we live. I think it should inspire in us a desire to cure, or at least protect ourselves, from the virus.
To comment on this article, visit www.sayanythingblog.com
Rob Port, founder of SayAnythingBlog.com, is a Forum Communications commentator. Reach him on Twitter at @robport or via email at rport@forumcomm.com .