Peterson in Europe discussing swap rules
U.S. Rep. Collin Peterson, D-Minn., left for Europe this weekend to discuss ways to regulate little-known and difficult-to-understand "credit default swaps."...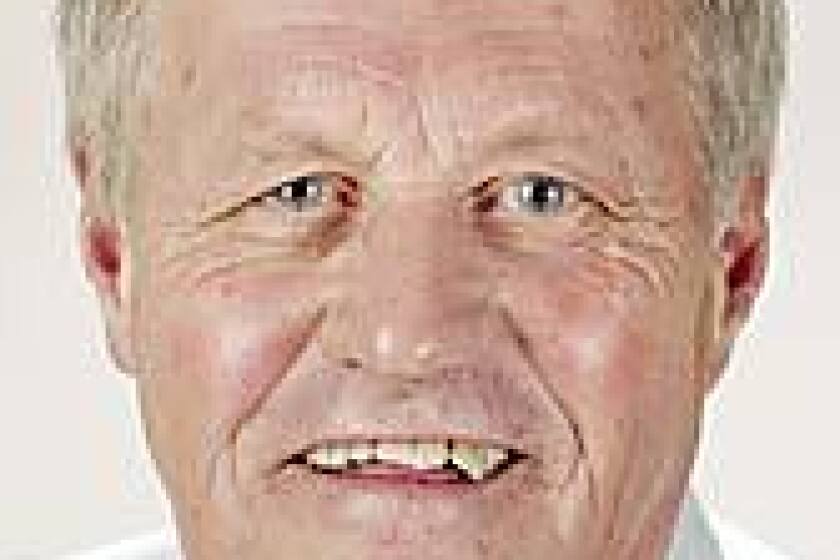 U.S. Rep. Collin Peterson, D-Minn., left for Europe this weekend to discuss ways to regulate little-known and difficult-to-understand "credit default swaps."
The swaps are insurance-like contracts that financial institutions use to cover losses in bonds and other financial documents. They are not regulated, and Peterson thinks countries should watch them closely.
"It has to be global," Peterson said, so he and other House Agriculture Committee members plan to meet with top government financial regulators in England, Germany and Belgium during their weeklong trip.
In a recent hearing on establishing federal regulation, Peterson said, federal agencies were "fighting with each other over who will have jurisdiction."
Experts say the swap industry now tops $50 trillion annually, more than double the U.S. stock market. And being unregulated, people like Peterson fear even greater problems than Americans face in the current economic crunch.
"Very few people know much about the credit default swaps market, and even fewer people know the significant role they have played in the financial and credit crisis that has threatened the stability of our economy," Peterson said.
Peterson has talked with President-elect Barack Obama's transition team about the situation.
Election not over
Secretary of State Al Jaeger says the election's not over until the Electoral College electors vote. And that comes almost six weeks after Election Day.
At 1 p.m. Dec. 15, the North Dakota Republican presidential electors will gather in the Governor's Conference Room and cast the state's three Electoral College votes for Sen. John McCain, who carried the state on Election Day.
Republican electors are former Public Service Commissioner Richard Elkin, Public Service Commissioner Susan Wefald and longtime District 22 Republican Chairwoman Cleo Thompson of Page.
After they fill out paperwork involved in casting their votes, the ballots go to "three different places in Washington, D.C." by certified mail, Jaeger said.
Outdoors panel starts
The council that will recommend how to spend money voters approved to come from a higher sales tax meets for the first time today.
The Lessard Outdoor Heritage Council convenes in St. Paul to begin figuring out how it wants legislators to spend about $80 million in 2010, and more in later years. The money comes from a modest sales tax increase that was part of a constitutional amendment voters approved Nov. 4.
The council, named for long-time Sen. Bob Lessard of International Falls, does not have final say in how the additional money will be spent for wetlands, prairies, forests and habitat for game, fish and wildlife.
Two senators on the committee illustrate the range of people on the panel. Sen. Ellen Anderson, DFL-St. Paul, is one of the Senate's most liberal members, and a strong conservation advocate. Sen. Bill Ingebrigtsen, R-Alexandria, is a former Douglas County sheriff and very conservative.
"These members will provide informed opinions on the worth and overall impact of prospective projects to the Legislature," Senate Majority Leader Larry Pogemiller, DFL-Minneapolis, said.
No Round 2
When President-elect Barack Obama named former Federal Reserve Chairman Paul Volcker to lead his President's Economic Recovery Advisory Board, we had to find out what Sen. Byron Dorgan, D-N.D., thought.
When Dorgan was a new congressman, he so opposed Volcker's policies he introduced the "Paul Volcker Retirement Act of 1981," allowing Congress to remove a Fed chairman.
Dorgan and other members of Congress, along with various state legislatures (including North Dakota's), were angry that the Fed, under Volcker, had jacked interest rates in the country as high as 18 percent to 20 percent as a way to tame inflation.
Now Volcker will advise Obama on how to jump-start the economy and stabilize the financial markets.
He's "probably not someone I would have chosen," Dorgan said last week, "But Barack Obama won the presidency."
And, he noted, "There's been a lot of water under the bridge since 1981."
At the time of his Volcker retirement bill, Dorgan had just arrived in Washington weeks earlier, having been elected to the U.S. House in November 1980. A congressman from Texas also introduced two bills of impeachment against Volcker. The retirement and impeachment bills didn't succeed. Volcker served two full four-year terms, leaving office in 1987.
Safer cigarettes
Cigarettes sold in Minnesota now are less likely to start fires.
A new law requires cigarettes to be safer.
"There is no single issue that will have a greater impact on reducing the occurrence of fires and more importantly, fire deaths, than this legislation," said Nyle Zikmund of the Minnesota State Fire Chiefs Association. "In fact, this legislation ranks second only to smoke detector legislation, which was passed in the early 1970's, in terms of making an impact."
The law just now is taking effect, after it first came up in 1981. Unattended cigarettes are blamed for 25 percent of all fire deaths.
"Requiring all cigarettes sold in Minnesota to be 'fire-safe' will prevent deadly fires and save lives," said Rep. Joe Atkins, DFL-Inver Grove Heights.
Ought to be a law
North Dakota Republican Party Chairman Gary Emineth wants the Legislature to clarify and augment the state's law that bars electioneering on Election Day.
With the move toward early voting precincts in some of the larger cities, Election Day is, in effect, spread out over two weeks.
Emineth objected in October when the Democratic-NPL held a pre-election rally the Saturday before Election Day in a room at Grand Forks' Alerus Center. The Alerus was also the location of Grand Forks' early voting precinct. Emineth said having a political rally so close to a polling place violated the spirit of the law.
Insurer fined
The Minnesota Commerce Department fined Physicians Mutual and Physicians Life Insurance Cos. $375,000, alleging the Omaha, Neb., firm sold various types of insurance that were not suitable for the buyers.
The company agreed to pay the fine, plus pay back customers affected by its actions.
"This is another important case in our ongoing campaign to protect seniors from illegal insurance sales practices," Commerce Commissioner Glenn Wilson said. "We expect every insurance company doing business in Minnesota to comply with our laws, especially when it comes to the suitability of products sold to our senior citizens."
The case dates back to 2004.
Not Lieberman
A Washington blog has labeled U.S. Rep. Collin Peterson, D-Minn., "the original Lieberman."
Peterson, who serves most of western Minnesota, did not like the comparison but laughed when told about it.
The DailyKos ran a post called: "Who was Lieberman before Lieberman was Lieberman?"
It points out that Peterson often has not fallen in line with his party's leaders, much like Joe Lieberman, the Connecticut U.S. senator who was a Democrat but now is more of an independent who supported GOP presidential candidate John McCain.
The DailyKos and the liberal Huffington Post reminded readers that a few years ago House Democratic leaders "upbraided" Peterson for not contributing enough money and doing other things for his colleagues.
What about Conrad?
Field & Stream magazine named Sen. Charles Schumer, D-N.Y., one of its "heroes" in its year-end issue; Sarah Palin is another.
The distinction, according to online articles, was due Schumer for having "joined Sen. (Kent) Conrad in pushing a bill that would provide the opportunity to protect the state's (hunting) industry." It passed as part of the Farm Bill.
Why the magazine lauds Schumer and not Conrad is something even Conrad's staff can't explain.
Conrad introduced his "Open Fields" legislation in the Senate in 2003, 2005 and 2007 with Sen. Pat Roberts, R-Kan. In the House, the prime sponsors were Rep. Earl Pomeroy, D-N.D., and Rep. Jerry Moran, R-Kan.
Davis and Cole work for Forum Communications Co., which owns The Forum Davis can be reached at (651) 290-0707 or ddavis@forumcomm.com . Cole can be reached at (701) 224-0830 or forumcap@btinet.net
Fargo city commission hand-wringing over northside Red River crossing is short-sighted
The Minnesota State system request for $350 million in additional funding would freeze tuition and train more desperately needed workers.
Part of resistance to bridge connecting downtown to Red River lies with Fargo's perception