Port: Are North Dakotans OK with companies paid to collect signatures for ballot measures?
The defenders of the status quo like to paint a rosy picture of initiated measures, urging the public to believe they're volunteer, citizen-led campaigns to initiate grassroots ideas as law. This is bunk.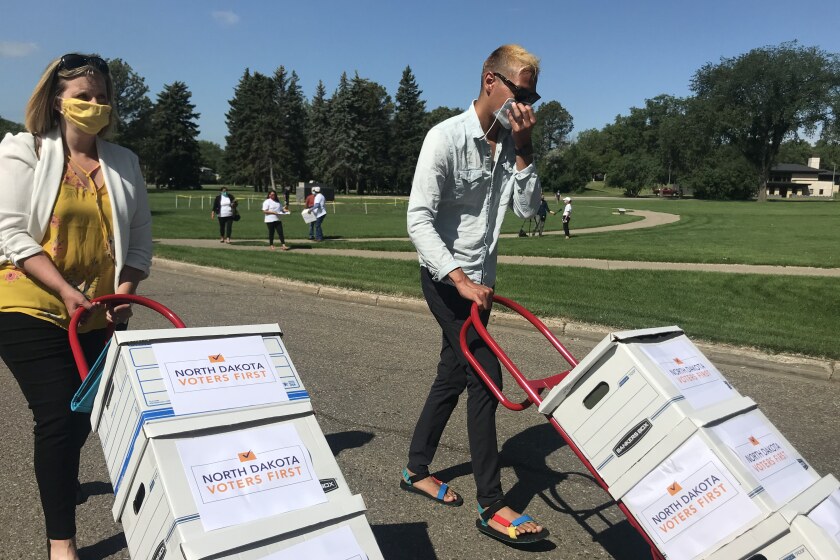 We are part of The Trust Project.
MINOT, N.D. — I much admire my friend Tony Bender as a writer, but there's no escaping the fact that he is a profoundly partisan thinker.
For Tony, if Republicans are for something, then that something must be harmful, and there isn't any need for a more thorough analysis than that.
You can see how that attitude colors his column today about Measure 2 , and the question of reforming the initiated measure process generally.
The way he sees it, Republicans oppose the initiated measure process because it represents the voice of the people and Republicans, uh, hate the people or something?
If you haven't tuned in to this issue, Measure 2 is a constitutional amendment placed on the ballot by the majority Republican Legislature ( full text here ). It would change the process for constitutional measures to allow the Legislature to weigh in. If approved by voters, measures amending the constitution (not, you will note, statutory measures) would be voted on in the next legislative session.
If approved, they are enacted.
If voted down, they go back to the people for another vote.
This provides the sort of check and balance on the initiated measure process typical of the American system of government.
Bender, and other critics, have chosen to interpret it as an insult to the people. "Citizen government is all well and good, I suppose, until citizens start getting involved," Bender writes . "You folks need to sit down, shut up, eat your vegetables, and just vote 'R' if you know what's good for you."
It would be amusing to review this ode Bender has written to the wisdom of the masses after Election Day when North Dakota's voters have cast their ballots, overwhelmingly, for Republicans once again, no doubt to his chagrin.
It's the citizens who made the Legislature so Republican, Tony.
Anyway, Measure 2 has become a focus because of the demise of Measure 3 at the hands of the state Supreme Court . That proposal would have amended North Dakota's election laws in ways calculated to help candidates hide their political affiliations from voters. Republicans have been winning in North Dakota for so long, the left-wing interests behind Measure 3 decided the rules of the game should be changed.
Whatever the partisan motivations behind Measure 3, how it was placed on the ballot is a shining example of the things that are wrong with the initiated measure process.
The defenders of the status quo like to paint a rosy picture of initiated measures, urging the public to believe they're volunteer, citizen-led campaigns to initiate grassroots ideas as law.
This is bunk.
Measure 3, specifically, had financial backing that came exclusively from out-of-state activist groups, including an ideological nonprofit founded by an Enron billionaire .
With that billionaire's money and contributions from left-wing groups in places like Massachusetts and Colorado, the Measure 3 committee paid hundreds of thousands of dollars to a Texas-based organization called Advanced Micro Targeting to collect the thousands of signatures that are requisite for placing a measure on the ballot.
Can someone explain to me how that situation jibes with Bender's fanciful meanderings about grassroots activism?
Advanced Micro Targeting has turned signature gathering for North Dakota initiated measures into something of a cottage industry. This cycle, the company received $335,000 for services rendered to the Measure 3 campaign. It was their petition circulators who were accused by many citizens of misrepresenting the measure as being focused on military voting and not its many other complicated and deeply controversial proposals.
In the 2018 cycle, AMT received $768,857 to collect signatures for measures that would become Measure 1 (ethics committee) and Measure 2 (noncitizen voting) on that year's ballot.
In the 2016 cycle, AMT was paid $218,750 to collect signatures for the Marsy's Law campaign.
That's over $1.32 million paid to a single company to collect signatures for ballot measures in the last three election cycles.
Are you OK with that? I'm not.
To be fair to Bender and other critics of Measure 2, that amendment would do nothing to address the problem we have with billionaires and other out-of-state interests with deep pockets short-circuiting our legislative process by hiring petition gatherers and ramming their hobby-horse ideas onto the ballot, though it would add some additional scrutiny on proposals to amend our constitution.
So if not Measure 2, then what?
Because the status quo is unacceptable and not what its defenders tell us it is.
To comment on this article, visit www.sayanythingblog.com
Rob Port, founder of SayAnythingBlog.com, is a Forum Communications commentator. Reach him on Twitter at @robport or via email at rport@forumcomm.com .