Behind the drama, Seahawks' defense crucial again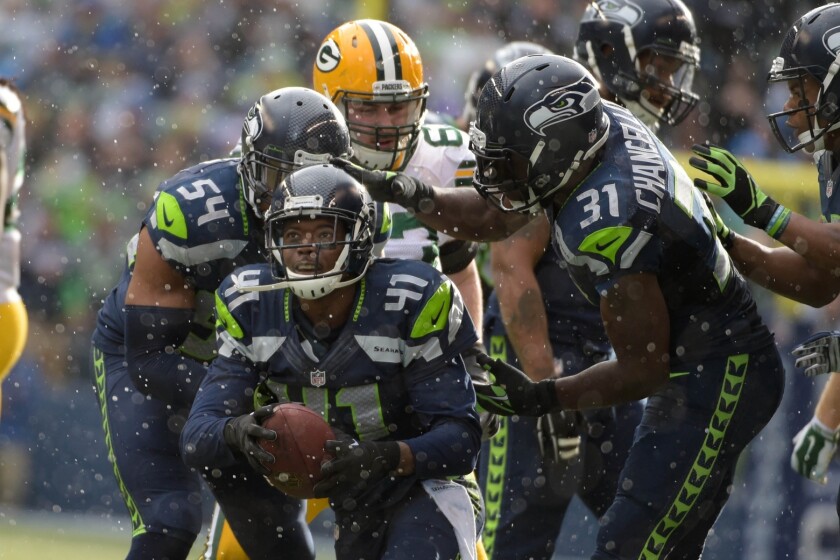 SEATTLE - The Seattle Seahawks' improbable come-from-behind win over the Green Bay Packers in Sunday's NFC championship game will be remembered for the key turning points that produced a jaw-dropping finale.
Two rushing touchdowns, a recovered onside kick, a two-point conversion and then Russell Wilson's perfectly executed game-winning pass in overtime.
But what is less easy to fit into the highlight package is the pivotal role of the Seattle defense -- the foundation of the team's success in reaching two consecutive Super Bowls.
They NFL's top-ranked defense may have conceded 22 points at home, but at vital stages, and as Seattle rallied late, it was their defense that kept the game within reach.
Green Bay built a 16-0 lead by halftime but could have put the game all but out of reach had they capitalized on several chances deep in Seattle territory.
On the game's opening drive, the Packers were on the move until Seahawks cornerback Richard Sherman superbly anticipated an Aaron Rodgers pass intended for Davante Adams in the end zone for a touchback.
Then the Packers twice found themselves a few feet from the goal line on third down and each time Seattle's defense forced the visitors to settle for field goals.
"We just made mistake after mistake and just looked terrible but the defense played phenomenal sudden-change football to make those field goals happen," said Seattle coach Pete Carroll. "But that is what we expect and that is what we count on them to do."
When it came to crunch time in the fourth quarter, the shift in momentum was not just about Wilson finding his form after earlier throwing a career-worst four interceptions, it was also about the defense denying Green Bay from making a first down.
Seattle's defense have been the best in the NFL, in points conceded, for the past three seasons, and while basking in praise for his comeback Wilson acknowledged it was only possible with the effort on the other side of the ball.
"Last year, this year, all the years I have been here they just continue to find ways to make plays for us and vice-versa," said Wilson.
"It is a relentless effort to find a way no matter what it looks like and I'm so excited for our defense and all the crazy plays that they made. They were lights out for the most part and it was just pretty spectacular."