Bison dominate upper weights in taking down Northern Colorado in Big 12 dual
Bison senior Luke Weber turns the tide with victory against familiar opponent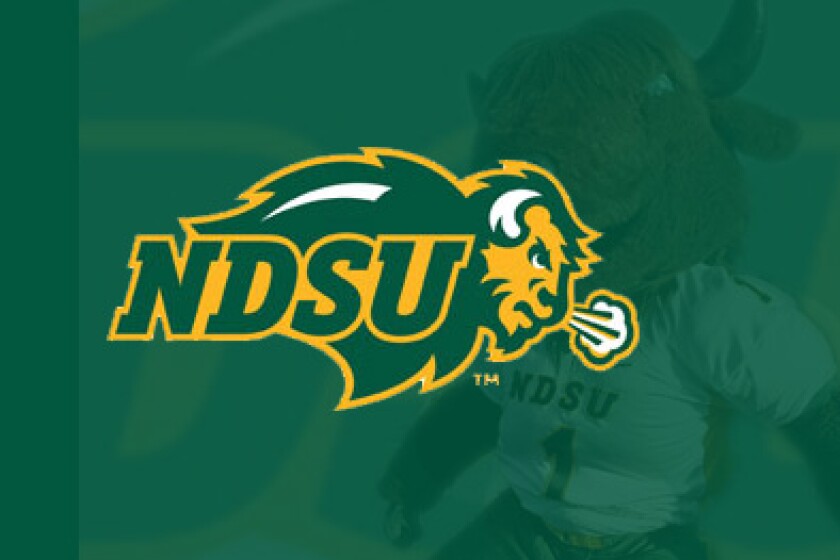 FARGO — The last home wrestling dual of Luke Weber's North Dakota State career was a picture of veteran moves and intelligence. It also was a key turning point in the Bison victory over Northern Colorado on Sunday afternoon.
The fourth-straight win for NDSU, this one a 22-13 Big 12 Conference decision against the Bears at Scheels Center at Sanford Health Athletic Complex, was another exhibit of the Bison's toughness in the upper weights. The Bison won five straight with Weber providing the momentum with a technical fall.
In a prime example of the transfer portal era, Weber was very familiar with his opponent, Nick Knutson, who spent four years at NDSU beginning in 2016 before transferring to UNC.
"You just have to treat it like any other match," Weber said. "I went out there focused and focused on doing what I needed to do."
Weber nearly pinned Knutson in the first period, with the buzzer saving Knutson. A second four-point near fall in the second period had Weber looking for bonus team points turning the third period into a matter of either a six-point or five-point technical fall.
Weber's performance gave the Bison their first lead of the match at 12-10. It also improved the 13-ranked Weber to 18-4 overall.
"I knew I wanted to go out not having anything to regret with my last match at the SHAC," Weber said. "It added a little bit more weight to it and tried to enjoy every moment."
Bison head coach Roger Kish called seeing two wrestlers he recruited duke it out in a dual "tough."
"His opportunities at another institution were good and as a coach you want what's best for the kid," Kish said. "Him moving on to Northern Colorado was a great thing for him so he could finish his career. You hate to see it end like that, but Nick Knutson and Luke Weber are friends and it's a nice relationship."
It was a matter for NDSU getting to its upper weights without losing sight of the Bears in the lightweights. UNC won three of the first four matches to take a 10-3 lead.
"Just the way we matched up, we knew their biggest talent was in the lighter weights," Kish said. "Once we got into our groove, it got going for us."
As expected, Bison standout Jared Franek helped turn the tide with a major decision at 157 pounds. A tight win by Austin Brenner at 174 and a convincing victory by DJ Parker at 184 had the Bison in control at 19-10.
Owen Pentz clinched the team win with a decision at 197. Pentz, one of the country's best pinners, almost turned in another one before running out of time in the third period.
"We work hard and we have some mean guys up there," Weber said.
NDSU 285-pounder Brandon Metz from West Fargo did not wrestle in his last home dual because of an injury, but is expected back with tournament time right around the corner. The Bison close their dual season Feb. 20 at South Dakota State before the Big 12 Championships set for March 5-6.
125: Koelzer, UNC, dec. Henningson, 12-4. 133: March, NDSU, dec. Kunz, 10-4. 141: Alirez, UNC, dec. Droegemueller, 4-0. 149: Sandoval, UNC, dec. Sax, 3-2. 157: Franek, NDSU, dec. Moore, 11-2. 165: Weber, NDSU, tech fall over Knutson, 17-2, 6:29. 174: Brenner, NDSU, dec. Pape, 4-2. 184: Parker, NDSU, dec. Vasquez, 13-2. 197: Pentz, NDSU, dec. Clothier 10-3. 285: Seely, UNC, dec. Nelson, 4-2.