Arizona knocks off Bison to end NDSU's winning streak against FBS opponents
Arizona quarterback Jayden de Laura tossed a TD pass with less than five minutes to play as the Wildcats rallied past NDSU.
We are part of The Trust Project.
TUCSON, Ariz. — North Dakota State's FBS magic ran out in the desert Saturday night at Arizona Stadium.
Arizona Wildcats quarterback Jayden de Laura threw the go-ahead touchdown pass with less than five minutes remaining to help his team rally for a 31-28 victory over the Bison in nonconference NCAA Division I football before 41,211 fans.
"Always disappointing when you get beat," Bison head coach Matt Entz said. "Arizona played really well. ... Frustrated for our kids, we played really hard, and I don't think you can ever question how hard our kids play."
The Bison (2-1) had their six-game winning streak against FBS opponents halted, losing to the Wildcats, a Pac-12 Conference member. A nine-time FCS national champion, NDSU has a 9-4 record against FBS teams.
De Laura completed 20 of 28 passes for 229 yards and a touchdown. He also rushed for 50 yards on 10 attempts.
"De Laura was what we thought," Entz said. "He extended plays, did a great job of moving in the pocket. ... They took advantage of a guy who was a very good athlete."
Bison fullback Hunter Luepke scored on a 6-yard touchdown run for a 21-17 lead with 9 minutes, 40 seconds to play in the third quarter. That capped a 76-yard drive that took six plays. TaMerik Williams helped set up that score with a 34-yard run that moved the ball to the Arizona 25-yard line. That gave NDSU its first lead of the game.
Luepke had a monster game, rushing for 115 yards and two touchdowns on 18 attempts. He also caught three passes for 65 yards and a score.
The Wildcats countered with a Jonah Coleman 2-yard TD run for a 24-21 lead with 5:41 to play in the third quarter. That capped a 75-yard drive that took eight plays. The Bison were flagged with a face mask penalty on a third-down incompletion that extended the Arizona drive. The Wildcats also converted a third-and-13 on the drive.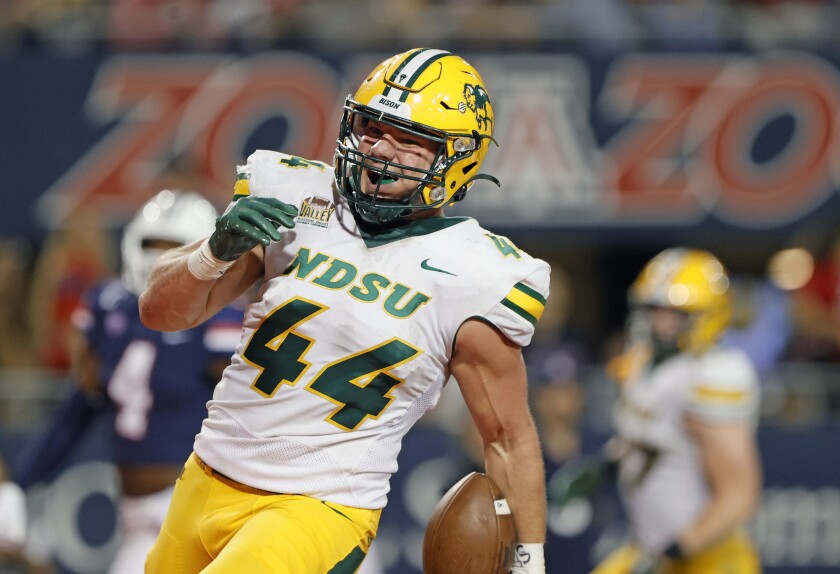 Luepke kept rolling on the ensuing drive with a 38-yard touchdown run for a 28-24 lead with 2:07 to play in the third quarter. That capped a 75-yard drive that took seven plays.
Arizona wide receiver Jacob Cowing hauled in a 22-yard TD catch from de Laura for a 31-28 lead with 4:53 remaining in the fourth quarter. On the previous NDSU drive, the Bison were stuffed on a fourth-and-2 and turned the ball over on downs at the Arizona 22 with a 28-24 lead and 8:59 remaining.
"I felt that was the right move," Entz said. "We had our opportunities. That's why I'm frustrated for our young men."
Wildcats running back Michael Wiley scored on a 6-yard touchdown run to give Arizona a 7-0 lead with 5:18 to go in the first quarter. The drive covered 59 yards and lasted eight plays. The Wildcats started the drive after a Bison turnover on downs.
The Bison countered with a Luepke 31-yard touchdown catch from Cam Miller to make it 7-7 with 59 seconds to play in the first quarter. That play capped an 80-yard drive that took nine plays and more than four minutes off the game clock.
NDSU had a chance to take the lead on its next drive with second-and-goal at the Arizona 5, but Miller was sacked, fumbled and the Wildcats recovered at the 17 with 10:29 to play in the second quarter. Defensive end Hunter Echols had the sack and forced fumble.
Arizona took advantage, marching 83 yards on 10 plays for the go-ahead score. De Laura capped the drive with a 7-yard touchdown run for a 14-7 lead with 5:45 to play until halftime.
The Bison countered with their own long scoring drive. Miller scored on a 2-yard TD run that tied the score at 14-14 with 50 seconds remaining in the second quarter. That capped a drive that covered 75 yards and lasted nine plays.
Arizona kicker Tyler Loop drilled a 36-yard field goal for a 17-14 lead as time expired in the first half.
The Bison had 200 yards at halftime on 31 plays, while Arizona gained 190 yards on 28 plays through the first 30 minutes. NDSU finished with 407 yards on 57 plays, while the Wildcats had 394 yards on 64 plays after 60 minutes.
"I mean props to them," said Bison linebacker James Kaczor. "They were a good team, they played well and they ran though tackles. ... We've got to do a better job wrapping up and finishing tackles."