Bison notebook: De Laura listens to coach's instructions, runs to hurt Bison
Arizona quarterback shows dual threat by scrambling for yards as well as passing
We are part of The Trust Project.
TUCSON — Arizona quarterback Jayden de Laura was hesitant to run in the Wildcats' first two games of the season. He didn't run past the line of scrimmage entering his team's game against North Dakota State.
That changed Saturday night.
The sophomore quarterback ran six times for 45 yards and a touchdown in the first half, giving NDSU's defense fits. He finished the game with 50 yards on 10 carries.
That performance helped lift the Wildcats to a 31-28 victory against the Bison.
"Jayden de Laura was what we thought," NDSU head coach Matt Entz said. "Extended plays. Did a great job of moving in the pocket. Did some things out of the naked. They even ran some red zone with him. So they took advantage of a guy who was a very good athlete."
De Laura opened eyes in Arizona's loss to Mississippi State with a wild, scrambling play that ended in an interception. Arizona head coach Jedd Fisch said after the game his quarterback needed to recognize when to run to gain yards instead of forcing passes.
De Laura took his coach's words to heart. He scrambled for 12 yards on Arizona's second drive, his first play running past the line of scrimmage this season.
"I look backed, watched the film from last week, maybe even the week before," de Laura said. "When stuff wasn't going our way and I didn't run, that was when our offense kind of went down. This game I put it on myself. If everything's covered downfield, they still gotta come stop me."
On Arizona's next possession, de Laura scrambled for five yards on third down and 3 to extend the drive. He scored on a quarterback draw, running 7 yards for a touchdown and hurdling into the end zone to give the Wildcats a 14-7 lead.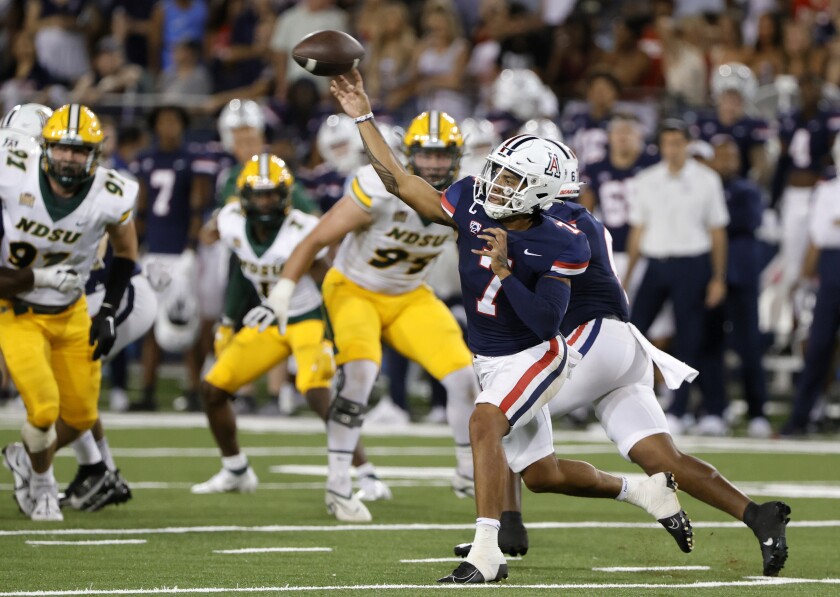 De Laura, who threw three interceptions against Mississippi State, was effective with his arm, too. He was 20 of 28 for 228 yards and a touchdown for the game.
"He has an ability to scramble like we haven't seen, at least so far this season," NDSU linebacker James Kaczor said. "He would just extend plays and props to him. He was a good football player and we couldn't keep him contained."
Both head coaches took fourth down gambles in the first half. Neither worked.
In the second half, Arizona gambled and won. The Bison gambled and lost.
NDSU's Matt Entz went on a fourth and 4 from Arizona's 41 on the Bison's first possession. Cam Miller threw incomplete to tight end Noah Gindorff, giving the Wildcats a relatively short field.
Just as important, perhaps, was that Miller slid short of a first down on a second down scramble. NDSU was called for a false start on the next play and had third and 7 instead of third and 2.
Arizona took advantage, going 59 yards in eight plays for a 7-0 lead.
Fisch took an even bigger gamble early in the second quarter. On fourth and 2 from Arizona's 33, Fisch kept his offense on the field before calling timeout.
It appeared he was going to rethink his decision and punt. But Arizona came out of the time out with its offense and lined up receiver Jamarye Joiner as a wildcat quarterback. Joiner took the direct snap and run up the middle, but was stopped short of a first down by Will Mostaert and Julian Wlodarczyk.
In a key sequence in the fourth quarter, the Bison went for fourth and 2 from the Arizona 23 and Cole Payton was stopped short. NDSU was looking to extend a 28-24 lead.
"There was no hesitation," Entz said. "Based on week of practice it was the right decision and I don't second guess it."
On the ensuing drive, Arizona went for a fourth and 1 at the NDSU 28. It was an obvious call with a little more than 5 minutes remaining. De Laura completed a 5-yard pass to Dorian Singer for a first down and Arizona scored a touchdown on the next play for a 31-28 lead.
Payton plays big role again
NDSU used backup quarterback Cole Payton liberally again.
Payton had four rushes for 31 yards, including a 12-yard run for a first down in the second quarter.
After playing the entire second half against Drake in the season opener, Payton was used in a wildcat package against North Carolina A&T in Week 2.
Payton's biggest opportunity against Arizona came up short. On fourth and 2 from the Arizona 23 with 9 minutes left and the Bison looking to extend a 28-24 lead, Payton was stopped short and the Wildcats took possession. They scored on the ensuing drive for a 31-28 lead.
Arizona kicker Tyler Loop's miss from 43 yards in the fourth quarter was the first miss of his career. He pushed it right, failing to cut into a 28-24 NDSU lead. ... With a fumble recovery in second quarter, Arizona matched its season total of takeaways from last season with six. ... NDSU wore a different road uniform combination than usual. The Bison had yellow helmets, white jerseys and gold pants. Last time the Bison wore that combo was at North Dakota last October. ... Fox Sports 1's TV broadcast crew of Alex Faust and Petros Papadakis were not at Arizona Stadium. They called the game remotely from Los Angeles. ... NDSU dressed 75 players for the game. That's a few more than the usual 70-72 it dresses for non-conference road games. The Missouri Valley Football Conference limit for road games is 64.