Kolpack: The Bison threw their big dogs at the 'Cats but came up short
NDSU unleashed Luepke on the University of Arizona but saw its FBS winning streak end
We are part of The Trust Project.
Tucson, Ariz.
The first play had so many North Dakota State offensive players who are large college students with large arms and legs that it could have set the day's college football record for most offensive muscle in one set. It was all power.
That was the message the Bison sent to the University of Arizona from play No. 1 and if NDSU was to notch double-digit wins over FBS programs, it would be done the old school, smashmouth way.
"We didn't think that they'd seen it and questioned how much they defended it in the past," said NDSU head coach Matt Entz.
Hunter Luepke. Noah Gindorff. Cody Mauch. Fullback, tight end, offensive tackle. All big and powerful. They are the three best NFL prospects on the roster and the Bison went to their big guns against the Pac-12 Conference opponent.
After pretty much holding him out of the first two games, NDSU unleashed Luepke on a warm night at Arizona Stadium, but even the revival of "The Dap" couldn't beat the Wildcats. Arizona had the better of the fourth quarter in a 31-28 victory.
It ruined a banner night for Luepke who rushed for 115 yards and scored three touchdowns.
"I think it was the O-line moving people off the ball," Luepke said. "You're getting three yards more of a push on each play and I think that's just what we wanted to stick with. Keep the ball moving and gain the time of possession."
NDSU won that battle holding the ball for 31 minutes, 28 seconds. The Bison rushed for 283 yards and had over 400 yards of total offense. Luepke had seven carries the first two games, but the bigger stage called for the Bison to go to their bigger guns.
The Wildcats had to try and defend him 21 times — 18 carries and three receptions.
"Coach and I talked about it at the beginning of the week," Luepke said. "Be ready to get a couple more carries than you have had the past couple of games."
The throng of Bison followers knew it was coming. Throwing a guess at the number of NDSU fans that were in the house would be that: a guess. Put it somewhere around 8,000 to 10,000, give or take several hundred among the crowd of 41,211. They were heard, however, and they were noticed — especially the ones in yellow shirts in a stadium that is red and blue.
Local media folks who cover Arizona will tell you that hardly happens in this stadium, with the exception being when Arizona State comes to town. It was a long day for those that hit the surrounding tailgate areas and bars and restaurants earlier in the day. The high temperature in Tucson reached 99 degrees and the heat didn't go down at all on the field of play between the Bison and Wildcats.
Certainly not with the Bison power game.
"It was a man's game out there tonight," said Arizona head coach Jedd Fisch. "It was tough as nails. Those guys were big and strong and our guys had to get down and dirty at the end."
The first three-and-out of the game for the Bison, which happened on their first possession of the second half, wasn't greeted very warmly by Bison offensive line coach Dan Larson, who let his troops know his true feelings after the punt. His players responded the next time the Bison got the ball.
NDSU went 76 yards in just six plays, with Luepke's six-yard touchdown run giving the Bison their first lead of the game at 21-17. That started a trading-touchdown match with both teams scoring on their following possessions.
Luepke's 38-yard touchdown run put the Bison back on top at 28-24 with 2:07 left in the third quarter. It was another run that should have NFL talent evaluators on notice. Luepke hit the hole with power, shed one tackle with a slight sideways move, busted another tackle and scored.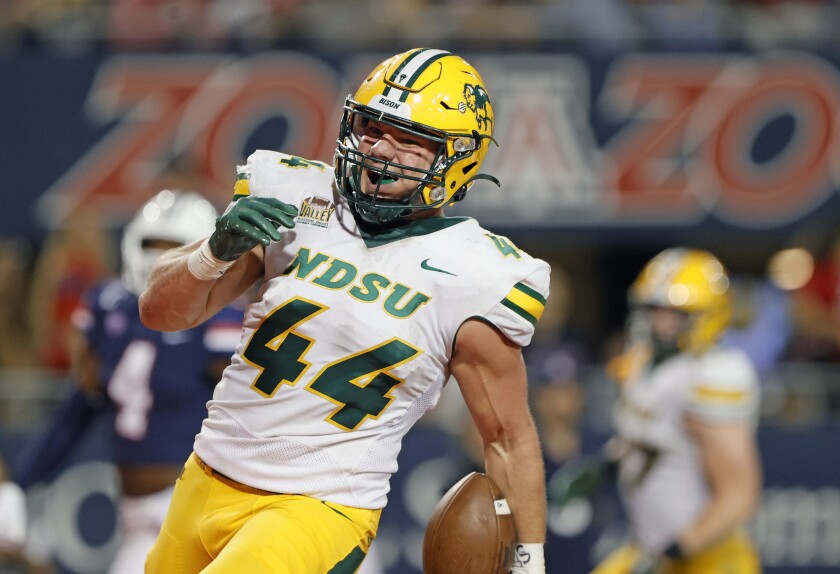 It stayed that way after Arizona kicker Tyler Loop missed a 43-yard field goal. It was a chance for the Bison to spell the difference in this game and they marched to the Wildcat 23-yard line facing third-and-two.
But for one of the few times all night, the Wildcats stopped Luepke cold. Still, it was fourth-and-2. But Cole Payton, successful in his four previous carries as a quarterback runner, was shut down for one yard.
With 8:59 left, NDSU's shot for a two-score advantage went awry.
"Obviously the first goal is to win the game so it doesn't matter how good of a performance somebody had individually," Luepke said. "If the team loses you lose too. On to next week, get back to practice on Monday."
Back to practice with the thought of a winnable FBS game slipping through their fingers. NDSU is now 9-4 vs. FBS opponents ending a six-game winning streak.
"Yeah it feels like that," said safety Michael Tutsie. "We came here to win, we came here expecting to win. We knew it was going to be a dogfight."
For NDSU's big dogs, there will be other fights to contend with this season.