Luepke's night to remember vanishes in defeat
Bison fullback makes splash on national TV, but NDSU falls to Arizona
We are part of The Trust Project.
TUCSON — It was Hunter Luepke's night until it was Jayden de Laura's.
With Arizona beating North Dakota State 31-28 at Arizona Stadium, the Wildcats quarterback stole the show from the Bison fullback on a game televised nationally — albeit late for those in the Midwest and the East — by Fox Sports 1.
De Laura was terrific, a running and throwing dynamo for which the Bison defense didn't have an answer. He finished 20 of 28 passing for 229 yards and a touchdown while running for a surprising 50 yards on 10 carries. His ability to scramble and escape pressure was the difference for the Wildcats.
But Luepke was every bit as good in his own way.
The Bison unleashed him with 18 carries. They targeted him three times in the passing game. And Luepke, as always, delivered.
"He's a heck of a player. I'll give credit where it's due. He's very physical. He's not shifty, but he's straight downhill. He's gonna come at you," Arizona linebacker Jerry Roberts said.
Luepke finished with 115 yards rushing and three receptions for 65 yards. He scored three touchdowns — two running and one receiving.
And after his first score, he uncorked a leg dab to celebrate in the end zone. It was the same celebration for which he received attention nationally last January when he did it against Montana State in the Football Championship Subdivision national title game.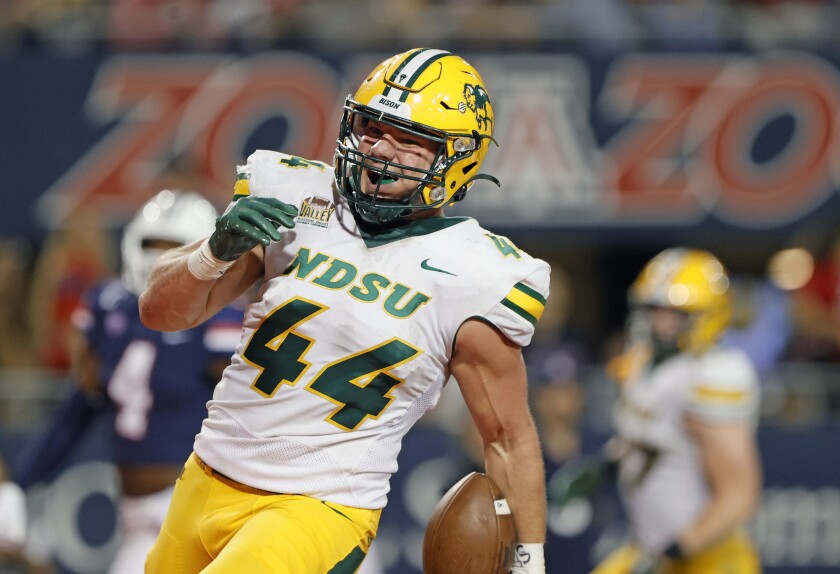 For Luepke, it didn't matter because of the loss.
"Obviously the first goal is win the game so it doesn't matter how good of a performance somebody has individually. If the team loses, you lose too," Luepke said. "I'm not gonna really look at that too much. On to next week, get back to practice on Monday."
NDSU used Luepke sparingly in its first two games. He had three carries against Drake in the season opener and four against North Carolina A&T in Week 2. It was assumed Bison coaches were going to incorporate the NFL prospect into the offense more against its first Football Bowl Subdivision opponent in six years.
And how.
"When you got a guy like Hunter Luepke carrying the ball 18 times that's probably a little bit outside our normal of how we do things, but the situation created a need for big backs and I thought those guys did a really good job," Bison head coach Matt Entz said.
Luepke's signature play came in the third quarter. He burst through the Arizona line, bounced off a defender and broke a couple of tackles on a 38-yard touchdown run that gave NDSU a 28-24 lead.
NDSU's first score came on a 31-yard pass from Cam Miller to Luepke on a wheel route, a play familiar to Bison fans.
"He did a good job. He's a very talented young man and great leader.," Entz said. "You know what? He'd give all those up if we could have got a win."