Pain finally behind him, Bison receiver Jake Lippe back in the mix at wide receiver
Junior sidelined most of last season with lower back pain that took two surgeries to fix
We are part of The Trust Project.
FARGO — It's the job of North Dakota State wide receiver Jake Lippe to help the Bison offense move the ball and score. He can also relate, in a way, what it's like for a defensive player to try and stop NDSU running back Hunter Luepke.
Lippe was blocking a Montana State defensive back near the end zone in the NCAA Division I FCS title game when Luepke ran over everybody — including Lippe. Both the Bobcats player and Lippe went flying into the turf with Lippe immediately getting to his feet to congratulate Luepke.
"It happened to me," Lippe said with a smile. "I'm a victim."
The game at Toyota Stadium in Frisco, Texas, ended with plenty of smiles for Lippe, who saw only two plays against the Bobcats, but both were touchdown plays. It turned into a joke between him and NDSU wide receivers coach Noah Pauley after Luepke's second TD, a run up the middle where Lippe was split out wide right.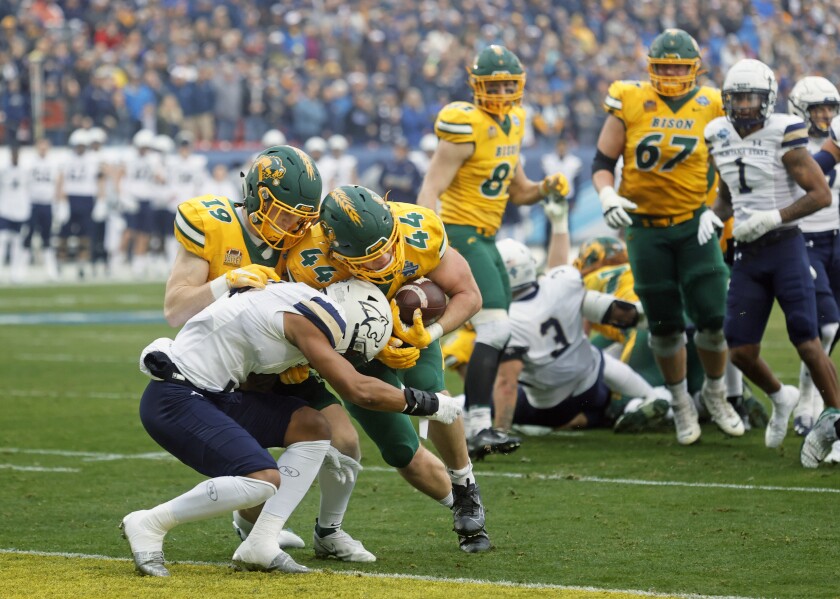 He was the second player to congratulate Luepke. Two plays. Two end zone celebrations.
"Every time I was in, we were scoring," Lippe said.
They were feel-good moments in a season where Lippe did not feel good. A lower-back problem first surfaced more than eight months earlier in the 2021 spring season. While warming up for the FCS first round playoff game against Eastern Washington at Gate City Bank Field at the Fargodome, Lippe said he felt a pop.
He played in the Eastern game, catching one pass for 11 yards. He caught one pass for 14 yards in the quarterfinal loss at Sam Houston.
But the issue persisted.
It didn't go away in the 2021 fall season, either, turning it into a lost season. Lippe, from Port Washington, Wis., played in the first six games, trying to manage the pain as best he could. He would frequently wake up around 5 a.m. to stretch so he would feel well enough to practice.
He had just one reception in those six games before enough was enough.
"The rest of the time we were just trying to figure out what it was," Lippe said. "It was a long process, but glad we got it taken care of."
An X-ray came back negative. But an MRI revealed a herniated disc that inflamed a nerve causing pain down his leg. The first treatment was two separate injections aimed to alleviate the nerve damage.
They didn't work. Still, Lippe felt well enough to come back for the title game against MSU, which meant more than just two snaps. It was his first national championship game.
"It was unbelievable, it meant a lot to me, it meant a lot to my family just going through the whole spring season," he said. "Losing to Sam Houston and then dealing with the pain and then getting the opportunity to play in that game. Even if it was for two reps, I didn't care. I just wanted to be out there with my guys."
Lippe had surgery a week after the season, actually two surgeries after a complication resulted from the first. It sidelined him for four months, including spring practice. He started running last April and increased the intensity of that with cutting movements in June.
On Wednesday after practice, Lippe stayed around to work on his game with a few teammates. Now healthy, he's enjoying the ability to put in extra work.
"Anytime you can be on this field and playing with your teammates, you can't take any of that for granted," he said.
Health is of the importance in another factor: The Bison have plenty of competition at wide receiver. Of the 16 on the roster, seven have played and most of those extensively. NDSU lost standout Christian Watson, so finding his production will be a priority.
At 6-foot-2 and 203 pounds, Lippe can play a more physical role. Even if it means, while blocking, having Luepke run him over.
"As a receiving corps, we've got a lot of experience and we're very versatile," Lippe said. "I know in the past we've rotated a lot and I feel like we're still going to do that."