Observations from NDSU's final spring practice
The final practice of the spring was called off with about a half hour left because of weather
North Dakota State officially put a bow on spring practice Saturday, albeit earlier then what head coach Matt Entz wanted to.
Saturday's wild weather in the Fargo-Moorhead metro included a tornado warning in the late afternoon, which called for the last half hour of practice being called off. Fans were asked to leave Gate City Bank Field at the Fargodome immediately after the announcement was made.
The practice was halted during the ninth of the scheduled 13 periods, which was disappointing as most of the team drills were still to come.
There were some takeaways to highlight as this is the final time we will see the Bison on the field until fall camp opens in early August.
YOUNG DEFENSIVE STANDOUTS
All the talk on Bison football centers on the offense these days, and for good reason, but no NDSU fans need reminder of how they have won nine championships in eleven years. On defense.
There were few opportunities for the defense to stand out, but there were two plays that grabbed my eye.
One was by sophomore defensive end Loshiaka Roques, who made a nice play on the edge to get to Quincy Patterson, before he threw the ball to Logan Hofstedt. NDSU coaches continue to rave about the potential for Roques, who flashed some brilliance in a couple of games last year.
Eli Mostaert was an all-conference player in my mind last year, he's due for a big year in 2022. He showed his strength getting thru the offensive line to make a stop on Hunter Luepke.
MANY REGULARS HELD OUT
If you were at the Dome or watching at home, you certainly noticed the amount of starters or regular contributors who did not see the field Saturday.
Phoenix Sproles, James Kaczor, Dawson Weber, Michael Tutsie, TaMerik Williams, Noah Gindorff, Jalen Sundell, Spencer Waege, Nick Kubitz, Jayden Price, Marques Sigle and Cole Wisniewski all were held out.
Some are rehabbing injuries like Wisniewski, Waege and Gindorff, while others did not need any more wear and tear on their bodies.
NEW OFFENSIVE LINE STARTERS?
We did not get to see the number ones out on the field for a long time Saturday, but there was a brief sequence where NDSU's 2022 offensive line may have been on the field.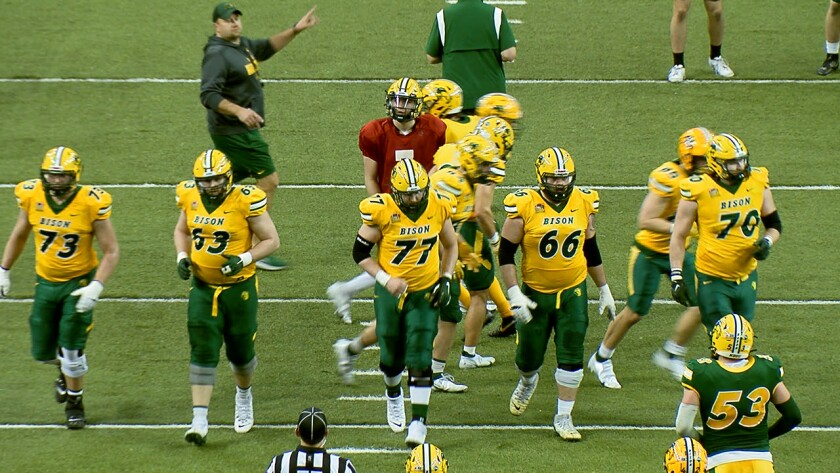 Cody Mauch was at left tackle, Nash Jensen at left guard, Brandon Westberg at center, Jake Kubas at right guard and Mason Miller at right tackle. Sundell is the starting center, but Entz has discussed moving Sundell to other positions up front. Westberg earned high marks from the coaching staff last year when he started in Sundell's spot when he was hurt.
Miller started the FCS quarterfinal game last spring at Sam Houston, his first collegiate start and has had the eyes of the staff as a future stud at the tackle position.
COLE PAYTON
The redshirt freshman quarterback took the most reps Saturday and showed again why is a tantalizing player at that position.
Payton hit a couple of deep throws to Braylon Henderson and Eli Green, while also showing off his legs and the ability to get out of the pocket. Payton stands 6-3, 228 pounds and continues to look more and more confident each time he is on the field.
It will be fascinating to see how the coaching staff will use all three quarterbacks, with Cam Miller and Patterson both returning. But the Payton train is on the move.
SO LONG TO THE TURF
This was the final football event on the ten year old turf. An agreement between Gate City Bank and the Fargodome was announced last week as a new playing surface will be put down for the 2022 season. This turf was actually the second to put in in 2012 after an error shortly after the first game of that season, that turf was replaced. It was the turf that was used on the outdoor practice fields for the last decade.
TREY LANCE RETURNS
It was a who's-who list of notable Bison alumni, led by the two guys who were drafted in the first and second round in the NFL Draft last year. Trey Lance and Dillon Radunz were on hand for the final spring practice, each taking time away from their respective NFL teams and their offseason team activities.
Lance saw his younger brother, Bryce come up with a nice reception during the drills.