Changes may be ahead for Fargo North, South, Grand Forks football programs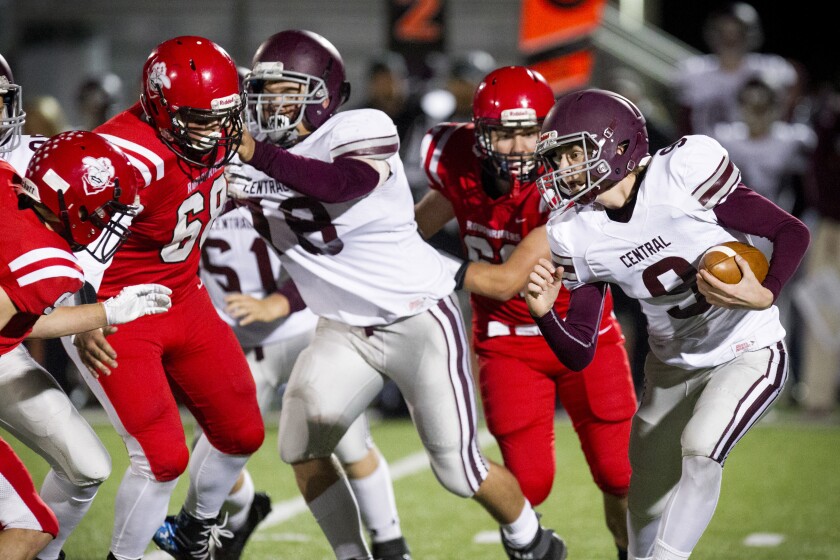 GRAND FORKS — Grand Forks Central as a Class 2A football program? Head coach Bill Lorenz admits that it has a weird sound to it. But that new status is something both Central and Grand Forks Red River high schools may have to get used to.
According to a new guideline for football classifications that was approved by the North Dakota High School Activities Association's board of directors last week, both Grand Forks schools could switch from 3A to 2A.
"It does sound strange,'' Lorenz said. "We've been 3A for so long. That's all we've ever been. But all of the 2A schools — Devils Lake, Wahpeton, Valley City, Jamestown — are Class A like us in other sports.
"Now it comes down to the decision-making process.''
The new guidelines leave some programs with choices to make.
Fargo North and South high schools both always have been in Class 3A. Like Red River and Central, the new guidelines put both in 2A.
Grand Forks athletic director Mark Rerick is chairman of the NDHSAA board's football advisory committee that put together the new guideline. Rerick said the plan will take away the anxiety schools currently go through with the enrollment-based reclassification process.
"Every two years, it's been change,'' Rerick said. "A lot of schools don't know where they'll be classified. We wanted to put into place a guideline that will continue from year to year. It won't have to be changed every two years.''
Under the new guideline, all schools that are Class A in other sports will make up the Class 3A and 2A divisions. Any Class B co-op that contains 160 or more male students in grades 7-10 for two or more consecutive years also will be in 2A or 3A. The top half enrollment-wise will be 3A; the bottom half will be 2A.
Likewise, all schools that are Class B in other sports will make up the Class A and 9-man football divisions, with the top half enrollment-wise making up 11-man Class A.
There are options in place for schools to opt up or down a division, although no Class 3A or 2A programs can opt down to Class A in football.
The initial plan has 11 teams in 3A and 11 in 2A. But those numbers can fluctuate, depending on how many teams opt to change divisions.
"We'll have cross-division scheduling,'' Rerick said. "Then it won't matter how many teams are in either division as far as filling schedules. You won't have to have an even number of teams in a division. Plus cross-division scheduling could really cut down on travel expenses.''
The plan allows programs like Beulah, Stanley and Hillsboro-Central Valley — which won the Class 2A state championship last fall — to remain with the schools they compete against in other sports.
"A Hillsboro-Central Valley never knows if it will be A or 2A now,'' Rerick said. "With these guidelines, placement won't be dependent on having an even number of teams in the 2A and 2A divisions above them. Now they know they'll be in A.''
There are two basic criteria for a team opting to change its classification. Its adjusted male enrollment must be within 25 percent of the median. And a program cannot have qualified for the state playoffs more than once in the previous four seasons in the higher division.
In Grand Forks, Central would be the second-smallest 3A school under the plan and under the guidelines could opt to play in 2A. Red River is a 2A program.
Rerick is unsure of how it would be taken for either program to go from its long-standing 3A classification to 2A.
"I don't know what the reaction would be,'' Rerick said. "I could see a wide range of reactions.''
Said Red River football coach Vyrn Muir: "We haven't talked specifics. Personally, I'd prefer to be in 3A. But where we're at, with our low lack of participation numbers and lack of success in recent years, we might fit better in 2A.''
No formal discussions have been made yet. That could happen in the coming weeks.
"We'll meet with administrators to see what the preferences are,'' Lorenz said. "My preference is that Central and Red River are in the same division. But we'll look at what is in our best interests. That's a decision coaches won't make alone.
"We've always been with the big schools. We'll look at things like, can we be competitive in 3A? In recent years, we haven't been. Are we better suited for 2A? The bottom line is what will be in the best interests of our student-athletes.''
NDHSAA classification guideline
The NDHSAA has approved a new classification guideline, beginning in the 2021-22 school year. These are preliminary team classifications. There are options schools can look at to opt a switch to a higher or lower division.
Class 3A
Minot, West Fargo Sheyenne, Williston, West Fargo High, Bismarck Century, Bismarck Legacy, Bismarck High, Fargo Davies, Dickinson, GF Central, Mandan
Class 2A
Fargo North, GF Red River, Fargo South, Jamestown, Watford City, Devils Lake, Fargo Shanley, Valley City, Wahpeton, Bismarck St. Mary's, Turtle Mountain.
Class A
Central Cass, Kindred, Des Lacs-Burlington, New Town, Beulah, Stanley, Lisbon, Hillsboro-Central Valley, Belfield-South Heart, Standing Rock, Northern Cass, Grafton, Fargo Oak Grove, Hazen, Killdeer, Park River-Fordville-Lankin-Valley-Edinburg, Ellendale-Edgeley-Kulm, Bismarck Shiloh Christian, Carrington-Pingree-Buchanan, Washburn-Wilton-Wing, Rugby, Garrison-Max, Thompson, Ray-Powers Lake, Oakes, Bottineau, New Salem-Almont-Glen Ullin, Dickinson Trinity, Nedrose, Langdon-Edmore-Munich, Milnor-North Sargent-Sargent Central, Harvey-Wells County, Minot Bishop Ryan, South Prairie, Enderlin-Maple Valley, Surrey, Hatton-Northwood, Bowman County, Mayville-Portland-CG
9-man
Velva, Richardton-Taylor-Hebron, Tioga, Fairmount-Campbell-Tintah, Underwood-Turtle Lake-Mercer-McClusky, Wyndmere-Lidgerwood, Westhope-Newburg-Glenburn, Nelson County, Kenmare-Bowbells-Burke Central, Larimore, Cavalier, Hettinger-Scranton, Linton-HMB, Four Winds, Lewis & Clark, North Prairie, Mott-Regent, Wishek-Ashley, Griggs Co. Central-Midkota, Divide County, LaMoure-Litchville-Marion, Dunseith, New Rockford-Sheyenne, Mohall-Lansford-Sherwood, Towner-Granville-Upham, Grant County, Beach, Parshall-White Shield, Hankinson, North Star, Kidder County, North Border, Napoleon-Gackle-Streeter, Trenton, Hope-Page-Finley-Sharon, Richland, Benson County, St. John, Strasburg-Zeeland.