Anthony Renz tabbed to succeed Chris Coste as Cobbers head baseball coach
Renz has a nearly 10-year connection to the Fargo-Moorhead area and served as an assistant since 2018 for Concordia and the Fargo-Moorhead RedHawks under Coste, who stepped down as Cobber head coach this spring.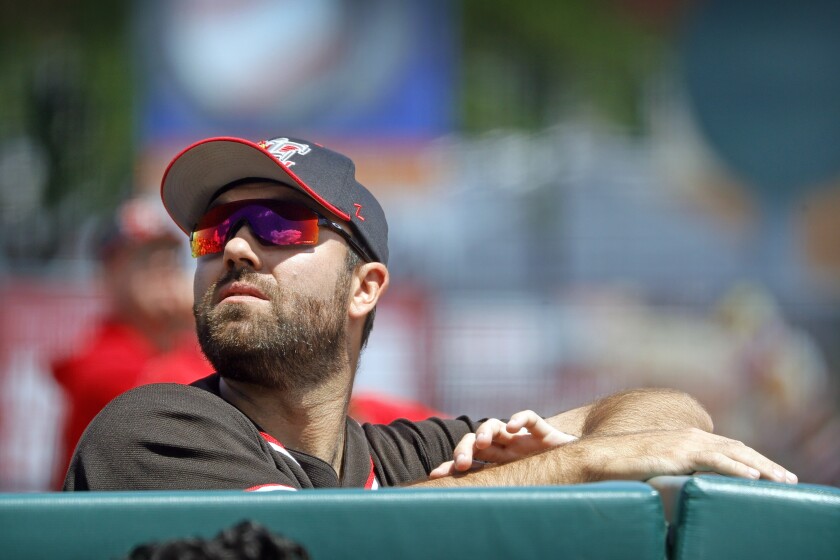 MOORHEAD — Concordia College surely did its due diligence searching for Chris Coste's successor as head baseball coach. But the Cobbers had to firmly believe from the start that their man was already in the building.
Anthony Renz was announced as the Cobbers new head coach on Thursday, succeeding Coste, his mentor and boss with both Concordia and the Fargo-Moorhead Red Hawks since 2018. Coste, the current RedHawks manager, stepped down as Cobbers head coach after nine seasons following the 2023 season.
Renz joined Coste's RedHawks staff for the 2018 season and was asked to join the Cobbers staff that fall. He's also had the opportunity to serve as the in-game manager and head coach for both teams recently at times when Coste was unable to travel with the teams due to health issues.
The RedHawks won the American Association championship in 2022 and the Cobbers this spring finished 21-18 overall and 14-6 in the Minnesota Intercollegiate Athletic Conference. The Cobbers earned a spot in the MIAC tournament and won a first round game.
"I had an unofficial dry run of things the last two years," Renz said. "We played really well over that stretch and I was able to form good relationships with the players. I think Rachel Bergeson, our athletic director, really valued that. So I was the next guy for the job and I'm really grateful for the opportunity."
Bergeson said in a press release that Renz is a solid asset for the Cobbers.
"I am extremely excited for Anthony to lead our baseball program," Bergeson said. "Aside from his infinite baseball wisdom, he is a true professional and has our student-athlete's best interest at heart. He is a wonderful addition to our department."
Renz, a Danville, Pa., native, played college baseball for Mansfield (Pa.) University, an NCAA Division II program, before a brief professional career. He started his coaching career at Shippensburg (Pa.) University, serving as a volunteer assistant for the 2017 and 2018 seasons.
As a 10-year-old, Renz played on a traveling team that was coached by RedHawks player personnel consultant Jeff Bittiger. Renz is best friends with Bittiger's son, Brett Bittiger, who is a scout for the Miami Marlins.
Renz also played for former longtime RedHawks manager Doug Simunic during his brief stint with the team in 2015. He was an assistant coach for former F-M manager Michael Schlact in 2018 and Jim Bennett in 2019 before Coste took over as team manager for the 2020 season. Coste was also on the F-M coaching staff for the 2018 and 2019 seasons.
The Fargo-Moorhead and Concordia connections run deep for Renz, who noted that Coste and former Concordia head coaching legend and current assistant Bucky Burgau also have ties to both teams.
"I learned this from Chris Coste, as well, that coaching at both levels just makes you better at the other one," Renz said. "You're around the game a ton. ... There's really been a good balance between both. It enhances the community and the baseball world in the Fargo-Moorhead area, both the professional and college games, to kind of have some ties together."
The two different levels of the game allow a coach to draw on a wide range of experiences, Renz said.
The college game is more geared toward teaching and helping players further develop skills learned in high school. As important is preparing them for their days off the diamond, he said.
"Obviously, at the (NCAA Division III) level," Renz said, "life after college for a lot of them is not going to involve baseball outside of Minnesota amateur ball, which is great. But a lot of them aren't going to play professionally. So it's mentoring them to be prepared for life after baseball and have a successful career outside of that."
The professional game is more "a two-way conversation between player and coach about how to enhance their skills," Renz said.
"A lot of these guys are finished products in terms of their play and they're just trying to improve on what they already have," Renz said.
The next few weeks will be busier than ever for Renz as he prepares to take the helm at Concordia. The RedHawks return from a nine-game road trip on Sunday, May 28, and Monday, May 29, is officially his first day on the job with the Cobbers.
"Then it's Cobber baseball 24/7/365 for the rest of the year," he said.