Bison football game at South Dakota canceled due to COVID-19
North Dakota State had its football game against the University of South Dakota on Saturday canceled.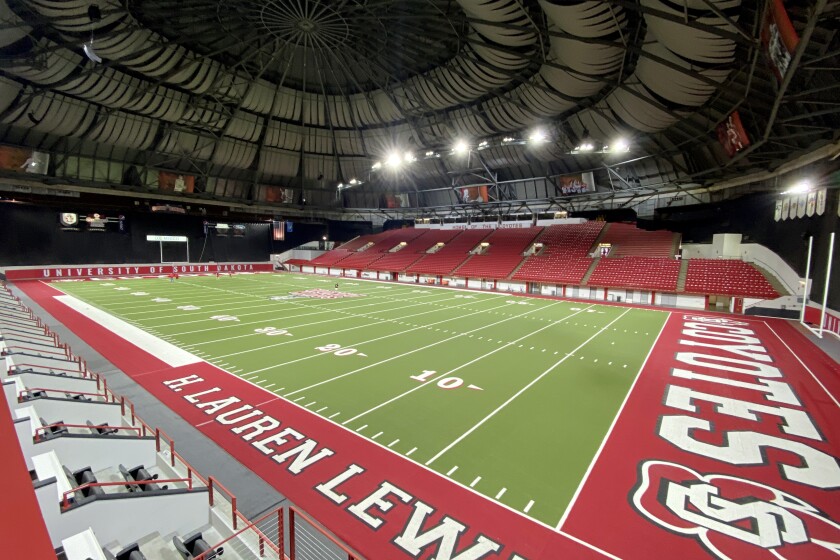 We are part of The Trust Project.
VERMILLION, S.D. — The North Dakota State football game against the University of South Dakota, scheduled for Saturday, March 27, was canceled due to COVID-19 protocols, the NDSU athletic department announced Saturday morning.
The game will not be rescheduled.
NDSU athletic director Matt Larsen said the Bison had one positive test for COVID-19 on Saturday morning in their travel party, which includes student-athletes, coaches, managers and staff.
"I think it's really disappointing," Larsen said. "The room when coach (Matt) Entz told the team I think spoke for itself, a lot of disappointment with the guys. This last year has been a challenge and a struggle in a lot of ways, and I'm really proud of the way our guys have continued to prepare and be in position to where they can play."
Larsen said Entz broke the news to the team before it was set to leave its hotel in Sioux Falls, S.D., on Saturday morning to bus to Vermillion for the game that was scheduled for a 1 p.m. kickoff at the DakotaDome.
"To be this close, to be a couple hours away from a game and kind of have it pulled out from under you is hard," Larsen said. "I feel for (the players) first and foremost. It's just unfortunate."
The Coyotes (1-3, 1-3 MVFC) were trying to snap a three-game losing streak against a No. 2-ranked NDSU team (5-1, 4-1) that was coming off a 21-point victory against the University of North Dakota.
"It's disappointing," said USD head coach Bob Nielson. "Obviously you put a lot of effort and time into getting ready to play a football game. I really feel bad for our kids and I feel bad for North Dakota State's kids, too. … We all understand that this is a different time and these kinds of things could potentially happen, but you hope that they would never happen to you."
Larsen said the game won't be rescheduled since USD has already had a game postponed against Western Illinois. The USD-Western Illinois game is scheduled to be played on April 17, the weekend the MVFC left open to makeup games.
"It kind of goes in chronological order," Larsen said. "Whoever has it postponed first moves that game to the last week. USD already has a game scheduled."
The NDSU-USD matchup became the second Missouri Valley Football Conference game affected by COVID-19 this weekend along with the UND game at Youngstown State. The UND-Youngstown State game was moved to April 17.
The UND-Youngstown State game was called off due to a positive COVID-19 test within UND's travel party, according to a UND release earlier this week. The Bison earned a 34-13 home victory against UND at the Fargodome last weekend.
"That's the toughest part with this virus is you really can't trace it back to where you got it from," Larsen said. "I'm not as concerned that it came from a game. ... I also can't tell you 100% where the person got it from either."
This is the first Bison football game this spring that has been affected by the ongoing coronavirus pandemic. NDSU is next scheduled to play South Dakota State at Gate City Bank Field at the Fargodome on Saturday, April 3. Larsen said the plan is to try to play the game against the rival Jackrabbits.
"We're working with our medical personnel as we speak to come up with what the plan will look like for this week in terms of practice, in terms of additional testing," Larsen said. "Hopefully, later (Saturday), early (Sunday), we'll have a plan of what that will look like."
NDSU, SDSU, UND and Missouri State are all tied for first place in the MVFC standings after Missouri State's 30-27 home victory over Southern Illinois on Saturday. NDSU, SDSU and UND didn't play this weekend. SDSU had its game called off due to Illinois State recently opting out of the spring season for health and safety reasons and mounting injuries. Missouri State is scheduled to play at UND next Saturday, April 3.
"I think we've come awfully far and have been fortunate to play our games, and I think unfortunately sometimes, a lot of attention goes on the games that aren't being played," Larsen said. "But when you look in totality, the games that are being played far outweigh the games that aren't. … Far and away, more games are being played than not and so I would expect that to continue for the rest of the regular season and hopefully into the playoffs."