Hilmer heats up for career-best 41 points as Upper Iowa cools off No. 15-ranked Dragons
Minnesota State Moorhead couldn't contain Upper Iowa guard Jake Hilmer, who netted a career high in points.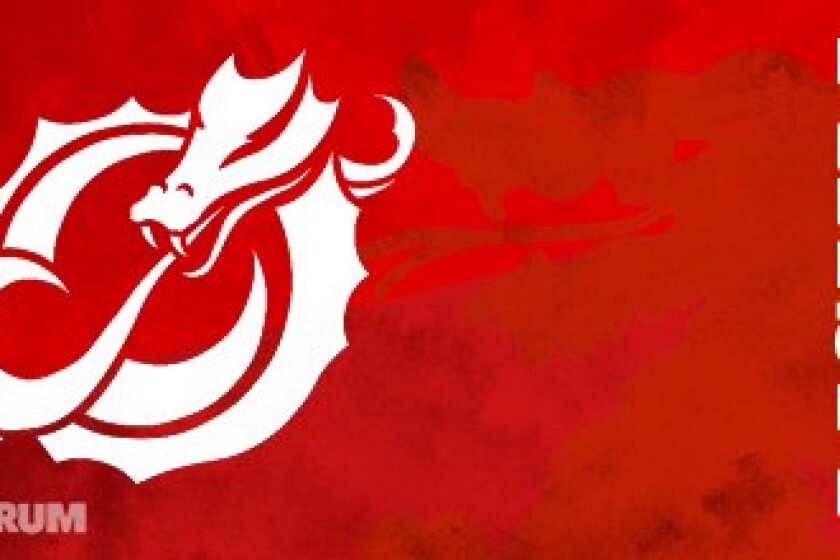 FAYETTE, Iowa — No. 15-ranked Minnesota State Moorhead melted in the midst of a Jake Hilmer offensive heatwave Friday night at Dorman Memorial Gymnasium.
The Upper Iowa guard erupted for a career-high 41 points to spark the Peacocks to an 84-78 victory in Northern Sun Intercollegiate Conference men's basketball before 234 fans.
"We let him get too comfortable too early," said Dragons head coach Tim Bergstraser. "We all know that he's capable of doing something like that. You let him get comfortable early and he feels like every shot is going to go in."
The Dragons (17-4, 12-3 NSIC) had their four-game winning streak snapped. MSUM is tied with Northern State for first place in the NSIC North Division and overall league standings. Upper Iowa (13-8, 10-5) is tied for first place in the South Division.
Senior guard Lorenzo McGhee paced MSUM with a career-high 31 points on 12-for-19 shooting from the floor.
"He's playing aggressive right now and offensively he's playing really good basketball," Bergstraser said. "We've just got to try to get everybody clicking."
The 5-foot-11 Hilmer shot 61% (14 of 23) from the floor and 70% (7 of 10) from 3-point range and hit all six foul shots he attempted. He erupted for six 3-pointers in the second half to help the Peacocks create the lead it needed to knock off the Dragons. Hilmer improved his scoring average to 21.7 points per game.
Upper Iowa scored 11 consecutive points early in the second half to surge into the lead for good. Hilmer hit three 3-pointers to fuel that game-changing sequence. Sophomore guard Carter Janssen capped the rally with putback that gave the Peacocks a 60-50 lead with 11 minutes, 57 seconds to play in the second half.
Hilmer hit a pull-up jump shot for a 68-55 lead with 9:46 remaining, giving him 35 points at that point in the game.
"He's a big-time playmaker and scorer and he started hitting some pretty tough shots," Bergstraser said.
The Dragons rallied late and trimmed the Upper Iowa lead to 78-75 after McGhee scored from short range with 19 seconds remaining.
Hilmer responded with four consecutive free throws to push the lead back to 82-75 with seven seconds to play.
The teams played to a draw in the first half after and back-and-forth first 20 minutes.
The 6-foot-5 McGhee had a torrid start, scoring 22 points before halftime. McGhee made 9 of his first 10 shots and had 20 points less than 13 minutes into the game. He was 9 of 13 from the floor in the opening half.
The Dragons scored 11 of the game's first 15 points. McGhee's jump shot from the wing gave MSUM an 11-4 lead with 16:12 to play in the first half. That was the largest lead for the Dragons in the first half.
The Peacocks had three players score in double digits in the first half to keep pace. Senior guard Lucas Duax had 14 points on 7-for-8 shooting from the field in the opening half.
Duax scored from close range to tie the score at 40-40 with 12 seconds to play until halftime. The score stay knotted heading into the second half.
Hilmer took over after halftime. The Peacocks improved to 6-1 at home. Bergstraser didn't think the Dragons were sharp enough to win on the road.
"It comes down between the ears, our mental preparation," Bergstraser said. "We've got to be ready to play. ... It took us a little while to get going. If you fall short on effort and the mental piece, it's hard to win on the road."
MSUM (17-4, 12-3 NSIC): Stanley-Williams 0-7 0-2 0, McGhee 12-19 4-4 31, Baumgartner 5-13 2-2 15, Zimmer 4-6 0-1 8, Beeninga 7-16 3-4 18, Kinsey 0-1 0-0 0, Myren 1-5 4-6 6, Kaiser 0-2 0-0 0. Totals 29-69 13-19 78.
UIU (13-8, 10-5): J. Hilmer 14-23 6-6 41, L. Duax 7-11 0-0 14, Jones 0-4 0-0 0, A. Hilmer 0-2 1-2 1, Reid 7-13 2-4 19, Delzell 2-8 0-0 4, Kruse 0-0 0-0 0, Foley 0-0 1-2 1, Noennig 0-0 0-0 0, Janssen 2-5 0-0 4. Totals 32-66 10-14 84.
Half: MSUM 40, UIU 40. 3-point goals: MSUM 7-21 (Stanley-Williams 0-3, McGhee 3-5, Baumgartner 3-7, Beeninga 1-6), UIU 10-27 (J. Hilmer 7-10, L. Duax 0-1, Jones 0-1, A. Hilmer 0-2, Reid 3-6, Delzell 0-4, Janssen 0-3). Total fouls: MSUM 17, UIU 18. Fouled out: Baumgartner, Myren. Rebounds: MSUM 42 (Zimmer 12), UIU 37 (Reid 11). Assists: MSUM 9 (Beeninga 4), UIU 11 (J. Hilmer 3). Turnovers: MSUM 6, UIU 6.