McFeely: Contract provides peek into financials of Bison's Target Field game
NDSU netted more than $500,000 from 2019 game in Minneapolis; school is working on game at U.S. Bank Stadium while athletic director says venues in other cities have inquired about hosting Bison football games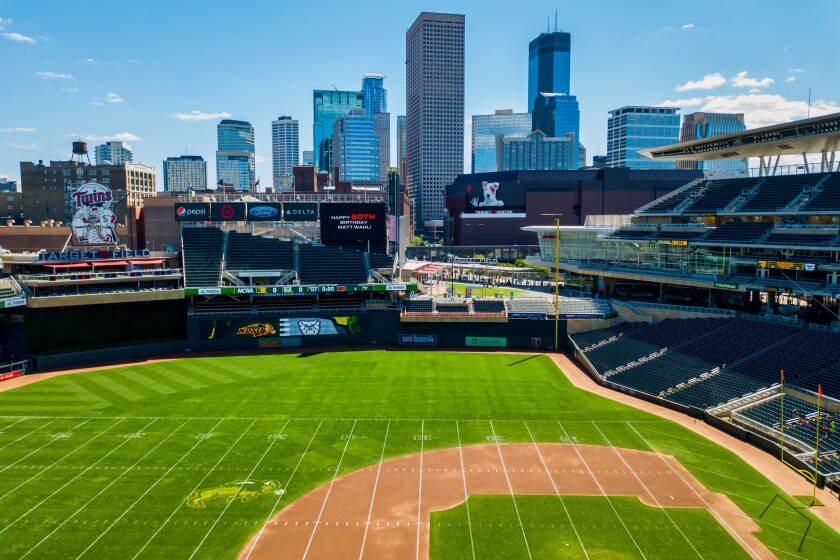 FARGO — North Dakota State's football game against Butler at Target Field in 2019 netted the athletic department more than $500,000, a figure that could've been significantly higher had Bison fans bought more tickets.
The revenue came from a guarantee paid to NDSU from Major League Baseball's Minnesota Twins, a split of income generated by game sponsorships and money generated from the sales of Bison-specific merchandise at the game.
Total revenue generated from the game was $667,717. Minus NDSU's expenses of $102,275, the athletic department netted $565,442 from the game, which was played on Aug. 31, 2019, and resulted in a 57-10 Bison victory at the stadium located in downtown Minneapolis.
An announced crowd of 34,544 attended, a number that while impressive for a Football Championship Subdivision game could've generated NDSU even more revenue had it been a few thousand higher.
The Forum obtained the contract between NDSU and the Twins, who own Target Field, to get a peek into what Bison athletic director Matt Larsen and other administrators might be seeking as the school works toward a 2023 game against Eastern Washington at U.S. Bank Stadium in Minneapolis. Larsen will not confirm NDSU and Eastern Washington are trying to set up a game at the home stadium of the Minnesota Vikings, but sources told The Forum last month the schools have agreed in principle to play.
It's up to NDSU and Larsen to work out the details with U.S. Bank Stadium.
The contract between the Twins and NDSU offered one option, although there's no guarantee U.S. Bank Stadium and NDSU will reach a similar deal. When asked if the Target Field arrangement was standard for a college football game played at a neutral site, Larsen said there is no standard contract for such contests.
The eight-page Target Field contract is straightforward in how each party involved in the game generated revenue.
The Twins paid NDSU an "appearance fee" of $550,000, based on tickets sold falling between 30,001 and 35,000.
NDSU's payment was based on a tiered structure contingent on paid attendance. If, for example, fewer than 20,000 tickets were sold, NDSU would've received $350,000. Paid tickets between 20,000 and 25,000 would've led to NDSU receiving $450,000. And so on, up to a ceiling of $650,000.
That's where NDSU could've made more revenue. If between 35,001 and 40,000 fans had purchased tickets, NDSU would've received $600,000. The figure would've risen to $650,000 for anything more than 40,000 tickets sold.
NDSU and the Twins shared a 50/50 split on net income from game-specific sponsorships, which Larsen said provided the bulk of the remainder of the school's revenue. The game's title sponsor was Pioneer, a seed company that at the time was a subsidiary of agriculture giant Dow DuPont.
NDSU also retained all net income from sales of Bison-specific merchandise sold at the game, as well as half of all net revenue from game-specific merchandise co-branded by the Twins and NDSU. The school also kept all revenue from broadcast rights and publications produced by NDSU.
Butler, a private school in Indianapolis, received a $185,000 fee from the Twins. Butler agreed to a change of venue for the game, which was originally scheduled to be played at the Fargodome.
The Twins retained all ticket revenue from the game, plus money generated from suite, club and terrace rentals. The baseball team also kept all revenue from concessions, including alcohol, ticket handling fees, and all Target Field/Twins-specific merchandise.
The Twins provided 400 complimentary tickets to the game and the use of two Skyline Suites "for miscellaneous NDSU purposes, which may include pre-game functions." The Twins gave Butler 200 complimentary tickets.
General ticket prices ranged from $20 to $58. The Twins were also obligated to provide a minimum of 1,500 student tickets that would be priced no higher than $19.
Larsen said the school received a few phone calls from large venues in markets other than the Twin Cities after the Target Field game to see if NDSU was interested in playing other neutral-site games, but the discussions didn't move forward "because those places didn't make much sense for us," Larsen said. He declined to name the other markets and stadiums.
"I do think the game at Target Field showed that we are different than a lot of other schools because we can bring almost 35,000 fans with us," Larsen said. "There's value in that, which wasn't lost on the other venues that reached out to us."
RELATED:
McFeely: NDSU-Eastern Washington working toward game at U.S. Bank Stadium Sources in Washington say the schools have agreed in principle to play. NDSU is working on a deal with the stadium, which is home to the NFL's Minnesota Vikings.

McFeely: Bison athletics guaranteed big payday with Learfield deal NDSU in 2020 signed a 10-year, $21.9 million deal with management giant Learfield IMG College. The Bison athletic department will receive $1.85 million in the first year of the deal

Target Field ready for Bison game The lines are painted and the goal posts up for NDSU-Butler football in downtown Minneapolis

Scenes from Target Field on the eve of the Bison football opener

U.S. Bank Stadium holds 66,860 for football and while it's not likely an NDSU-Eastern Washington game would sell out, it's realistic to think the game could draw 35,000-40,000 because it features two of the top brands in FCS. The Twin Cities is NDSU's largest base for alumni. Games in Minneapolis also benefit the football program because the metro area is a key recruiting base for the Bison.
NDSU, with eight FCS national championships in nine seasons and multiple victories over Power Five FBS schools, wants to continue to build its brand and play on larger stages.
The Bison, like all FCS teams, also try to schedule higher FBS competition because those larger schools pay guarantees for the games. NDSU has FBS games scheduled in 2022 (at Arizona, $425,000 guaranteed) and 2024 (Colorado, $700,000 guaranteed).