SPORTS SUNDAY: The Horan family bleeds the Cobbers maroon & gold, a family affair on the turf and the diamond
Terry Horan, bench boss for Concordia Football, proudly watches his son, Thomas, wear the Cobbers' colors at shortstop for the baseball team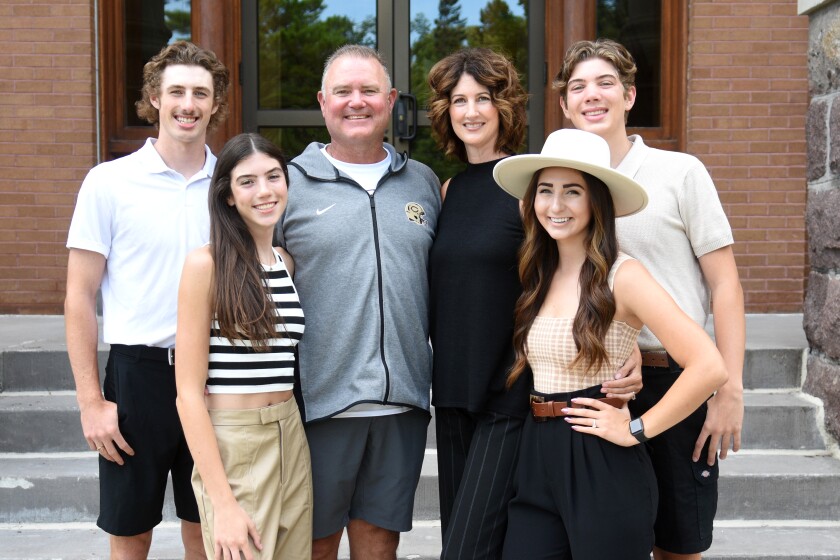 MOORHEAD The name "Horan" has been on Concordia rosters for generations. Terry Horan, a former football and baseball stud turned bench boss for Concordia football for 22 seasons, passed on the Cobber genes to his kids. Two of the four have already found themselves in the maroon and gold.
"My wife's a Concordia grad too. We met here so Concordia has been in our family," Terry said. "My oldest daughter, Megan, graduated from here in 2019. Tommy's number two and Tate, he's my theater guy. He's big into speech and debate. Annie's my volleyball and basketball player."
Terry's son, Thomas, is following in dad's footsteps. He is in the midst of his senior year at shortstop for the Cobbers baseball team. Thomas's love for Concordia started right by his dad's side, on the sidelines.
"I would always go out there with my dad for warm ups for the football team." Thomas said. "I'd shake hands and that was awesome. So, I knew right away that Concordia was great fit."
"He's grown up on this campus and really to be honest with you, he really didn't look anywhere else," Terry said.
From sharing a home to sharing a college campus, Thomas is making the most of their time together.
"I took on one of his classes even," Thomas said. "He coaches a baseball class, so I'm with them three days a week in his class."
And vice versa.
"There has been many times that I've been able to get on the road with these guys to Florida and drive a few vans you know over spring break and watch him play," Terry said.
Just last week, Thomas tallied his 100th career hit and is batting .323 this season. Cobber pride runs through his veins, and he wouldn't have it any other way.
"I've always wanted to be in the maroon and gold and being around them my whole entire life," Thomas said. "I just knew I wanted to come to Concordia."
He was his dad's biggest fan. Now, it's Terry's turn to cheer on his son from the sidelines.
"I'm his biggest fan. I love watching him compete, and I played baseball here at Concordia too," Terry said. "So, the fact that he's wearing the colors makes me a proud daddy. He's ten times baseball player I ever was, and I just enjoy watching him get after it."
Despite being a high school football standout for the Moorhead Spuds, the football coach's son is still choosing baseball.
"I knew right from the get go that I was going to choose baseball," laughed Thomas. "It was kind of hard to tell my dad I didn't want to play football for him. But, baseball was my calling and I love the sport."
But dad, he's still holding on to a little bit of hope.
"He still has eligibility left if he wants to take it on," chuckled Terry. "We'll see, but he's got his got his calling, and he does it really well."
Terry said his one claim to fame is that he got Thomas to hit on the left side, just like his dad did for him.