Fargo Davies soccer team running away with EDC as season passes halfway mark
The Eagles remain undefeated through eight games and appear to be strong enough to contend for a fourth state championship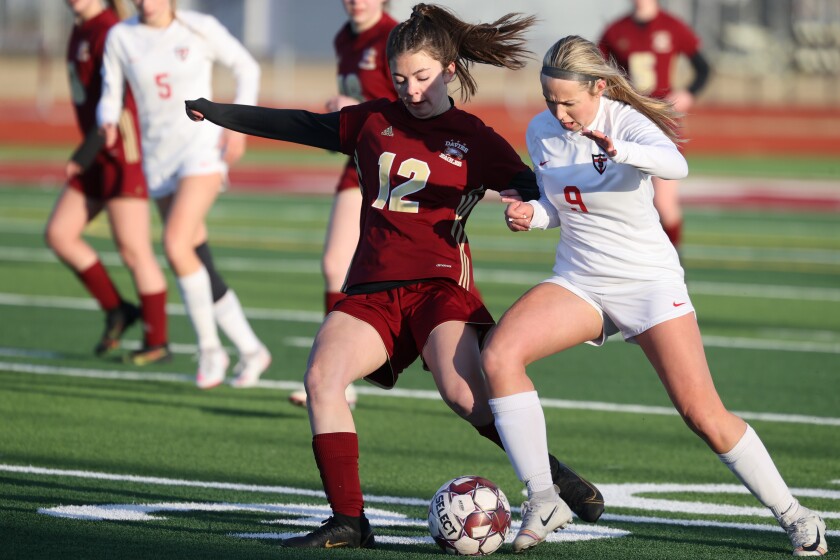 We are part of The Trust Project.
FARGO — The Fargo Davies girls soccer team finished last season with a 12-4-1 record and reached the state championship game before coming up just short of winning its fourth title.
This spring, the Eagles appear to be strong contenders once again, soaring to an 8-0 start and a spot atop the Eastern Dakota Conference standings as the season passes the halfway mark.
Davies head coach Nick Christianson said the goals set at the beginning of the season remain the same: Get better and return to the state tournament.
"I think coming into the year, we knew it was going to be a tough year with a lot of good teams returning a lot of great people," Christianson said. "We also returned a bunch, so we knew what type of talent we had within the squad.
"It's just kind of building on the success that we had at the end of last year and making it to the state title game. The girls set those goals to continue to get better throughout the season and to make it to the state tournament. Once you're there, you just continue to play and hopefully things kind of go your way."
The Eagles returned three all-state players from a year ago — senior forward Livia Karnik, sophomore midfielder/forward Madison Barnick and senior midfielder Jensen Seidel.
Barnick leads the all-state trio with 17 points this season, followed by Seidel with 14 points and Karnik with 13.
And the good thing for the Eagles is that they're not reliant on those three players alone. Davies has a talented, top-to-bottom roster contributing across the pitch.
Senior forward Kylie Autrey has nine goals and one assist for a team-leading 19 points, while freshman midfielder/forward Leighton Roberson has five goals and five assists for 15 points.
"We've got a really good core group of girls that played a lot of minutes for us last year and started," Christianson said. "A couple of them got the accolade of being first team or second team all-state players. So when you have that core coming back, they have their expectations set pretty high of what they want to accomplish this season, and they're trying to get their teammates to continue to push and challenge themselves and get better as a group so by the end of the year we're playing at a high level and hopefully stuff kind of goes our way."
In goal, sophomore Kaia Davidson has been holding down the fort.
"She's been in goal for us throughout the year and has done a really nice job," Christianson said. "She's made a couple of big saves in each game and I kind of always just tell her that there's going to be one or two times in each game where you're going to have to come up with the save and as long as we're doing that, we're going to put ourselves in a good position most of the time to be successful in any game."
The Eagles fell to Minot 6-0 in last year's title game. The Majettes are off to a 9-0 start this season and appear to be the clear-cut favorites in the Western Dakota Association.
A team feeling pressure to win after coming up short last season wouldn't be unusual, but Christianson said it's simply been business as usual.
"We know who we are and we're trying to play to our standard," he said. "It's just continuing to progress going forward here throughout the season and learning a little bit each game. We've had great challenges in our last couple of games and we're finding out ways to score goals against opponents who are making it tough for us."
Christianson said the keys are staying structured, organized, calm and relaxed.
"That's when the game comes easy to you and you continue to play," he said. "The girls are doing a great job of putting what we're talking about into games and execution has been really high. So we're just continuing to look for that and seeing where the end of the season takes us."
It's already been a historic season of sorts for the Eagles. With its April 20 victory over Fargo South, Davies earned its 100th EDC win in program history. Since their inaugural season in 2011, the Eagles have accumulated an all-time record of 138-30-18.
Should the Eagles claim the EDC crown this season, it'll be the school's fifth conference championship and their first since 2018. Davies has never struck out on state tourney appearances either, looking to advance to the big stage for the 11th time in 11 seasons.
The key to that, however, is to not get complacent.
"It starts at practice," Christianson said. "Making sure we're holding ourselves accountable and putting in the effort at practice to make sure when game time comes, we're ready to go.
"These teams, they're all fighting to make state and they all want to be there. Each team we've got coming in here at the end, it's going to be really important for them which obviously helps us and challenges us to continue to play at a high level and finish our chances and keep a zero on the other side of the scoreboard. That's kind of what we're looking for."
Davies' remaining opponents include Fargo South, Fargo North, Shanley, Grand Forks Central, West Fargo Sheyenne and Grand Forks Red River.
The game against the Mustangs, who currently sit second in the EDC standings, is slated for May 20 at Davies High School and will be a "Kick it to Cancer" game. Christianson encourages the public to come out and support the cause while watching the top two teams in the EDC battle it out on the pitch.
The Eagles will visit Fargo South Tuesday night with kickoff slated for 7 p.m.