Grovers volleyball gets past North Sargent at ND Class B, Region 1 tournament
KINDRED, N.D. - Fargo Oak Grove's volleyball team is hoping this is the year to win its first North Dakota Class B, Region 1 championship since 1999.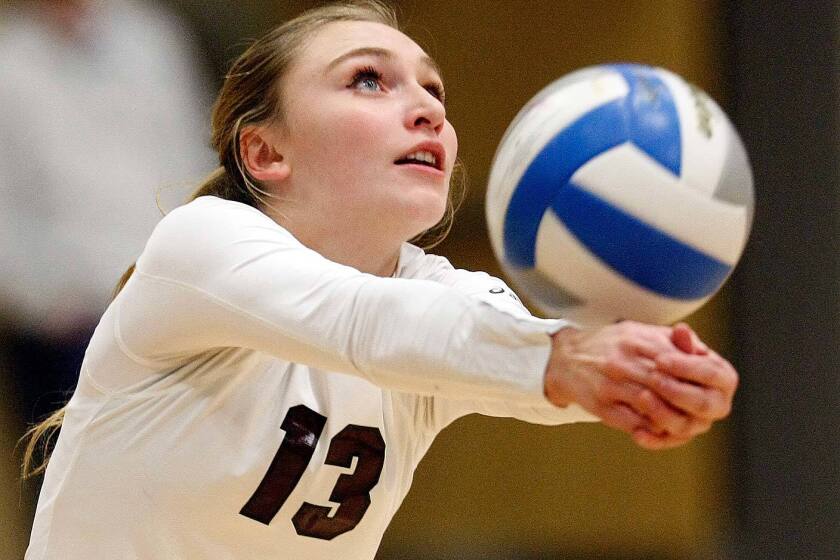 KINDRED, N.D. - Fargo Oak Grove's volleyball team is hoping this is the year to win its first North Dakota Class B, Region 1 championship since 1999.
To make that happen, the Grovers will first have to claim a semifinal win tonight against Central Cass - a program that has won 12 region titles.
"It's going to be a challenge and a battle, but we're all looking forward to it," said Oak Grove senior hitter Jenna Zaeske.
Oak Grove, which defeated North Sargent 25-19, 25-20, 25-20 in Monday's opening round, is only one of three teams that has beaten Central Cass this season. Central Cass defeated Oakes 25-10, 25-20, 25-20 in its opening-round match.
"You know the energy will be high for this one," said Central Cass coach Chris Hahn. "If we get over the fact that it's Oak Grove, we'll be fine. Oak Grove is a very good team."
Central Cass 3, Oakes 0
There is the Central Cass team with Faith Dooley in the front row and the one with her sitting on the bench. Both were effective once again for the Squirrels, who improved to 35-3 for the season.
"I think we are the same team all the time," said senior Gabby Grommesh, who had nine kills and 17 digs. "We just try to work as one team."
It was certainly working during the first set when Central Cass built an 11-0 lead. Dooley, a 6-foot-3 senior who has committed to play volleyball at North Dakota, had four kills, one tip, one bump and one block. Dooley finished with 16 kills and three blocks.
In the second set when Oakes settled down, Central Cass broke an 11-11 tie and built an 18-11 lead when Dooley was sitting on the bench during her back-row rotation. Abby Cramer and Macie Romsdal combined for five blocks during the spurt. Kennedy Bresnahan finished the set with a block and two kills.
In the third set, Central Cass overcame a 17-16 deficit and took a 20-17 lead with Dooley on the bench. Grommesh's back-to-back kills made it 22-18. Dooley finished the set and match with two kills and a block.
"I thought after that first set our defense did much better against a very powerful team with a lot of weapons," said Oakes coach Kathy Warren, whose team's season ends with a 15-16 record.
Oakes was led by Lydia Hansen's 10 kills and two blocks. Sydney Breitbach had 20 assists. Shelby Roney had 8 digs.
Central Cass also got seven kills from Bresnahan. Romsdal finished with six blocks. Alissa Erickson had 35 assists.
Oak Grove 3,
North Sargent 0
Zaeske, a 5-foot-7 senior, set the tone when she was serving during a 6-0 run that gave Oak Grove an 18-11 lead in the first set. Zaeske finished the set with one of her 16 kills.
"It felt good tonight," said Zaeske, who also came up with 23 digs. "Everybody was swinging well tonight."
Oak Grove built a quick 10-4 lead in the second set. But North Sargent would not go away when Chelsey Anderson produced seven kills to make it 19-18. That's when Oak Grove reeled off four straight points and hung on for the 25-20 win.
In the third set, Zaeske caught fire when she produced five kills - helping the Grovers overcome an 11-9 deficit and build a 20-14 lead. Zaeske ended the match with her final kill.
"She is consistent, headstrong and very reliable," Oak Grove head coach Jennifer Lopez said of Zaeske. "I think she got more confident as the match progressed."
Senior Hannah Kelley added 10 kills and two blocks for Oak Grove while senior Samantha Kounovsky had seven kills. Avery Zasada had 19 digs while Taylor Lang had 16. Junior Kirsten Bokinskie had 35 assists and three service aces.
"I feel like this is our year," said Lopez, whose team improved to 28-8. "Hopefully, we can come out and just be consistent with our game and see where that takes us."
Readers can reach Forum Sports Editor
Kevin Schnepf at (701) 241-5549
Schnepf's NDSU media blog can be
found at www.areavoices.com