Kolpack: Hitting outdoor golf balls at 30 degrees? It was 'Suite'
Fargo
As somebody who has played Topgolf facilities in Scottsdale, Tucson and Dallas, today was the test. The temperature barely touched 30 degrees, snow was still visible on the green artificial turf and the disgusting winter of 2022 continued into mid-April.
It was the perfect avenue to test the climate conditions at the outdoor bays at Suite Shots, the new golf entertainment complex that opened in south Fargo two weeks ago. Since the project broke ground in October of 2020, it's the No. 1 question potential patrons have asked.
Will it be warm enough in the winter?
I wore a long-sleeve T-shirt with a light fleece vest. After a few shots, the vest was a bit warm. Take a seat on the couch in front of the hitting area and it feels like a heated seat in a car.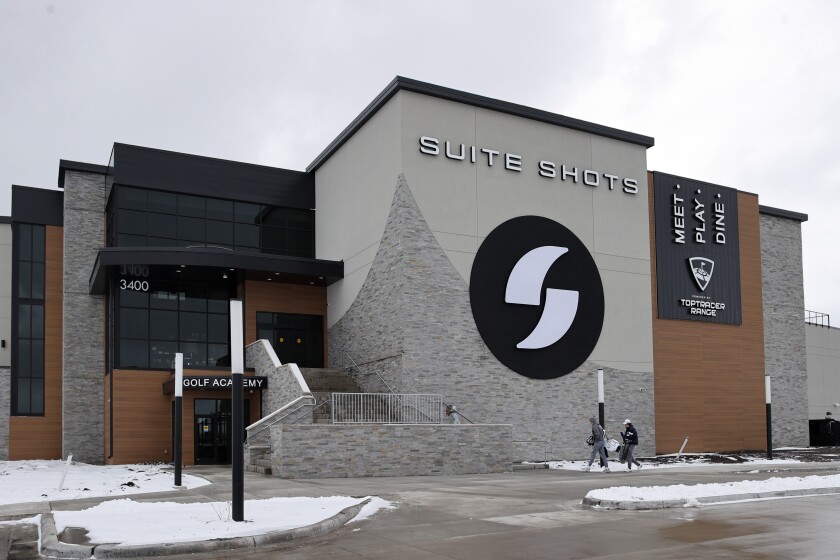 Give the brains behind the operation an A-plus.
"We've been here when it was 5-below and no wind and we said, 'Yeah, this is doable,'" said Mark Johnson, the CEO and director of golf.
An east wind blowing at that temperature could be a challenge, meaning it could require more than a fleece vest. Then again, golfers in the Red River Valley have played in bad conditions and don't seem to care.
It's golf, man.
"Fantastic, world-class facility," said Kyle Mack, a former long drive champion who was getting ready to hit in a bay. "When you see a ball fly out of here, it's a much more accurate representation."
The back net measures 340 yards from the third and top deck. As of yet, nobody has flown it over, with software telling the Suite Shots staff if it did.
Chalk up yet another entertainment option that gives Fargo-Moorhead another notch in being a vibrant metro area. This place is not small; over 180 staff members have been hired with a few more to go.
Last Saturday, before it opened at 10 a.m., there was a line of people from the front door to the parking lot. At 10 a.m.
"We didn't expect that," Johnson said.
The technology of the ball flight is different from Topgolf, which has a chip embedded in its golf balls. Suite Shots, which has partnered with Topgolf for part of the facility, uses six cameras that look for motion from all bays at all three levels and track a ball for the first 65 yards.
"Then it does the math," Johnson said.
A degree in computer science would be helpful in understanding it all. In my limited shots, it seemed rather accurate.
The overnight snow actually gave the staff practice in removing snow. In this case, with such little precipitation, they pushed it up against the back net. Bigger snowfalls will require it to be removed via lifting the south net just high enough for equipment to dump snow outside the turf.
"They've done it in Denver, Salt Lake and the Twin Cities," Johnson said.
The place is more than just whacking golf balls. The ground floor is catered to the more serious player with five indoor simulators and an indoor putting green that uses technology called "PuttView" that tracks putting performance.
The highlight is the Learning Academy that is the working space for Lucas Johnson, former Fargo Shanley and North Dakota State player and Mark's son who is a PGA associate professional. It includes skill development, the latest in video technology, club repair and men's and women's locker rooms for those who want memberships.
You want to use the winter months in Fargo to get better? Here's your ticket. This spring, with local courses not open yet, high school golf teams have been regular visitors and the on-screen games of "driving challenge" and "approach challenge" that measures length and accuracy are about as fair as it gets.
We haven't even mentioned banquet and/or meeting spaces, multiple bars and an outdoor patio.
I hadn't swung a club in months. On Thursday, I stuck an approach to within 10 feet at Pebble Beach.
It felt damn good.