McGhee sparks Dragons men off the bench in home victory against Winona State
Minnesota State Moorhead guard Lorenzo McGhee scored 17 points and added 10 rebounds coming off the bench against Winona State.
We are part of The Trust Project.
MOORHEAD — Minnesota State Moorhead guard Lorenzo McGhee hasn't been fazed by his recent shift to a bench role for the Dragons.
McGhee still plays starter minutes and he's provided a scoring spark in his reserve role, which has only been a couple games. He scored 17 points and grabbed 10 rebounds Friday night to help lift MSUM to a 74-58 victory against Winona State in Northern Sun Intercollegiate Conference men's basketball at Alex Nemzek Fieldhouse.
"It's just another chance to see how the other team is playing defense so I can jump right in," McGhee said. "I know how to play that role."
The Dragons (10-8, 5-4 NSIC) played for the first time since a Jan. 2 double-overtime road loss against Northern State. MSUM had its four previous NSIC games canceled due to COVID-19 protocols. The Dragons were successful after that long layoff, shooting 55% (27 of 49) from the floor against Winona State.
The Dragons also missed significant practice during the past three weeks due to COVID-19 protocols.
"It felt really good to get back rolling," McGhee said. "When you are away from the game that long, you're eager to play. ... Our mindset, I don't think anybody was lacking. Everybody was at home working and keeping their mind right."
The Dragons finished with 38 bench points against the Warriors and led by as many as 21 points in the second half after building a double-digit halftime lead.
"Our bench was solid," said Dragons head coach Chad Walthall.
The 6-foot-5 McGhee was 5-for-6 from the floor and 7-for-7 from the foul line in 28 minutes. His lone miss was a long 3-point shot with less than two minutes remaining in the second half.
"I really like him coming off the bench," Walthall said. "He gives us a really good spark. He had a really nice game."
McGhee's basket in the middle of the lane gave the Dragons a 62-43 lead with 9 minutes, 4 seconds to play in the second half. He added two foul shots for a 64-43 edge with 8:35 to play for MSUM's largest lead.
"We really executed our game plan, that was huge," Wathall said.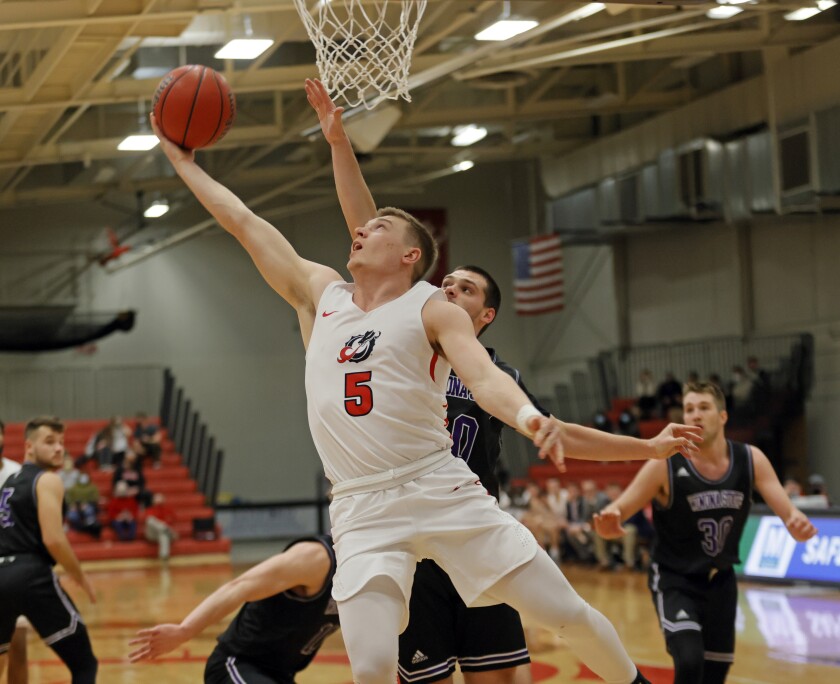 MSUM guard Gavin Baumgartner finished with a game-high 21 points on 8-for-15 shooting from the floor. The Dragons defense was solid for most of the game, limiting WSU to 38% (22 of 58) shooting from the floor. MSUM also blocked five shots.
"A lot of it is about communication and playing as one," Walthall said. "That is going to have to continue."
The Dragons built an 11-point halftime, limiting Winona State to 24 points in the opening 20 minutes. The Warriors shot 35% (10 of 29) from the floor in the first half, while the Dragons shot 48% (13 of 27) from the field by halftime.
McGhee fueled the Dragons with nine points in the first half on 3-for-3 shooting from the field. He also was 3 of 3 from the foul line. Junior guard Trever Kaiser added eight points on 2-for-2 shooting from the floor. Kaiser also came off the bench.
MSUM had 24 of its bench points in the first half.
"I liked how we played defense tonight and our defense to offense transition," McGhee said. "We had a good pace tonight. I liked our pace."
WSU (10-6, 6-5 NSIC): Whitelow 1-4 0-0 2, King 1-2 0-0 2, Martens 5-9 2-3 14, Drew 3-6 0-0 9, Rosner 3-7 2-4 9, Arenz 2-4 0-0 4, C. Dillon 0-8 0-0 0, Klug 6-10 1-2 16, Adams 0-4 0-0 0, D. Dillon 1-4 0-2 2. Totals 22-58 5-11 58.
MSUM (10-8, 5-4): Baumgartner 8-15 4-5 21, Sem 2-3 0-0 4, Irsfeld 2-6 0-0 5, Zimmer 3-4 0-0 6, Bergh 0-1 0-0 0, McGhee 5-6 7-7 17, Stanley-Williams 2-4 0-0 4, Kueth 3-4 2-3 9, Beeninga 0-3 0-0 0, Kaiser 2-3 3-4 8. Totals 27-49 16-19 74.
Half: MSUM 35, WSU 24. 3-point goals: WSU 9-25 (Martens 2-4, Drew 3-5, Rosner 1-2, Arenz 0-1, C. Dillon 0-5, Klug 3-6, Adams 0-2), MSUM 4-14 (Baumgartner 1-4, Irsfeld 1-4, Zimmer 0-1, McGhee 0-1, Stanley-Williams 0-1, Kueth 1-1, Beeninga 0-1, Kaiser 1-1). Total fouls: WSU 16, MSUM 15. Rebounds: WSU 28 (Martens 8), MSUM 37 (McGhee 10). Assists: WSU 10 (Whitelow 4), MSUM 8 (Irsfeld 3). Turnovers: WSU 7, MSUM 9.