Moorhead's Sam Laurila continues hockey dream, taking big leap from Bantam AA to USA Hockey Development Team
Laurila, a 15-year-old defenseman, is one of seven Minnesota-born players to make the roster but he's also the rare bantam player who has made the leap to the national development team.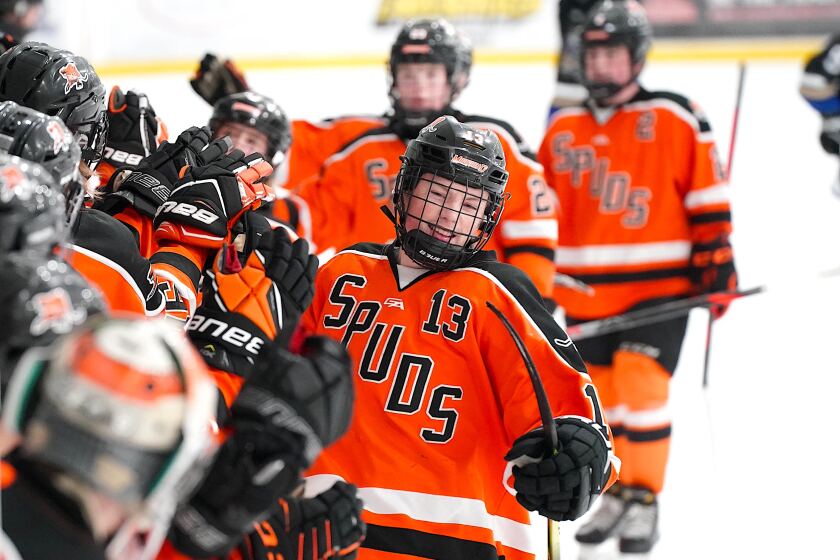 MOORHEAD — "Work hard, show up at the rink every day, have fun and put a smile on your face."
That's the recipe for hockey success for Moorhead Bantam AA hockey player Sam Laurila, who earlier this month was selected to play for USA Hockey's National Team Development Program Under-17 team next season.
Laurila, a 15-year-old defenseman, is one of seven Minnesota-born players to make the roster. He's in pretty rare air for another reason: bantam-level players are not often named to the development team due to the youth hockey structure in Minnesota, which has different age requirements than other states.
So when Laurila got the call to join the team for the 2022-23 season, it took some time for him to fully process the accomplishment.
"I didn't think a whole lot of it right away," he said. "I just kind of had to let it sink in for a bit. It just kind of went by day-by-day and then it was kind of, 'Oh, wow, this is going to be pretty cool.' It just didn't hit me right away. I kind of had to wait a little bit. But it's awesome."
The National Team Development Program operates out of the USA Hockey Arena in Plymouth, Michigan, which is home to both the U17 and U18 teams. The program helped ignite the careers of many notable players, including Patrick Kane, Auston Matthews, Jack Eichel and Ryan Suter. The NTDP has produced 85 first-round NHL draft picks and 363 total picks in its 25-year history.
The U17s compete primarily in the United States Hockey League, with North American Hockey League, Minnesota Elite League and international tournament competition sprinkled in each season.
The USHL is the only Tier 1 junior league in the country and many of its players advance to the collegiate level. Laurila knows the competition will be a step up from what he's used to.
"It should be fun," he said. "I'm a little nervous, too, but it's going to be a really cool opportunity. You've just got to go out there, play your best and just try not to think that these guys are way bigger and stronger than you."
Until 24 months ago, Laurila said he wasn't even sure the chance for an NTDP selection existed.
"I didn't even really know that this was an option until probably two years ago maybe," he said. "They have scouts that go everywhere and watch you, and they started watching this year more heavily. So we were in the Blue Ox in Moorhead, which is a Double-A tournament. There was a scout there — this was in November — and that's when I first started talking to him."
Laurila was part of a top 40 evaluation camp for five days in March. The camp featured 47 invited players — all born in the year 2006 — and they competed in a series of scrimmages, on-ice practices and off-ice training sessions. Laurila was one of 16 defensemen invited, and USA Hockey announced the final U17 roster on April 9.
Rob Gramer, executive director of the Moorhead Youth Hockey Association, said bantam players in Minnesota rarely get an opportunity with the USNTDP.
USA Hockey — and really most of the rest of the country and the world — base their hockey levels strictly on birth years. In Minnesota, the youth programs are geared to a high school model based more on school years, Gramer said.
The calendar year for Minnesota hockey is June 1 to May 31, so players like Laurila who are born in 2006 are eligible for the national development team this year. But players born between January 1 and May 31 have aged out of bantams and played high school hockey, Gramer said.
Minnesota players born in the first half of the year play at a higher level than those in the back half of the birth year. Players in other parts of the country slotted by birth year alone are at the same level all the way through, he said.
"They're probably playing a Tier 1 U16 schedule which is a pretty high level of hockey," Gramer said. "So you have that and they're all playing a high level of hockey — the front half of the birth year in Minnesota is playing high school hockey — and so the bantams, like Sam, are at a huge disadvantage.
"Even from an exposure standpoint and how they get viewed or seen, and then the level of play just isn't quite commensurate, so even if they get invited, it's really difficult for them to show well at the camp," Gramer said
Laurila has been playing organized hockey since he was 8 years old. The sport runs in the family. His father, Tim, played four years collegiately at Michigan Tech before a professional career that included stints in the ECHL, Central Hockey League and United Hockey League.
"I think I just kind of liked the game ever since I started," Sam said. "Right away, I kind of fell in love with it."
Not only does Tim play the role of dad but he's also Sam's assistant coach at the Bantam AA level. The bench boss for Moorhead Bantam AA is none other than Minnesota native, Moorhead alum and three-time Stanley Cup champion Matt Cullen.
Tim said it's been a privilege to watch his son progress, both as his coach and his father.
"It's two different feelings, I guess," he said. "As a coach — and I've coached him since he was just starting hockey — just to see his progression over the years and the way that he's come along. … When he was little, he wasn't a great skater and it was just one of those things that he kept working on and making a conscious effort to really push that part of the game. As someone who's kind of been along and has seen him firsthand, it's been a very proud moment."
In addition to the work ethic, dad took note of his son's competitive nature early on.
"We had knee hockey games at our house in Texas when we were down there for nine years," Tim said. "I wouldn't let him win all the time and he didn't like that, and I remember (Sam's mother) Elli would just be getting mad at me. Like, 'Just let him win so he doesn't freak out,' and I'm like, 'No, I'm not going to let him win.' We're not going to take that competitive edge or competitive nature away from him. So from a very young age, I knew that he was a competitive kid, very driven and worked very hard.
"It's been a fun ride. He's a good kid too, and it's kids like that — whether they're your own or not — that are easy to coach and it makes your job as a coach that much more fun."
Cullen said Sam's work ethic pairs well with his hockey talent.
"I'm really proud of him," he said. "He had a really good year. He's put a lot of work into it and has a lot of God-given gifts, but he worked his butt off to become a high-end player. I was just really happy for him with the way he performed this season and then going out to the camp and earning a spot on that team. It's a pretty impressive accomplishment for a young man like that."
In 56 games with Moorhead Bantam AA this season, Sam tallied 37 goals, 76 assists and had a plus/minus of plus-105.
And he's a smart player who understands space and isn't afraid to step into the offense, Cullen said.
"His intuition on the ice as far as finding space, being able to hang onto the puck and creating offense, and just making plays with the puck, he's just really, really advanced on that end for somebody his age," Cullen said. Then you couple that with the fact he's a big kid and he's a competitive kid. In my mind, he was the best bantam in the state of Minnesota this year and to make that (U17) team is quite an accomplishment."
Not only is it a great accomplishment for Sam, but one for the Moorhead Youth Hockey Association, as well.
"We love hockey and we love being in community mode," Gramer said. "We don't cut anybody in our program. If you want to play hockey in Moorhead from 4 to 18 years old, you play. We find a place. If we have too many kids at a level, we create another team. It's this kind of perfect blend of a recreational and a competitive model where it's very difficult to balance those two things. ... It's awesome to have an example like Sam who's on that competitive side and is striving and achieving."
Sam will venture out for Plymouth and join the U17 team in July for equipment fitting and training. He'll then head back to Moorhead for some down time before the season commences around Labor Day.
"Just go out there and work hard," he said. "As a young kid, you can do whatever you want. I mean, I didn't think I was going to make this (evaluation) camp two or three years ago. I just wanted to play for the Spuds or play college hockey."