North Dakotan eyes starting job on Boise State basketball team
DICKINSON, N.D.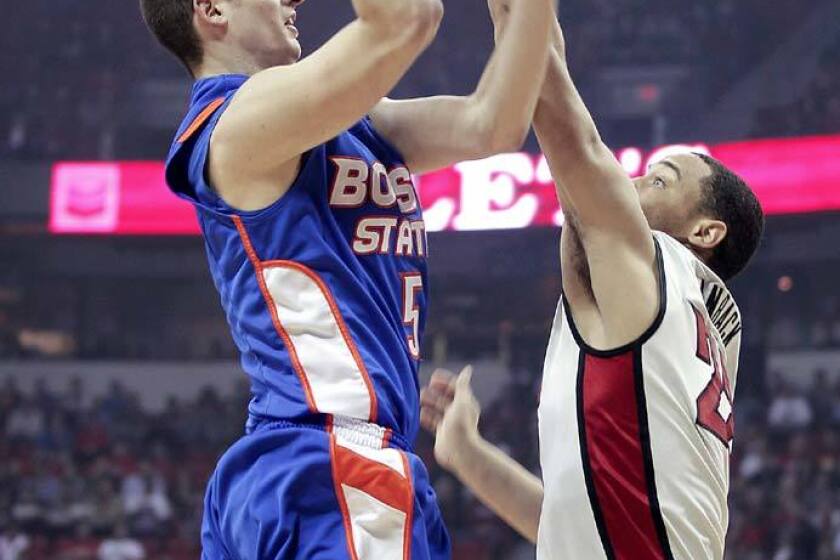 DICKINSON, N.D. - Joe Hanstad doesn't know where the Boise State men's basketball program will be by the time he's a senior, let alone next season.
All the Dickinson High School graduate knows is that he's going back there for his sophomore year with the intention of cracking the starting lineup full time.
After a wild season that began with him redshirting and ended with him as a regular in the Broncos' lineup - including a stint where he started five straight games - Hanstad is ready to settle in and see what he can do with a full season on the court.
"I went from being on the practice team to starting pretty quick," Hanstad said. "It was pretty crazy."
Hanstad, the 2011 Class A Senior Athlete of the Year and the Midgets' all-time leading scorer, is spending the summer in Boise, Idaho, working out with his teammates.
Hanstad said Boise State has "four-a-day" offseason workouts, which include weights and conditioning in the morning, followed by individual or team workouts, Pilates for injury prevention and an open gym in the evening.
After averaging 3.3 points and 1.2 rebounds in 18 games last season - he had a season high 19 points and five rebounds in his first start against Air Force on Feb. 11 - the 6-foot-4 shooting guard is eyeing improvement with a specific goal in mind.
"My goal next year is to get in the starting lineup," Hanstad said. "I had a taste of that last year. It's a lot more fun than coming off the bench. Shoot for the starting lineup. If not, just contribute in any way I can."
Hanstad said making the change from North Dakota high school basketball to the Mountain West Conference, which sent four teams to the NCAA tournament, was the most difficult thing about his freshman year - especially after he was thrown into the mix as an injury replacement after redshirting the team's first 10 games.
"I look back, and you think you work hard and then it's a whole 'nother level," Hanstad said.
"It takes a couple months, at least, to get used to college basketball. That's a couple months you're not getting better or catching up with guys. Now that I'm used to it, I can hopefully improve more so that I can perform better out on the court."
While Hanstad's role for Boise State next season is unknown, his being part of the team is still more of a certainty than what conference the Broncos will be a part of when their season begins.
On Tuesday, the well-renowned and nationally ranked Boise State football team officially became a member of the Big East Conference. The fate of the school's other sports remained up in the air.
Several news outlets reported Tuesday that the university is negotiating with the Big West Conference to be the new league for its Olympic sports programs, including men's basketball.
Hanstad said he doesn't even care to pay attention to that, though he has heard the Broncos are setting up a difficult nonconference schedule for next season.
"I've heard so many rumors," he said. "I've heard crazy stuff. I don't even know what's going to actually happen. I don't keep up with that stuff."
Monke is the sports editor of The Dickinson Press