Pointing dog enthusiasts take ruffed grouse hunting to the next level
SOUTH OF BALL CLUB, Minn. -- In the woods of the Chippewa National Forest, with the late morning sun shining through mostly leafless trees, a beam of light enveloped an English setter named Tyler that was frozen on point.
We are part of The Trust Project.
SOUTH OF BALL CLUB, Minn. - In the woods of the Chippewa National Forest, with the late morning sun shining through mostly leafless trees, a beam of light enveloped an English setter named Tyler that was frozen on point.
Ken Taylor, Tyler's owner, was handling the dog. Jeff "Cubby" Skelly, a local hunting guide, was moving forward on the left, ready to shoot, as was hunter Jim DePolo on the right. Jens Heig, another local guide, was watching closely, as was this newspaper reporter.
And then, exactly what we all were hoping for - a ruffed grouse exploded into flight. Only this one was unseen, flushing through heavy cover and away from the hunters. Then another grouse flushed. Then another. Three grouse in one spot and not a shot was fired.
"What a great point!'' Heig said.
"That was beautiful,'' Skelly added.
"Great work, Ken,'' DePolo added.
And then Tyler was released from the point, by Taylor's voice command, to try to catch up with one of the birds, or find a new one, up ahead in the seemingly endless thicket of tag alder, young aspen and hazel bush.
And so goes upland bird hunting in the traditional pointing dog style, where only birds flushed from under a solid point are considered fair game. If there's no shot, so be it. The dog work, the pointer's steadiness and style, are honored as much as any bird in the game pocket of the Orvis hunting coat.
That's how our day in the woods went last week - a day which began windy, dark and cold, with a half-inch of unexpected snow on the ground but saw an afternoon that was sunny enough to melt it all. One at a time, three pointing dogs - Tyler, Macey and Gee - did their part over and over, with more than a dozen grouse flushed and about as many woodcock. But only a half-dozen shots were fired all day, and only three birds fell.
To these avid grouse hunters, it was still a day to cherish. Every point is a memory, every grouse a trophy. It's about carrying ancient side-by-side double barrels considered functional works of art. It's about the camaraderie of Scotch in front of a fireplace after the hunt and the laughter over who missed what and why.
It's the process, not the success, that matters most to these guys.
"If you ride around in four-wheelers or trucks and shoot them on the ground, they're woods chickens,'' said Bill Heig of Bowen Lodge on Lake Winnibigoshish, an avid pointing dog owner and grouse hunter who joined us in the woods later in the day. "If you hunt them over pointing dogs, grouse are the king of the forest."
Taylor, of Wyalusing, Penn., and DePolo, of Falls, Penn., drove 1,300 miles to hunt northern Minnesota's resident grouse and migratory woodcock, which are moving through the region right now. They have been making the trip each season for nearly 30 years because, even in a down year, northern Minnesota has far more grouse than their home state in a good year.
They had hunted five days at that point of their two-week trip and still hadn't shot at a grouse. They had heard several birds flush, and seen a few without a clear shot. And they had some "foot flushes'' - grouse they flushed by accident without help from the dog, which are considered off-limits. But they hadn't bagged one yet.
"It's been a great trip,'' DePolo said.
"People are going to think we're crazy to drive this far and work this hard'' and not worry about what we kill or how many, Taylor said.
"It is kind of crazy,'' Skelly chimed-in. "But it's sure fun."
"We're chasing ghosts through the woods," Jens Heig said after another pair of grouse flushed that were unshootable.
There are many ways to hunt ruffed grouse, some easier and far more effective than walking mile after mile following pointing dogs. Grouse are often seen feeding on trails and logging roads and can be easily swatted on the ground by hunters on foot or riding an ATV or even in a car or truck. To each their own, said Bill Heig. But that kind of shooting diminishes the bird, and it's not really sporting.
By framing the parameters of how, when and where they will shoot, the hunters have created a sport of skill and challenge all centered around the dog as much as the quarry. It's often a foot race through the thickest tangles in the Northwoods. And the races go all day long. It's not a sport for the weak of heart or lung.
"This is the hardest way to hunt grouse, without a doubt,'' Bill Heig said. "And it's absolutely worth it."
As we walked and walked, watching and listening for the dog, Skelly made sure we didn't get lost. He's bushwhacked through these woods for decades. We hunted well off the nearest trails, following the bell hanging on the dog's collar. When the bell stopped, the handler - who didn't carry a gun - would check a GPS unit that pinpointed the dog's location.
"She's 60 yards straight over there,'' the handler would say, and our group would be off through the woods as fast as we could. As the handler moved in behind the dog, the armed hunters would move up and ahead. If all worked perfectly, and it rarely does, the grouse or woodcock would be just ahead of the dog and flush within clear shot of the hunters.
More often than not, it's better luck next time.
"Look at that. That's the whole deal right there,'' said Bill Heig, admiring a rock steady point by Macey, a two-year-old English pointer. Never mind that the woodcock she was pointing escaped unharmed. "Wasn't that just beautiful?"
And off we went again, following the bell.
1
/
5:
Jens Heig and Ken Taylor with a woodcock shot over English pointer Tyler, Taylor's seven-year-old hunting dog. John Myers / Forum News Service
2
/
5:
Jens Heig and Ken Taylor with a woodcock shot over English pointer Tyler, Taylor's seven-year-old hunting dog. John Myers / Forum News Service
3
/
5:
Jens Heig and Ken Taylor with a woodcock shot over English pointer Tyler, Taylor's seven-year-old hunting dog. John Myers / Forum News Service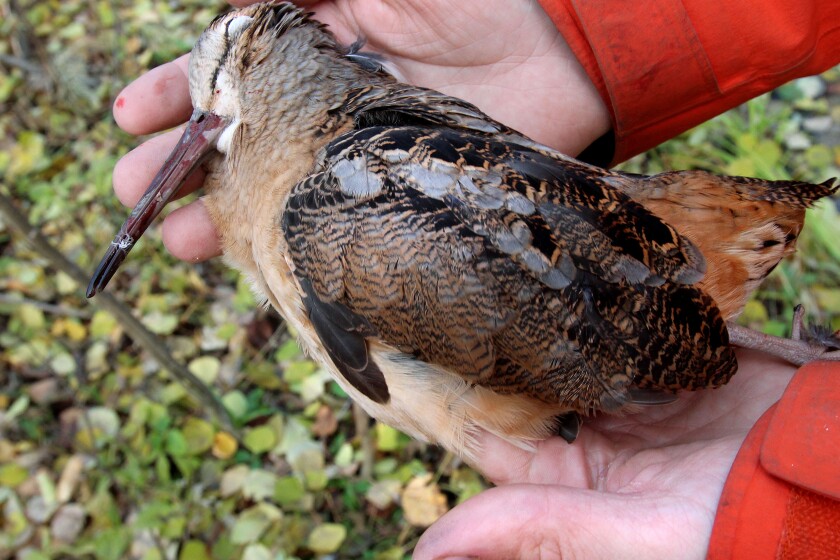 4
/
5:
Jens Heig and Ken Taylor with a woodcock shot over English pointer Tyler, Taylor's seven-year-old hunting dog. John Myers / Forum News Service
5
/
5:
Jens Heig and Ken Taylor with a woodcock shot over English pointer Tyler, Taylor's seven-year-old hunting dog. John Myers / Forum News Service