Central Cass comes up just short as Velva Aggies hold on to win 11B state championship
Velva-Drake-Anamoose-Garrison stalled a late Central Cass drive at the 1-yard line with just more than a minute remaining in Friday's title game.
We are part of The Trust Project.
FARGO — One yard separated the Central Cass Squirrels from a late-game lead and a potential state championship Friday morning at the Fargodome as the Velva-Drake-Anamoose-Garrison Aggies held on late to win the 11B state championship 22-20 in Dakota Bowl XXX.
The Aggies stopped Cass' Brayden Mitchell on fourth-and-1 with 1:11 remaining in the game.
Cass had one more possession after forcing an Aggies punt, which gave them two more tries to hit the end zone with 13 seconds left.
Mitchell threw a 15-yard pass to Owen Wiersma on the first play but the second play ended with Mitchell, again, being tackled by the Velva defense as time expired.
The Squirrels ended the season 9-3 in the program's first state championship game appearance since 1980.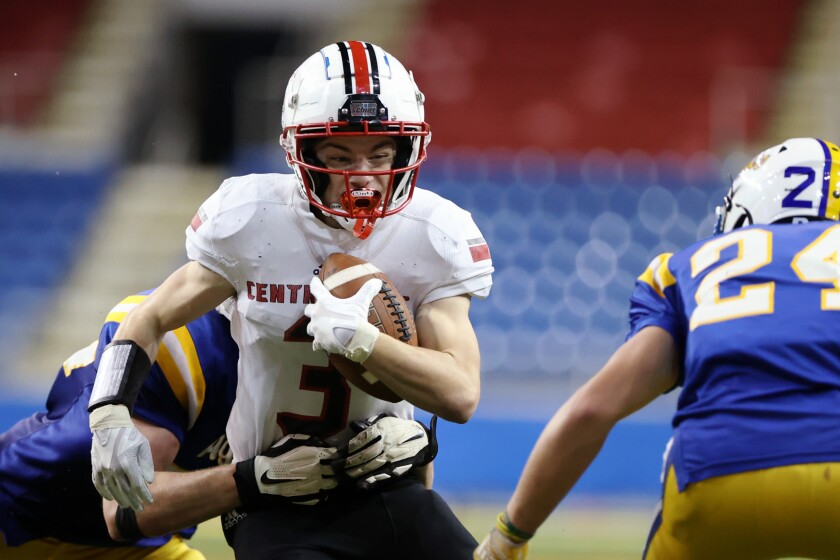 Squirrels head coach Tommy Butler summed up his feelings with one word: "proud."
"I'm proud to be these guys' coach," he said. "These guys fought hard and played their butts off. Just to be here, this crowd was unreal and the community support was unbelievable like they always are. Just proud to be the coach of this team and proud of the way these guys played and the way they handled themselves through adversity throughout the entire season and this game."
Butler added that the 2022 Squirrels will be a team remembered in Central Cass history for years to come.
"They're an unbelievable group and a special group," he said. "They will go down in history here in Casselton."
While Butler thought of sending out Carter Vrchota to try a field goal to take the lead, he put his trust in his linemen, as he has all year. Even with the disappointing ending, Butler said he doesn't have any regrets about not going for the field goal.
"We thought about going for the tight field goal," Butler said. "But, like we've said all year, we're going to ride or die with our o-line. We felt we had a shot to win it with them and we wanted to leave it in those guys' hands. I don't second guess that call at all."
Velva scored first on quarterback Ben Schepp's 1-yard run and the 2-point conversion made it 8-0 with 3:17 left in the first quarter.
Cass answered back in the second quarter with two touchdowns in a three-minute span to go up 14-8. Mitchell found Cooper Johnson open for an 18-yard touchdown pass and Isaac Wisnewski then ran in from 5 yards out for the second score.
The Squirrels' lead was short-lived as the Aggies' Schepp and Reggie Bruner connected on a 78-yard touchdown. Cass' Cooper Johnson was inches from tipping the ball away but it landed in Bruner's hands and he took off to the end zone.
Cass led 20-16 much of the second half after a screen pass to the right from Mitchell to Peyton Lemar ended in a 1-yard scoring play for the Squirrels. Mitchell's 2-point attempt came up short.
Velva scored the go-ahead touchdown on Schepp's 1-yard charge with 5:57 remaining in the game.
Mitchell ended the day 14-of-18 for 157 yards, two touchdowns and an interception. Wiersma ate up 149 yards on the ground on 18 carries and Wisnewski picked up 45 yards and a touchdown on seven tries.
Cooper Johnson led Squirrels receivers with 92 yards on four receptions while Wiersma (38 yards) and Lemar (27 yards, one touchdown) each had five receptions.
Marcus Biffert led the Squirrels' defense with nine tackles while Wisnewski and Ryan Stafford each had seven. All three had six unassisted tackles.
Butler said the team entered the game feeling it could compete against a strong Velva team.
"All week we really believed we had a chance but there is a reason (Velva) is undefeated," he said. "They're a really good team and well coached. They don't make mistakes. They're good and I give them credit. Coach (Larry) Sandy is an unbelievable coach. Their staff did a great job getting them prepared and my (staff) did a great job getting us prepared. It was just a great game. We just came up on the short end."
Velva ended the season 13-0 and earned the 10th state title of Sandy's career.
CC 0 14 0 6 0—20
V 8 8 0 6—22
V — Schepp 1 run (Bodine run)
CC — Johnson 18 pass from Mitchell (Vrchota kick)
CC — Wisnewski 5 run (Vrchota kick)
V — Bruner 78 pass from Schepp (Schepp run)
CC — Lemar 1 pass from Mitchell (run failed)
V — Schepp 1 run (pass failed)