Central Cass Squirrels knock off defending state champions Kindred, advance to 11B state football semifinals
A touchdown by Owen Wiersma with 12.7 seconds left put Central Cass in the lead and on their way to the semifinals against Beulah next week.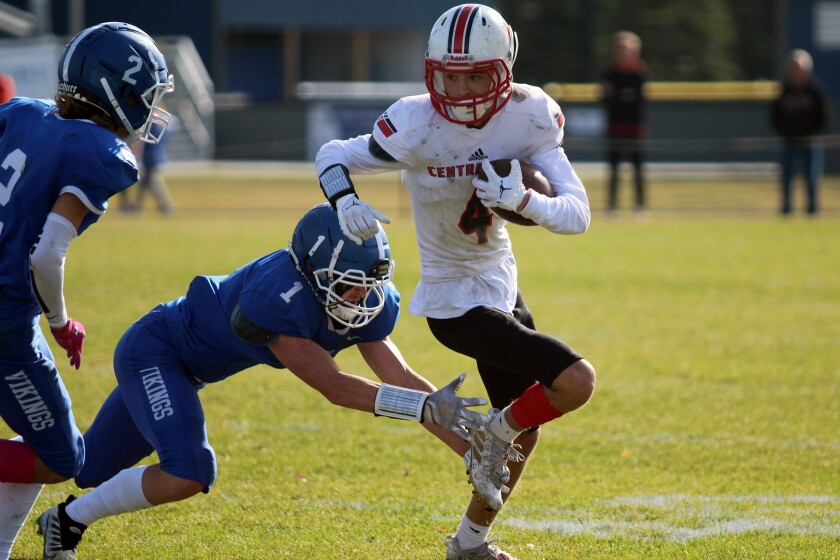 We are part of The Trust Project.
KINDRED — An Owen Wiersma touchdown with 12.7 seconds left in the game gave the Central Cass Squirrels a 14-10 upset win over the defending Class 11B state champion Kindred Vikings on Saturday.
Wiersma's two-yard push into the end zone and the PAT kick put the Squirrels up. The Vikings ran two plays in the final eight seconds and got an 18-yard completion from Jorgen Swenson to Charlie Biewer on the first. But Central Cass shut down the final play and held on.
"I am just so proud of the way these guys played, proud of their effort and proud of the fact that they never quit," said Squirrels coach Tommy Butler. "We never back down. We do all of these scenarios (at practice) for a reason and it showed up today. Unbelievable!"
THE SQUIRRELS HAVE DEFEATED THE DEFENDING STATE CHAMPS IN KINDRED!!

14-10, Central Cass defeats the Kindred Vikings in the last seconds to advance to the semifinals. pic.twitter.com/3IQJofZIuW

— Todd Rose (@To2D_Rose) October 29, 2022
The go-ahead touchdown by Wiersma was his second of the day, with his first coming in the third quarter on a nine-yard run. In addition to his offensive efforts, Wiersma also made several key plays on defense, including a fumble recovery and an open-field snag of a tackle to stop Trey Heinrich on a play that could have produced a Kindred touchdown.
It was the first time the Squirrels had beaten the Vikings since Wiersma joined the team.
"It feels amazing," Wiersma said. "In my four years of high school we have never beaten them. This was probably the best game I've ever had in my entire life. I believed in my team and couldn't have done it without them. It wasn't just all me. We had to go out there, show them what we're made of and we pulled it off."
Wiersma, knowing he was getting the ball and needing two yards, had the confidence that he was the right guy for the moment.
"I just had to have the right mentality. I knew I was the right guy for the job, I knew that," he said. "(If we) put the ball in my hands, we're scoring, we're going to win this game. That's what I believed and we scored and won."
Cass' game-winning drive was set up by an end zone interception by Cooper Johnson, who took the ball straight to the ground for a touchback.
Johnson played a pivotal role on the ensuing drive, too.
In a do-or-die situation, the Squirrels faced fourth down and 17 on their own 30-yard line. Quarterback Brayden Mitchell launched a pass toward the Cass sideline and Johnson came down with the ball on the Vikings' 29-yard line.
The 41-yard pass gave the Squirrels an added boost of momentum as they continued to roll toward the end zone. They scored several plays later.
Butler called Johnson "an unbelievable player and an even better kid."
"He is a phenomenal kid," he said. "There are not enough good words for that guy. He is a great player and a great teammate."
Kindred defeat Central Cass 28-0 in week seven. In addition to having Wiersma able to play this time, a few other changes helped the Squirrels turn the tables on the Vikings.
"Making adjustments, that was the big thing," Butler said. "We shot ourselves in the foot (in the last game) and not having Wiersma for that game really hurt, but he played really well today and our o-line played excellent. Again, just making adjustments. Our coaching staff made some great adjustments in the second half and we came back and just played outstanding."
Kindred's opening score was set up by a big defensive play from Riley Sunram, who sacked Mitchell and forced a fumble that Jack Packer scooped up. Although the Vikings couldn't muster much on the drive, Sunram hit a 23-yard field goal to put the Vikings up 3-0 in the first quarter.
The other Vikings' score was a seven-yard run by Heinrich on a pitch play. An interception by Heinrich moments earlier gave Kindred the ball deep in Cass territory.
Kindred finished its 2022 campaign 10-1.
Vikings' coach Matt Crane said that, with the rivalry game, things can always be unpredictable.
"It's a rivalry game and anytime we play these guys it can come down to the very end and it did today," Crane said. "It was a hard-fought game. It was a defensive struggle and we had to take advantage of opportunities and we just left a couple of plays out there and they capitalized at the end."
After the game, Crane and the Vikings spent several moments embracing each other as they brought the season to a close.
"They're one of the best teams to ever do it," he said. "They're a tremendous group of kids. They are talented, they are coachable and they are everything you could ever ask for in a football team. They will leave Kindred High School with a terrific resume and I am very, very proud of them."
Crane also complimented the Squirrels on the win.
"I do want to give credit to the Central Cass Squirrels," he said. "They played their hearts out today and I wish them the best of luck."
The Squirrels now play Beulah at 2 p.m. Saturday, Nov. 5 in Beulah. But before turning their attention to preparation for that game, they're going to let the big win sink in.
"We're going to celebrate," said Butler. "We're going to celebrate then we're going to figure out what we have to do to beat who we need to beat. But, we're going to enjoy this one. This is big for our program."