Changed landscape for Fargo baseball players
Baseball in Fargo has been different the last two seasons with players having the choice to explore different playing options.
FARGO — The baseball landscape in Fargo is changing for local athletes.
High school baseball players in Fargo now have options to fill their spring schedules. Players can either play on their school's team in the spring prior to joining an American Legion team, or simply play Legion throughout the entirety of the baseball season.
The spring of 2022 marked Fargo Post 400's first venture into an American Legion spring-summer schedule. Before high school baseball was introduced in 2000, North Dakota Legion baseball seasons began in May and extended into August, with teams playing about 70 games a season. Now, Legion seasons start in late-May and end in early-August, or later, depending on tournament performances.
The new — or old — model was on Post 400's radar for some time. Heavy snows and the unpredictable nature of North Dakota weather raised a question for 400's board members: What if we offered a spring season, went south and just see how it goes?
During a time when most North Dakota high school baseball teams were forced to practice indoors to prepare for the season, Post 400 traveled to Vero Beach, Florida. Between the two squads — split by age division — 400 played in 14 games. They were 9-3-2 and faced off against prep schools juiced with NCAA Division I commits.
The ability to play in spring games and extend the team's season was designed to develop players and present opportunities that wouldn't have been available staying up north.
"We just wanted to do something a little different," said Jeff Gould, Post 400's president. "Offer a few more Legion games, travel to some places the kids haven't played before and get seen by some colleges that the normal kid won't get in North Dakota."
Through the use of Fargo Youth Baseball's All-Terrain Training Indoor Center (the ATTIC) and The Ball Yard baseball and softball facility, players have the ability to work on their game throughout the year. Post 400 has developed a variety of college talent, including Drew Rerick, who committed to the University of Missouri last August.
By the end of May, when most North Dakota high school baseball tournaments wrap up, players looking to continue into the summer flock to Legion teams. In larger cities like Fargo, players come from a variety of different high schools. With new and familiar faces joining a squad, an adjustment period is needed, which also works to Post 400's advantage early in the season.
"A lot of (other teams) are getting to know each other," Gould said. "And our kids have been playing with each other for three months."
Most of Post 400's roster plays all year with the squad, but the team does add players from school teams. In the summer, about one-third of the team's roster consists of high school players.
The reconstructed schedule came with some blowback in the baseball community because athletes left their school's teams.
"(The spring Legion schedule) was never taking a shot at high school baseball," Gould said. "We just thought it would be a better deal for the kids."
Similar backlash came during the transition to the high school baseball season in 2000. Coaches were skeptical about the quick turnaround from the first practice to the first game and said it wasn't ample enough time to get players game ready.
Prior to the school season, Legion teams held tryouts in April whenever the weather allowed them, and teams were selected in early-May with games starting around Memorial Day.
The spring-summer schedule has been a topic of discussion for teams close to Post 400.
"We haven't moved that direction yet," said Luke Rustad, head coach of Fargo Shanley High School and Fargo Post 2. "But, it's been talked about."
Rustad noted some reservations for an extended Legion season included commitments and player development. With most players well-accustomed to the two-team baseball schedule, athletes are exposed to differing resources and personnel for more diverse development.
"For some kids, maybe what got them into playing baseball in the summer was getting into a high school program," Rustad said. "Where they got coached up a little bit differently than they did in youth, and maybe their bodies developed which perpetuated them into playing Legion."
As a coach for both a high school and Legion team, Rustad said he doesn't know what the future scheduling will look like. He mentioned that with disagreeable field conditions during the spring, "the Legion season has gotten shorter and shorter each summer."
Justin Fletschock, assistant director with the North Dakota High School Activities Association, said an adjustment to the baseball season remains unpopular among schools, despite an early-April winter storm wreaking havoc throughout much of the state and a track record of unreliable scheduling.
"I'm not saying that it's not something our board wouldn't look at in the future," Fletschock said. "But there has been quite a bit of pushback from doing that."
Fletschock said a sizable number of coaches and administrators would need to be on board in order for a change to go into effect. If installed, the extended schedule would coincide with the Legion season and complicate plans for players looking to play on both teams..
"If we extended the spring season that would be the effect that would really hurt high school sport," Fletschock said. "Because then now you're making those kids make that choice."
When the Forum reached out to other team's across the state, many said with their teams being successful there's no need for a change.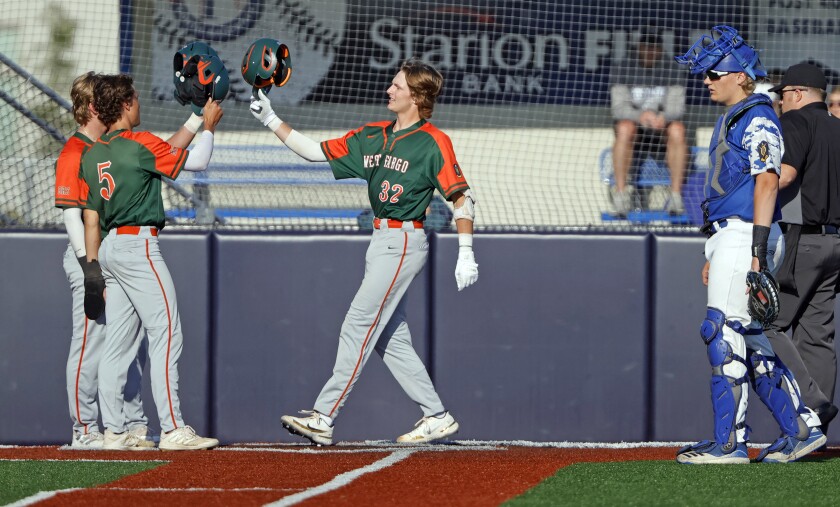 "I think it would be difficult for us right now," said the West Fargo Patriots head coach Jordan Rheault on adopting a spring-summer Legion schedule. "Just because of how our high schools are having success and also our Legion program is having success. I don't see any change for us right now."
The answer remained the same across the state.
"No not in Bismarck," said Bismarck Governors head coach Mike Skytland on a possible change. "Our high schools all have strong programs and we have not looked to do anything as a major structural change."