Chasing number nine: Eight-time champion Kindred Vikings prep for Class B girls' golf state finals
Junior Avery Bartels enters the Minot event in search of a third consecutive individual state championship.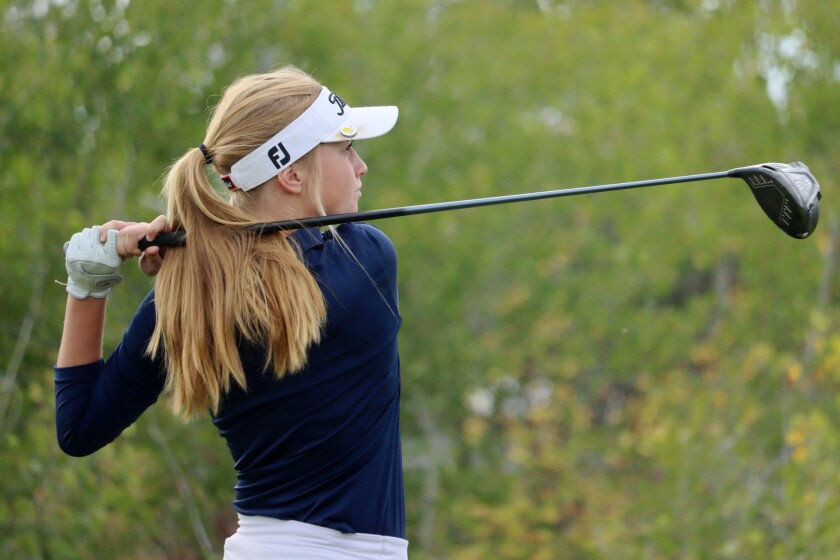 We are part of The Trust Project.
KINDRED — The first day of autumn marked the final practice of the season for the Kindred girls golf team as they played nine holes at the Leonard Country Club Thursday in preparation for the Class B state tournament Monday and Tuesday, Sept. 26-27, in Minot.
The Vikings, with eight team state titles, enter the 2022 tournament as the winningest team in Class B girls' golf history. Their most recent title came in the 2021 spring season as they followed up their 2019 win coming off a year without play due to COVID-19.
With the team success comes success in the individual ranks, as well, with junior Avery Bartels winning the last two — 2021 spring and 2021 fall — individual state titles.
Vikings coach Kory Bartels feels his team is currently heading in the right direction following a second place finish at the Region 2 finals earlier this month.
"We're trending the right way, I just hope it stays that way," Bartels said. "Our region score was as good as we played all year. We just about caught Oak Grove. They've been beating us almost every time. I'm optimistic."
The young Vikings group is led by the pairing of Avery Bartels and Charli McQuillan, the team's sole senior. The mix of experience and young talent has been a fruitful combination for the Vikings.
"I think it's a good combination because Avery and Charli were on our last two state championship teams and a big part of it," he said. "Our seventh graders, they don't know what they don't know. I don't know if they know how good they are. Comparably, they're pretty good. We've got some really good youth in our region. But, just watching them develop has been fun."
After a year away, McQuillan — an all-state selection in the 2021 spring season — returned to the Vikings golf program this year and is excited to get things underway in Minot next week.
"I feel good," McQuillan said. "I think we've prepared a lot and I think we're ready for whatever conditions we'll see. We're just ready to go."
Being the only senior on the team, McQuillan has shouldered the responsibility, alongside fellow captain Avery Bartels, of setting an example for the younger athletes on the team.
"I think I just try to be a good role model and set the best example I can," she said. "It's pretty easy when Avery is also my fellow captain because she sets a good example for even me even though she's a year younger than me."
Like McQuillan, Avery Bartels enters the state finals feeling positive with her past experiences in the tournament and at the Souris Valley Golf Course in Minot in her pocket.
"I'm feeling pretty confident going in," Avery said. "We've been up to the course a couple times and my swing is feeling good. I know I have the experience and I've done the preparation already.
"I played the North Dakota Women's Amateur up there and went to the course a couple times with my dad so, overall, I feel like I know what I'm doing when I get up to the tee box."
Avery — who placed first individually at the Region 2 finals this year — added how much the team has improved since the start of the season and how she feels they will fare Monday and Tuesday.
"The team this year has been amazing," she said. "They have improved so much. It has been really fun for a school season. I think we can give anyone a run for their money. We've been very good. If we can all get our games together, we can beat anybody."
Joining McQuillan and Avery in Minot will be seventh graders Bailey Thunick and Kaylin Goldsmith, sophomore Emily Andrisen and junior Maddison Onken.
As much as he has reminded the younger members of the team to think of the state tournament as just another meet, coach Bartels knows that nerves may play a factor come Monday and Tuesday. Despite this, he is still confident in his team.
"You don't know until you get everyone on the same course over the same two days and turn the cameras on (how things will go). You just don't know how the kids are going to react," he said. "But, I like our chances. I think we will have our girls as prepared as they can be and whatever happens, happens. If our two leaders, Avery and Charli, play the way they can, we are right in it. If they struggle a little bit then we have some work to do from our other four. But, all six of them have shown great improvement throughout the year."