Fargo Oak Grove, Kindred start strong on Day 1 of Class B girls golf tournament
The Grovers sit atop the team leaderboard after Monday's first round while Vikings junior and two-time defending state champion Avery Bartels leads the individual competition by six strokes.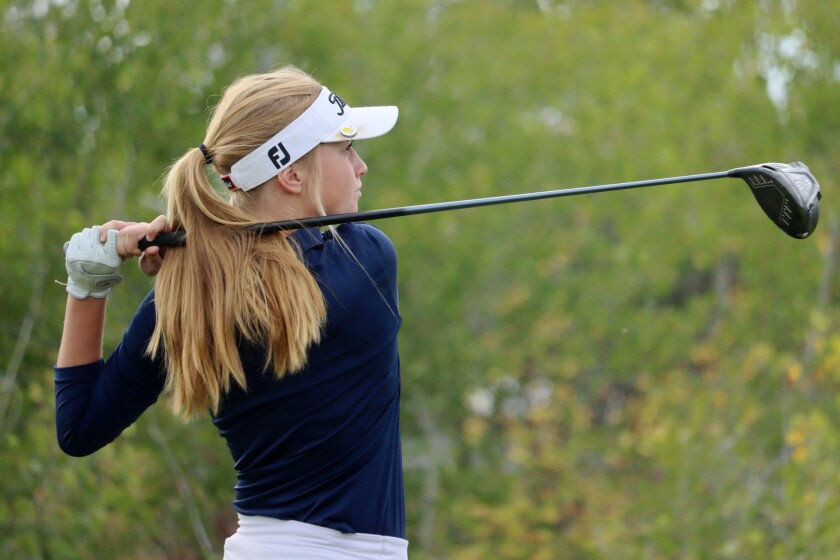 We are part of The Trust Project.
MINOT, N.D. — Day 1 of the two-day NDHSAA Class B girls golf tournament from Souris Valley Golf Course in Minot concluded Monday afternoon with Fargo Oak Grove atop the team leaderboard and two-time defending champion Avery Bartels of Kindred leading the individual competition by six shots.
Oak Grove finished Monday at 353, followed by Heart River at 355 and Kindred in third place at 362.
Oak Grove senior Sophie Brantner had the low round for the Grovers, shooting an 83, with two birdie putts for 11-over par. She was followed by teammate and younger sister Josie Brantner, who shot 88, while seventh grader Sylvie Brantner was one stroke behind her middle sister at 89.
Bartels, a junior, paced the field with a 3-under 69, six strokes ahead of Des Lacs-Burlington senior Lauryn Keller, who shot a 75.
Bartels finished with four birdies to stand alone as the only golfer below par. Grafton senior Ainsley McLain sits in third at 76, followed by Rugby senior Libby Dulmage at 79 and North Star junior Elle Nicholas at 80.
Following Bartels for Kindred was senior Charli McQuillan who shot 83, good for a three-way tie for ninth place along with Sophie Brantner and Heart River senior Mackenzee Schneider.
Josie Brantner sits in a tie for 16th overall with Hankinson-Lidgerwood seventh grader Hudsyn Hubrig while Sylvie Brantner sits in 18th place.
Final round play in the NDHSAA Class B girls tournament from Souris Valley Golf Course tees off at 9 a.m. Check the NDHSAA tournament page for approximate tee times.
Team scores — Round 1
1. Fargo Oak Grove 353; 2. Heart River 355; 3. Kindred 362; 4. Des Lacs-Burlington 363; 4. Napoleon/Gackle-Streeter 363; 6. Grafton 384; 7. Linton/Hazelton-Moffit-Braddock 388; 8. Rugby 395; 9. Carrington 398; 10. Park River 399; 11. Hatton-Northwood 412; 12. Bottineau 414; 13. Nedrose 416; 14. Sargent County 426; 15. Hazen 429; 16. Kenmare 438; 17. Bowman County 446; 18. Stanley 454
Individual top 20 — Round 1
1. Avery Bartels, Kindred, 69; 2. Lauryn Keller, Des Lacs-Burlington, 75; 3. Ainsley McLain, Grafton, 76; 4. Libby Dulmage, Rugby, 79; 5. Elle Nicholas, North Star, 80; 6. Trista Bilden, Hatton-Northwood, 81; 7. Emma Ketterling, Napoleon/Gackle-Streeter, 82; 7. Kacie Rexin, Carrington, 82; 9. Charli McQuillan, Kindred, 83; 9. Mackenzee Schneider, Herat River, 83; 9. Sophie Brantner, Fargo Oak Grove, 83; 12. Paige Hulm, Linton/Hazelton-Moffit-Braddock, 85; 13. Sophie Ketterling, Napoleon/Gackle-Streeter, 86; 13. Laila Christianson, Des Lacs-Burlington, 86; 15. Megan Robb, Heart River, 87; 16. Hudsyn Hubrig, Hankinson-Lidgerwood, 88; 16. Josie Brantner, Fargo Oak Grove, 88; 18. Sylvie Brantner, Fargo Oak Grove, 89; 19. Molly Robb, Heart River, 91; 20. McKenna Mau, Kenmare, 92; 20. Meadow Roberts, Nedrose, 92; 20. Olivia Dick, Thompson, 92; 20. Sadie Neustel, Sargent County, 92