Fargo Shanley boys soccer team ready to resume season after unexpected berth into state tournament
The East Region No. 3-seeded Deacons will face West Region No. 2 Bismarck Legacy in the quarterfinals Thursday afternoon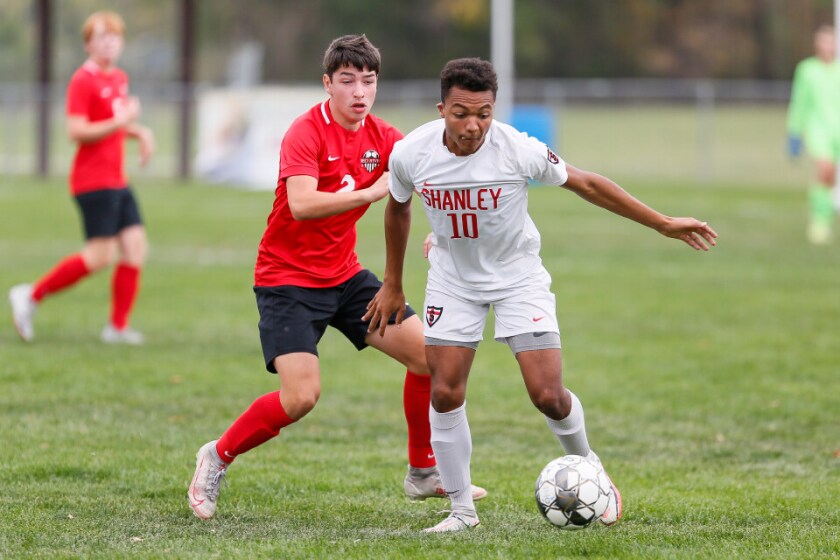 We are part of The Trust Project.
FARGO — Back on Sept. 27, the Fargo Shanley boys soccer team played what it thought was its last game of the season in a 1-0 loss to Fargo North.
One week later, the Deacons found out that they would be playing in the state tournament, which is set to begin Thursday at West Fargo High School.
Last year's state runner-ups will be taking the place of West Fargo Sheyenne after news broke Tuesday that the Mustangs were barred from competing in the state tournament after one of their players was ruled ineligible and the team was required to forfeit all of its games this season.
After the forfeiture penalty was assessed by the North Dakota High School Activities Association, the Eastern Dakota Conference soccer standing were adjusted and locked Shanley in as the East Region's No. 3 seed. The Deacons — who are 7-5-2 this season — will play in a quarterfinal match with West Region No. 2 Bismarck Legacy at 2:15 p.m. Thursday.
The news of Sheyenne's disqualification shook the local sports community, including the ones who benefited most from the decision.
"Surprised, I guess," said Shanley head coach Ryan Christianson. "I mean you don't see this ever. So it's our second chance to prove ourselves, which we need to take advantage of because not many people get second chances, especially in this situation.
"The boys are excited. We had a practice (Tuesday) night. We had a good practice and we're hoping for another good practice (Wednesday)."
Christianson said he found out about the change Tuesday morning, around the time West Fargo Public Schools and the NDHSAA sent out their official news releases regarding the Sheyenne situation.
"I found out (Tuesday) morning around 9 a.m.," Christianson said. "I got a call from my (activities director) Reggie Jackson. He told me about it and I was confused and happy — all of the emotions are flowing — and I got off the phone with him and I texted my four captains and told them, 'Hey, we're in state. Practice tonight 6 to 8 p.m.' and they were all confused, as well. I told them, 'Go talk with your AD about it and he can provide you more details since he's at the school and it's easier than what I can explain.' So yeah, they were ecstatic."
While Shanley is fortunate for another opportunity to compete this season, Christianson and his team are also aware of the fact that it's at the expense of another team's misfortune.
"I mean it's devastating for that team because (the Mustangs) were a great team, had good leadership in that senior class and to have their season end like that is horrible," Christianson said. "But again, it happens. It's a horrible situation that they're in and I feel terrible for it. My boys have felt super bad for them, as well. But now we have a chance to redeem ourselves."
Few answers were given by WFPS officials at a news conference related to the matter Wednesday. Officials cited a "failure" within the system the district has in place to monitor student-athlete eligibility and swiftly exited the boardroom at Leidal Education Center without fielding questions from media or outraged Mustangs parents. The district is also keeping quiet on details related to the nature of the player's ineligibility in order to protect his identity.
The Deacons are hoping they can put the controversy aside and shift their mindset to their first game Thursday.
"The boys have to lock it in big time," Christianson said. "(Tuesday) night, we probably had one of our best practices of the season because everyone was so focused and excited to get back to work."
Shanley fell to Fargo Davies — which will represent the East Region as the No. 1 seed for the second year in a row — in a wild state championship game last season. The Eagles and Deacons played to a scoreless draw before Davies won 10-9 on penalty kicks for its first-ever state title.
Following last year's title game, Christianson said it was the first state tournament experience for his young squad after Shanley qualified for the first time since 2017. He stated that "they got a taste of it and I'm sure we'll be back here next year."
While probably not the circumstances they envisioned, the Deacons are, indeed, back and ready to compete when they take the pitch Thursday.
"At state anything can happen and we just have to show up and be ready to play," Christianson said.