Hillsboro-Central Valley cruises in opener, will meet North Border in semifinals
We are part of The Trust Project.
GRAND FORKS — The Hillsboro-Central Valley boys basketball team has an embarrassment of riches when it comes to height.
The Burros have five players 6-foot-4 or taller and nine players 6-2 or taller.
Park River-Fordville-Lankin, meanwhile, has no player taller than 6-3.
The height disparity was evident Monday in Hillsboro-Central Valley's 58-21 win over the Aggies in the North Dakota Region 2 quarterfinals at the Betty Engelstad Sioux Center.
The win places the No. 3 Burros in the region semifinals against No. 2 North Border at approximately 7:30 p.m. Tuesday.
North Border hosted the Burros late in the regular season and won by 21.
"It was a close game until the end of the third and then hit a bunch of threes," HCV coach Elliott Rotvold said. "That's the kind of team they have. They can put points on the board. For us, it's going to be about playing good defense. We know they're going to score on us, but it's about taking care of the basketball. We've been rebounding pretty well all year, but we've got to do that, too."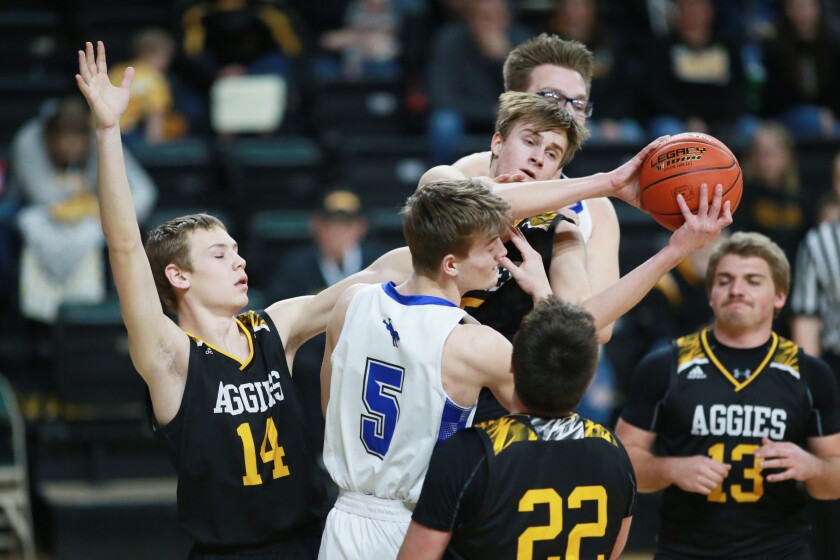 Before the Burros took the court against the Aggies, they saw North Border's Ayden Stainbrook score 39 points in a win over Cavalier. The 6-4 junior had seven 3-pointers and three dunks.
"He's a great player," "He's a tough matchup. He'll get his points. They have three of the best players in the region. If you can limit those guys as much as you can and keep Stainbrook in the 20-point mark and not let a fourth guy get a bunch of points, you feel pretty good. For us, if we can keep game at 50-55 points, we feel good."
Against the Aggies, Gannon Limke led the way with 18 points, while Parker Gallagher added 10 and Jacob Brandt had nine.
Mitchell Shirek's 10 points paced Park River-F-L.
Hillsboro-CV 58,
Park River-F-L 21
Halftime: HCV 35, PRFL 8
Park River-Fordville-Lankin — Owen Zikmund 1, John Beneda 2, Andrew Koenig 2, Mitchell Shirek 10, Brady Omdahl 6
Hillsboro-Central Valley — Aaron Cooper 3, Gannon Limke 18, Parker Gallagher 10, Jace Leshuk 3, Landon Olson 4, Peter Dryburgh 1, Caden Waterworth 6, Jacob Brandt 9, Alec Magnuson 4