Like father, like son: Carter Birrenkott lifts Packers to state championship 30 years after his dad
West Fargo fought off a Minot comeback to win its first state title in almost three decades
We are part of The Trust Project.
BISMARCK — History repeated itself Sunday at the North Dakota Class A boys basketball state championship.
Thirty years ago in downtown Bismarck, then-West Fargo junior Mike Birrenkott was fouled at the buzzer and knocked down 1 of 2 free throws to send the 1991 state championship game against Bismarck High into overtime. The Packers brought home the program's second state title.
On Sunday, a heroic performance by Birrenkott's son ended a 29-year West Fargo state championship drought.
Carter Birrenkott scored the game-winning basket that lifted the Packers to a 65-60 win over Minot. Carter's dad, Mike, cried as he watched his son make a lifelong dream come true at Bismarck Event Center — the same venue where he realized his three decades ago.
Carter's putback with 66 seconds remaining broke a tie at 58-all. He made the game-winning shot with the and-1. Minot trailed by 15 points (40-25) to start the second half.
"I feel like it's just destiny at that point," Carter Birrenkott said. "I was struggling for a decent amount of the game, and going down the stretch I got two big buckets and it feels great."
Carter sealed it with the and-1, but came back down the floor, after Minot's Deonte Martinez made it a one-point game (61-60), and drained another shot to make it 63-60. Carter got a steal on Minot's final possession and threw the ball to teammate Joel Pease, who put the exclamation point on the state title with a layup.
"I wanted that ball in my hands. I wanted to put the nail in the coffin," Carter said. "I've been dreaming about this since I was a kid. I can't back down now."
Sunday marked the fourth championship in program history for West Fargo, which finished the season 22-4. Carter's uncle won the program's first state title in 1983. His dad won the second and third (1991, 1992). Carter made sure he kept the tradition in the household his last time in the Packers jersey.
"It was so special. He's had the kind of season where he's wanted to step up in the big times," Mike said. "He stepped up at the biggest time and I'm so proud of him for that."
West Fargo jumped out to a 12-4 lead five minutes in on buckets from three players. The Packers continued to widen the margin, which grew to as high as 17 points (40-23) in the first half.
Minot came roaring back and opened the second half with a 14-2 run. Martinez was the catalyst of the comeback bid, dropping 19 points Sunday. Minot's Michael Ross posted 11 points in the second half.
"Martinez is phenomenal. We knew they were gonna do that," Packers head coach Adam Palczewski said. "I didn't think we responded great right away, but at the end we calmed down and played team basketball. And at the end, team basketball was what won the game."
When things went south Sunday, the Packers kept their composure.
"We dug them in a hole, they came right back," Carter said. "It seemed like they had all the momentum at the time, but we had to stick with it. We're a mentally tough team, Coach Palczewski has been breeding us that way. So we stuck with it, stayed tough and got it done."
Carter registered a double-double with 21 points and 12 rebounds, both of which were team highs.
"It's indescribable," Palczewski said of the win. "We've had some bad luck in the past and things happen and you want a little bit of justice. A little bit of West Fargo justice was good today. I'm so proud of our guys."
Brett Limke tallied 13 points for the Packers and Pease had 10.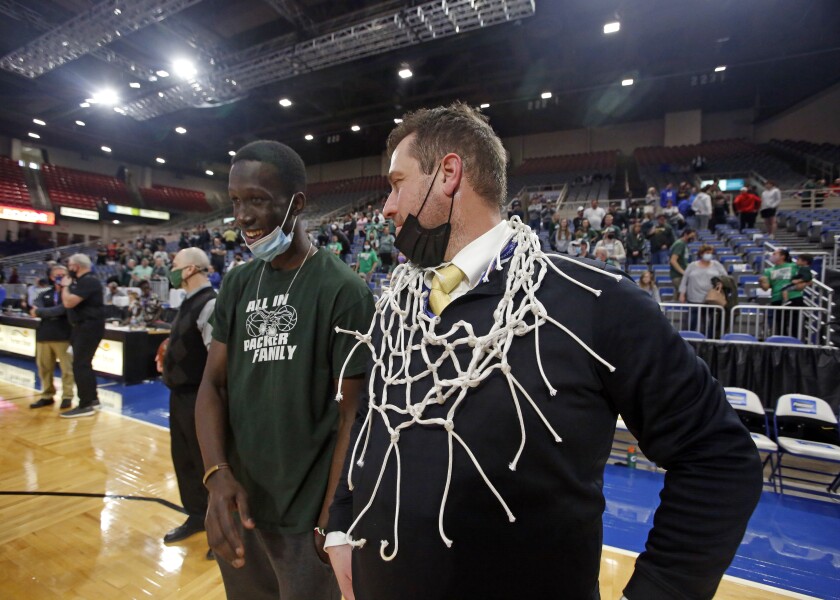 "It doesn't even feel real. It feels so crazy. I'm so happy," Pease said. "Everyone just played their hearts out. Even the bench people, all the energy they gave us — we run off energy."
Noah Daniel, a sophomore at West Fargo, only played one season for the Packers, but was emotional after the win. Originally from South Sudan, Daniel was 19 years old when he played his freshman year for West Fargo. In North Dakota, students cannot play high school athletics once they turn 20 years old.
"My tears cannot stop. I'm just so happy," Daniel said. "I'm just proud of them. This team, we came a long way."
Though he doesn't suit up, he's still very much a part of the program. Daniel is at practice each day, and has a spot at the end of the bench every game.
"It doesn't matter what comes my way, I'll stick with them for the rest of my life," Daniel said.
Half: West Fargo 40, Minot 25
M: Ross 11, Wilcox 12, Butz 2, Wentz 2, Dissette 14, Martinez 19.
WF: Carlson 6, Limke 13, Hegerle 8, Pease 10, Grefsrud 5, Birrenkott 21, Zepeda 2.